Entertainment in Zhangjiajie
Popular Activities

Ethnic Groups

The northwest of Hunan province boasts a rich and varied ethnic mix. In Zhangjiajie city there are more than 20 ethnic groups, such as the Tujia, Bai, Hui, Miao. Each group retains their cultural heritage, with unique funeral and marriage customs, religions, traditions and arts. For example, there is the Hand-Shaking Dance of Tujia, the Drum Dance of Bai, and Dragon Dance of Miao. Villages of Miao or Tu ethnic group people can be seen with groups of houses built on stilts. This kind of house is usually built of wood or bamboo and is typical of the subtropical area in China, like Zhangjiajie, where the climate is subject to monsoon with annual average rainfall of 1.382 millimeters.

Admission Fee: CNY 245 (entrance charge)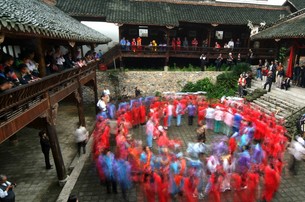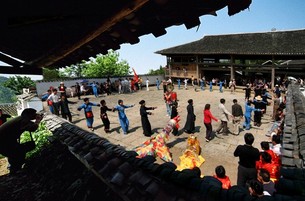 Shows and Performances

Zhangjiajie boasts its rich natural scenic spots, but the city has more to offer. Since more than twenty ethnic groups live together in this city, there are various kinds of customs and cultures such as dancing, architecture styles, festivals etc. Take dancing for example, Tujia People have hands-waving dance, maogusi dance; Bai People has zhanggu dance, and Miao People has Jielong dance.
 
To experience the customs of the Tujia People, Tujia Lifestyle Park is a perfect choice. This park, modeled on a traditional Tujia village, is the "holy land" for Tujia people to worship, offer sacrifices to the ancestors, to pray and to celebrate festivals, showing the authentic farming culture, battle culture, architecture culture and festivals of Tujia People. If you happen to be in Zhangjiajie during the festivals, you have chances of dancing with the local people. That would be a very memorable experience.

When you are visiting Zhangjiajie, you can watch dance performances of the ethnic groups at the theatres or cultural centers at downtown areas.

The two best theaters in Zhangjiajie are Meili Xiangxi Theater (the charming west of Hunan Province theater) and Gezihua Theater (pigeon flower theater). Meili Xiangxi Theater is located in the Wulingyuan Scenic Spot, and there are many distinctive ethnic performances on show. This theater is a perfect combination of natural beauty and cultural glamour. Geizihua Theater is a semi-circle building decorated with relief sculptures of scenic spots, legendary stories and people's daily life in Zhangjiajie.

There is another thing you may want to try, namely Diange (you choose songs and let the girls sing them) during your visit of the scenic spots. In Jinbian Stream lies the best Diange Stall where several Tujia girls sing whatever folk song you've ordered. They sing toward the open valley and the beautiful voice is really incredible.

There are many traditional festivals that you may want to participate in, such as the Torch Festival of Bai People, Folk Song Festival, Niu wang jie (birthday of the Bull King Bodhisattva) and three New Year Festivals of Tujia People.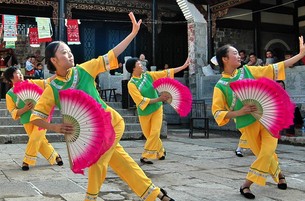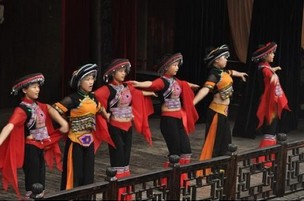 Meili Xiangxi Theater
Address:Guihua Road,Wulingyuan District
Tel:0744-5667777