Chinese painting, known well as Guohua, refers to paintings painted on Xuan paper or silk by ink and color, it's the main form of Chinese Art. Chinese painting can be traced back to paintings on Neolithic pottery six or seven thousand years ago, usually integrate poetry or calligraphy with themes that include figures, landscapes, flowers, birds and other animals. Traditional Chinese painting remains a highly valued genre, often on exhibit in China as well as other countries.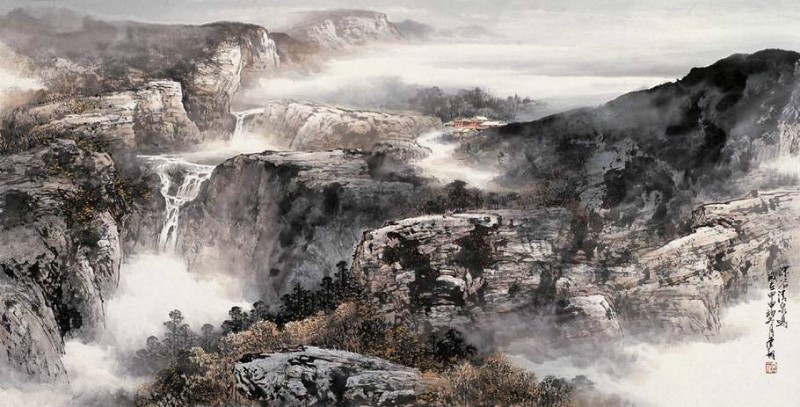 Features
Chinese painting is not restricted by the laws of perspective, nor by the laws of time and space. The artist has the greatest freedom of expression, because his gaze is on a panorama, not on a specific point, to depict a scene in perspective. This technique enabled him to paint a landscape of mountains and rivers in a single painting, bringing the universe under his control.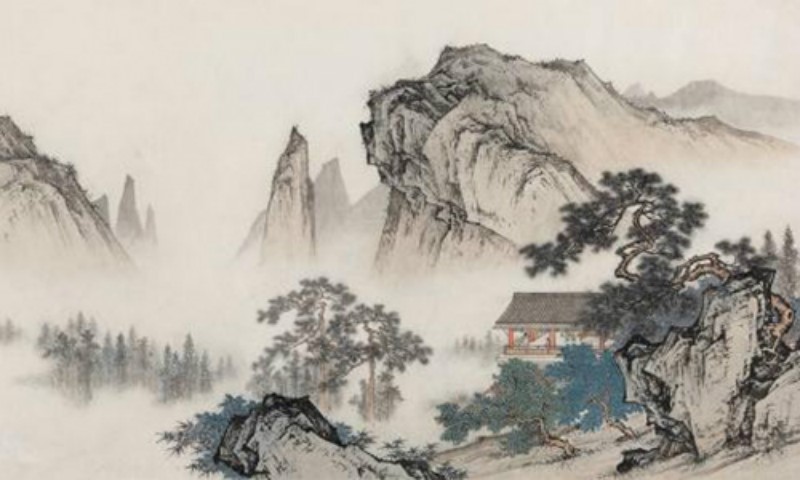 In "simple" compositions, the objects depicted are simple, but the painting may be rich in artistic content. When a flower is painted without a table, the viewer does not feel that it is suspended in midair. Flowers may not draw twigs or twigs or any other background, as these may be of secondary interest. Through this bold elimination, the artist makes his subject more concentrated, vivid and vivid.

Colour
Color and ink have a unique use in Chinese painting that helps to emphasize lines but is limited by them. After the tang dynasty, ink painting developed, opening up a new field for Chinese artists. Chinese painters use ink as they use color. "Ink provides all the colors of the rainbow." This technique can also be clearly seen in the works of the great ink and wash artist Qi Baishi. His crabs, prawns, vegetables, fruits, etc., are often painted in ink without any pigment, but the color seems to be very rich. Qi Baishi was good at painting on absorbent Chinese paper in dark or light ink, with dry or wet brushes, so his paintings were full of vitality.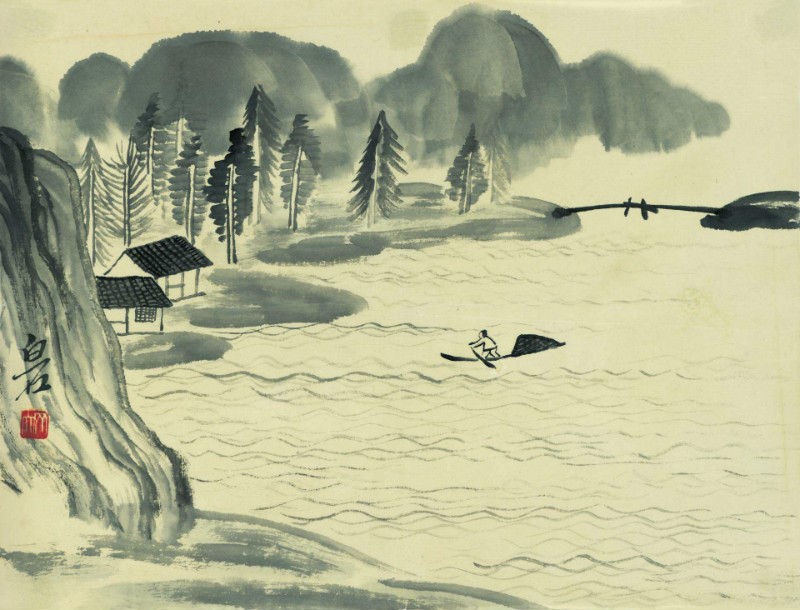 Classification
From the perspective of artistic expression, traditional Chinese painting can be divided into elaborate-style painting, liberal-style painting, and the elaborate-liberal-style painting. The elaborate-style painting is drawn and colored orderly and meticulously with the painting brush, It emphasizes the beauty of lines. It requires close attention to detail and fine brushwork.. Comparatively, the liberal-style painting employs free and concise stroke and ink to describe the appearance and spirit of the objects, and express the painter's sensation. The painter always try to describe exaggerated forms to express his feelings. Different from elaborate-style painting, liberal-style painting generalizes shapes and displays rich brushwork and ink techniques. Drawing the liberal-style painting, the painter is required to put the painting brush to paper precisely, and his every stroke must be skillfully and with high proficiency to express the spirit of the picture. For the elaborate-liberal-style painting, it is an integrated application on the techniques both of the elaborate-style painting and of the liberal-style painting.This kind of painting skill is used very often in flower-bird paintings and figure paintings.
According to the different themes, the themes of Chinese painting can be divided into three categories: figure painting, landscape painting, flower and bird painting.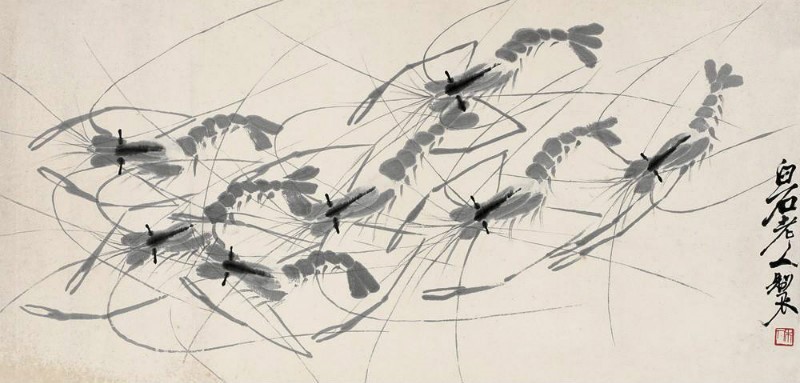 History
The origin of Chinese painting can be traced back to neolithic pottery. It is closely related to pottery and other crafts, such as those used to decorate bronzes, jade carvings and lacquerware, such as fish, frogs, deer, birds, flowers, leaves and dancers, dating back to about 6,000 or 7,000 years ago. Others believe that hieroglyphics are the origin of Chinese painting.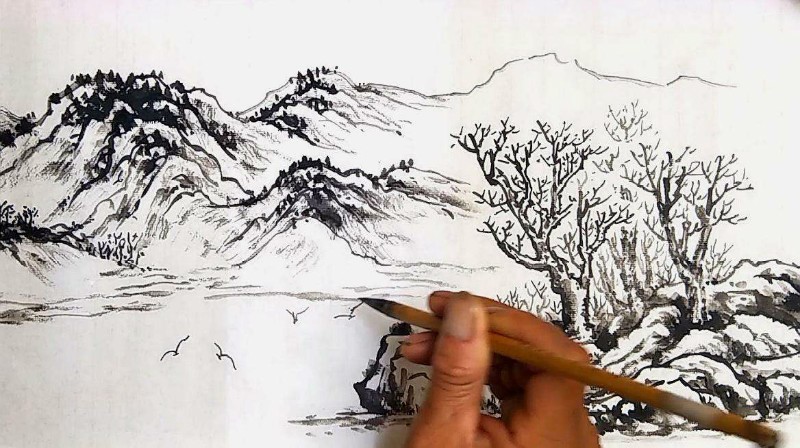 Chinese painting has a long history, as far as more than 2,000 years ago in the warring states period painting on silk - silk painting, this before the original rock painting and painted pottery painting. These early paintings laid the foundation of later Chinese paintings with line as the main modeling method. During the Han dynasty and the Wei, Jin and Southern and Northern dynasties, the impact and integration of the input of foreign cultures and the local cultures led to the formation of a situation in which paintings were dominated by religious paintings. Local historical figures and literary works also accounted for a certain proportion, and landscape paintings and flower-and-bird paintings also began at this time. During the Sui and tang dynasties, the society, economy and culture were highly prosperous, and painting also presented a comprehensive prosperity. Landscape painting, flower-and-bird painting has been developed, religious painting has reached the peak, and appeared secularized tendency; Figure painting to show aristocratic life, and appeared with the characteristics of The Times of the character modeling. The five dynasties and the Song were further mature and more prosperous. Figure painting had shifted to depicting secular life, while religious painting had gradually declined, and landscape painting and flower-and-bird painting had become the mainstream of painting. The appearance of literati painting and its development in later generations greatly enriched the creation concept and expression method of Chinese painting. In the three dynasties of yuan, Ming and Qing dynasties, ink landscape, freehand brushwork and flowers and birds gained prominent development. Literati painting and genre painting became the mainstream of Chinese painting. With the gradual stability of the society and economy, the cultural and artistic fields flourished, and many great painters advocating art emerged.