Daoism is a philosophical and religious tradition indigenous to ancient China whose basic tenet simply advocates harmonious living with both man and nature. Since its beginning, it has developed to become one of the country's prominent schools of thought and has also profoundly influenced Chinese culture which includes architecture, art, cuisine, exercise, martial arts, medicine, and even other religions. Countless Daoist temples and shrines have been constructed across China over a period of thousands of years as places for practice and worship. What's more, some of them have been established upon China's most treasured, awe-inspiring mountains now regarded as holy pilgrimage sites and referred to as the Five Sacred Mountains of China.
Mount Tai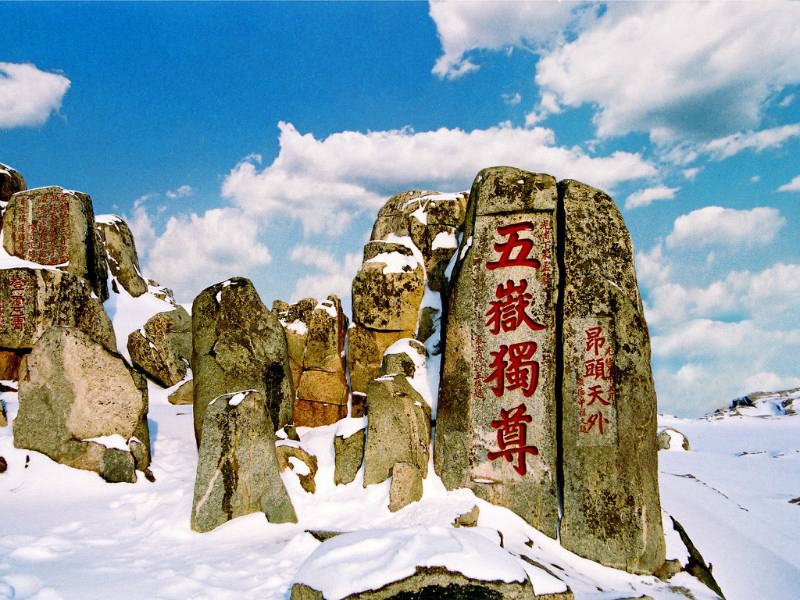 The leader of the 'Five Sacred Mountains', Taishan Mountain is located in the center of Shandong Province, lying across the cities of Tai'an, Jinan and Zibo. Its main peak, Jade Emperor Summit, which is within Tai'an City, is about 1532.7 meters (5,029 feet) high.The mountain was once called Mt. Daishan, Mt. Daizong or Mt. Taiyue and was renamed Mt. Taishan in the Spring and Autumn Period (770BC-476BC). It epitomizes splendid Chinese culture and was listed in the World Natural and Cultural Heritage List of UNESCO in 1987.

Taishan Mountain is a natural The stone carvings on Mount Taishanmuseum abounding with cultural relics and artworks. Heavenly Queen Pool, Red Gate Palace, Mid-Heaven Gate, Azure Cloud Temple are powerful examples. Stone carvings include the Buddhist Diamond Sutra in Jing Shi Valley, the Scripture of Taishan Mountain and the Mo Ya Tablet.
Besides historic relics, this mountain boasts unique natural scenery too. The lofty peaks, deep valleys, spectacular waterfalls, enchanting rocks and the centuries-old pines and cypresses will undoubtedly encourage you linger with no thought of leaving. The four wonders here are Sunrises from the East, the Sunset Glow, the Sea of Clouds and the Golden Belt along the Yellow River. It would be a great pity to miss the four wonders.
Mount Hua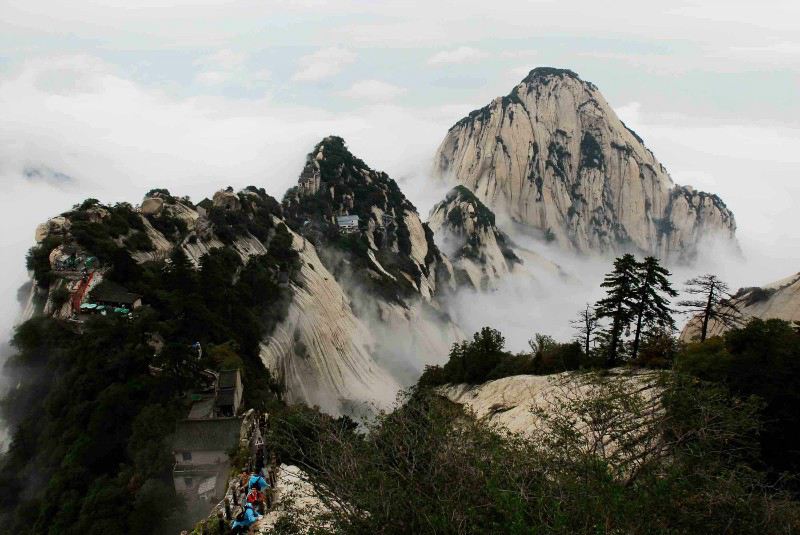 Situated in Huayin City, Mount Huashan is 120 kilometers (75 miles) from Xi'an. It is famous for natural vista of steep and narrow paths, precipitous crags and a high mountain range. At 2,160 meters high (7,087 feet), Mount Hua is the tallest of the group and is characterized by its sheer cliffs and towering peaks earning it the reputation as the "most precipitous mountain under heaven". Its five peaks are the representative attractions and each has its distinctive charms: East Peak is the best place to enjoy the sunrise; South Peak has the highest altitude; West Peak is the most elegant; North Peak is famous as the Cloud Terrace Peak and Middle Peak is also called Jade Lady Peak.
Hike on Huashan Mountain is very popular among visitors. For many years most people have taken a traditional but efficient walking-ascending and cable-car-descending route for this mountain climbing. By taking this route, visitors can experience not only its danger, but also the major meaningful scenic spots. At the foot of Mt. Huashan, you can start your trip by visiting the Jade Spring Temple. After that, you can walk to the Memorial Archway in about 15 min, and then in 5 min you will get to Five Dragon Bridge, next to which is the ticket office.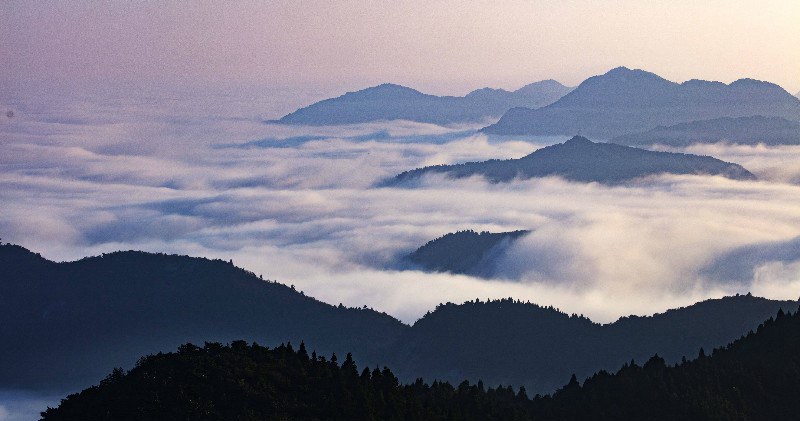 Being one of the famous mountains Wuyue (a collective name given to five famous mountains in China), Mt. Hengshan is in Hengyang City in Hunan Province, it is also referred as Nanyue, meaning South Mountain. It has eminent mountain peaks and wonderful mountain scenery.
People summarize all the spectacles here as 'the eight marvels in Mount Hengshan'. They are the height of the Zhurong Peak, the grace of the Sutra Collection Hall, the profundity of Fangguang Temple, the quietness of Mojingtai, the magic of the Water Curtain Cave, the antiquity of Dayu Stele, the steepness of Huixian Bridge, and the majesty of the Nanyue Temple, also the Grand Temple of Mount Heng. Zhurong Peak is the highest mountain peak of this scenic area. Sutra Collection Hall is located deep in the glen and is surrounded by towering trees. The running spring and flying birds make this place very peaceful and leisurely. Huixian Bridge is in fact a bridge on a big stone. It is narrow and dangerous, and few people are brave enough to go over it.
This scenic area is also a well known and hallowed Buddhist ground. It has abundant temples including nunneries and Taoist temples. The most notable one is Nanyue Temple, the largest temple in Wuyue. It was originally built in the Tang Dynasty (618-907), but was destroyed by fire. In the Qing Dynasty (1644 - 1911), it was renovated imitating the design of the Forbidden City.
Various reputations were gained at this scenic area: a particular religious hallowed ground and a marvelous scenic locale for both summering and touring. Here you can watch blooming flowers in spring, prevent sunstroke in summer, watch sunrises in autumn and enjoy the beautiful prospect of snow in winter. If you are traveling in China or going to travel in China, do not miss the wonderful trip to Mt. Hengshan.
Mount Heng (Beiyue)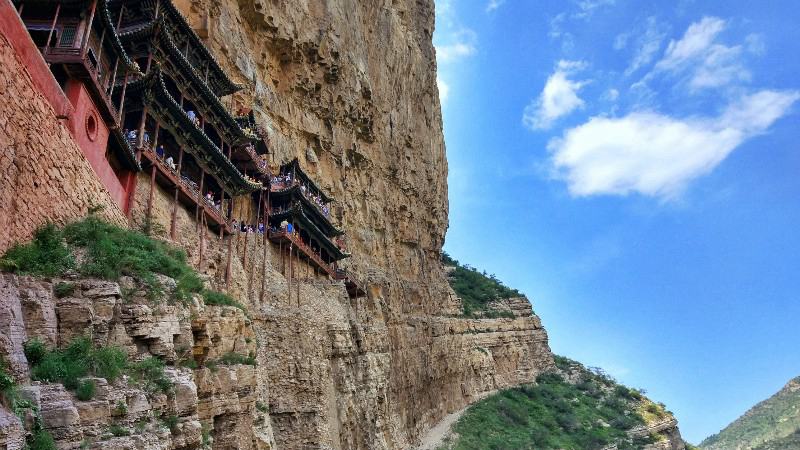 Mt. Hengshan, one of the most famous 'Five Sacred Mountains (Wu Yue)' in China, is located about 62 kilometers south to Datong City of Shanxi Province. It attracts people by its natural sceneries and man-made landscaping.
Ancient battleground: Mt. Hengshan has been an age-old battleground. It is the bottleneck to Central Hebei Plain from Plateau beyond the Great Wall. Many emperors utilized Mt. Hengshan in national defense planning. Emperors and generals went down in history on battles won and lost right here. Plenty of ancient battlefield relics litter the landscape with passes, fortresses, castles and beacon towers. These make the mountain unique.
Hanging Monastery: Hanging Monastery, at the mountain's foot, was built in Northern Wei Dynasty (386-534), on the high cliff hemmed in by a precipice on either side. It sits up there beyond reach in abject solitude. From the bottom you see range upon range of pavilions supported by dozens of wooden pillars. Entering the temple, people will be surprised by its half-house and half-cave inner structures. Hanging Monastery deserves a visit.
Tianfeng Summit: At 2016.1 meters (6,617 feet), Tianfeng Summit, in Hunyuan County, Datong City, is the highest peak. The steep north slope is covered with verdant pine trees. Climbing onto the top of the mountain, you will see endless pine trees, some of them growing on the cliff with roots burrowing in the rocks, exotic flowers and rare herbs and odd-shaped stones, and so forth. The tourists are too delighted to return home. The south slope is studded by lots of temples where emperors worshipped the North Mountain.
Mount Song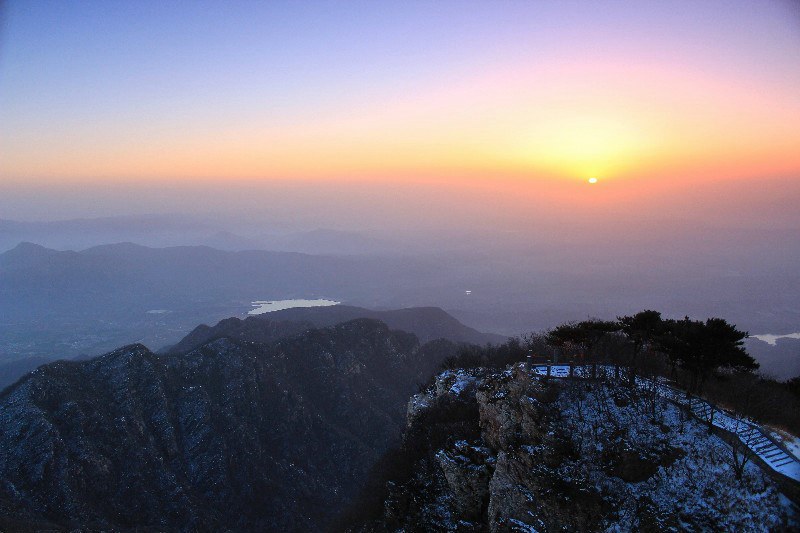 Songshan Mountain has fine natural scenery. Its 72 mountains, grouped around the peaks of Mount Shaoshi and Mount Taishi, extend for about 70 kilometers (43 miles) from east to west. Besides these mountains, there are many valleys, caves, pools and waterfalls, each of which provides the visitor with a unique and wonderful experience. The landscape of Mount Song is so unique that it has been given the title of 'International Geological Park' by the United Nations Educational, Scientific and Cultural Organization (UNESCO).
The history of Songshan Mountain is as rich and interesting as its landscape. Its proximity to Luoyang, the ancient capital city of nine different dynasties, made it an essential place for emperors to offer sacrifices to their ancestors and the gods and to confer the crown to their heirs. This has left many sites of historic and cultural interest in Mount Songshan. The beauty of the area's scenery also led to many scholars, eminent monks and famous Taoists chose this area as an important place to give lectures, explain Buddhist sutras and develop the teachings of different religions. Practitioners of the three faiths of Buddhism, Taoism and Confucianism absorbed ideas from each other, which led to their three belief systems growing closer together.