By the end of 2018, China had 40 items on UNESCO's list of intangible cultural heritage. China has the largest number of intangible cultural heritages in the world.To focus the foreign visitor's attention on these unique culture and customs, a catalogue of some of the UNESCO World Intangible Heritages in China is listed below, with in-depth information concerning famous intangible heritage.
Kunqu Opera (2001)
Kunqu Opera, which is also named Kunshan Vocal Cavity or Kun Opera, is believed to be the origin of all the other Chinese operas. With a long history of over 600 years, Kunqu Opera originated in Qiandun Town, Kunshan County of Jiangsu Province at the end of the Yuan Dynasty(1271AD-1368AD), and it became quite popular in China in the Ming and Qing Dynasties. Kunqu Opera is actually a kind of very comprehensive art combining literature, history, music, dancing and esthetics. In the year 2001, it was entitled Intangible Cultural Heritage by the UNESCO. Nowadays there are in China six Kunqu Opera troupes and one Kunqu Research Institute and the Chinese government has already held the China Kunqu Opera Festival for three times till now and there are also numerous non-governmental Kunqu Opera clubs all over China as well as in the whole world.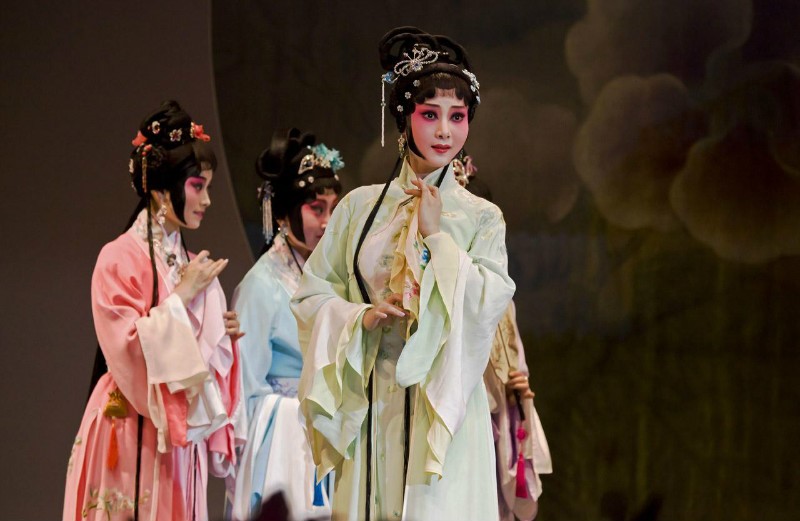 Chinese Folk Papercut(2009)
Take a visit to the rural countryside in north China at the Spring Festival, and you are certainly to be impressed by the red color on the windows and doors of every household. It is the Chinese paper cuts. Paper-cuttings have been made in China for at least fifteen centuries. This is known because paper-cuttings were among the archaeological founds at Kaochang excavated in 1959; and objects from this excavation are dated between 514 and 551 A.D.
Paper cutting is a popular Chinese folk art. In the past, every girl was expected to master it, and brides were often judged by their paper cutting skills. At festivals and other festive occasions like a wedding, the Chinese would decorate walls, windows, doors, columns, mirrors, lamps and lanterns in homes with paper cuts, or simply gave out paper cuts as gifts. Good luck is supposed to be with the household decorated with paper cuts.
Red is the most common color used, though not necessarily the exclusive one, as it is deemed a most auspicious color and easily associated with life (blood), vitality, prosperity, etc. in Chinese folk customs. Diverse designs are available, covering a wide range of subjects and themes. Many aspects of life such as prosperity, health, harvest, fertility, and successes are reflected in the designs. Usual images include dragons, phoenixes, fishes, flowers, children, Buddhas, etc. Some designs may also simply feature a certain Chinese character or an auspicious idiom, or illustrate a representative scene in a certain Chinese folk tale.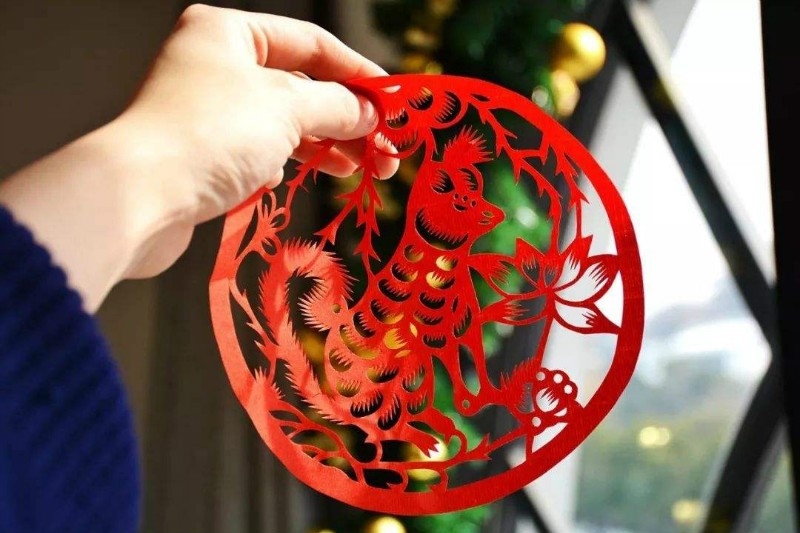 Chinese calligraphy (2009)
China's calligraphy is an ancient art and develops with the development of Chinese civilization. There are indeed few peoples in this world who own such a special art, besides China's calligraphy owns the long history and colorfulness. Chinese calligraphy has played a very significant role in the history of Chinese art. Functional and artistic considerations all came together to shape the development of various styles in the different stages of its evolution.
Calligraphy as an artistic creation owns the profound and deep magic and mysteries and it spreads and expands its uniqueness and attraction and many people are indulged into its charm from generation to generation.
Calligraphy forms the meaningful, intentional and poetic structure on the undefiled paper and leaves the impressive marks and remains by virtue of the agility, instability and levity of brush pen as well as the abundance and variety of water and Chinese ink. Therefore, calligraphy is an art of composing or structure. The brush of calligrapher is the extension of his fingers, and the celerity, slowness, motion, pause and transition are all mastered by calligrapher's subjectiveness and his release and abreaction of emotions and sentiments, so the calligraphy is an art of expression.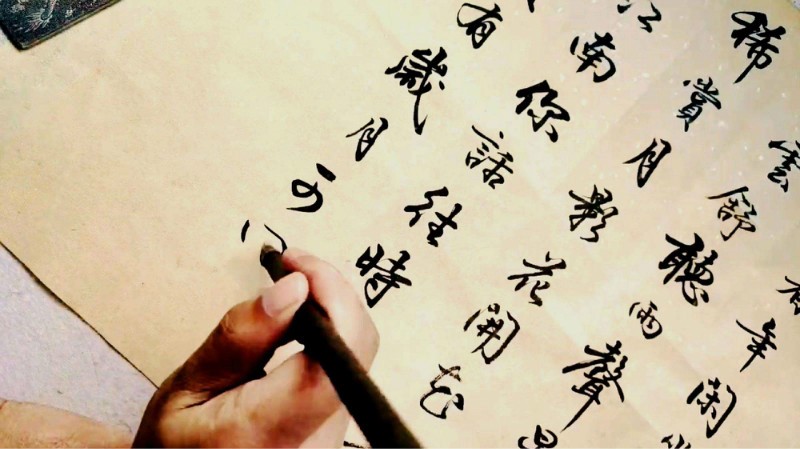 Dragon Boat Festival (2009)
Duanwu Festival in China, falls on the fifth day of the fifth lunar month every year, which was established to commemorate a notable official and patriotic poet Qu Yuan. As the first traditional Chinese festival listed on the World's Intangible Cultural Heritages, it is one of the three most important lunar festivals in China, along with Spring Festival and Mid-Autumn Festival.
For celebrating this festival, there is a three-day holiday in China since 2008.Dragon boat racing is the utmost main custom in the Dragon Boat Festival.
The origin of the activity is said that in ancient time, when Qu Yuan drowned himself into the river, many fishermen rode their boats on the river, trying to find his body. They tried their best to catch up with the revered minister, but when they reached Dongting Lake, Qu Yuan's body could no longer be found. Every year later locals would ride dragon boats for commemorating Qu Yuan, hoping to disperse creatures under the river in this way.
To this day, the racing of dragon-designed boats is very popular in areas near to rivers, lakes, or seas.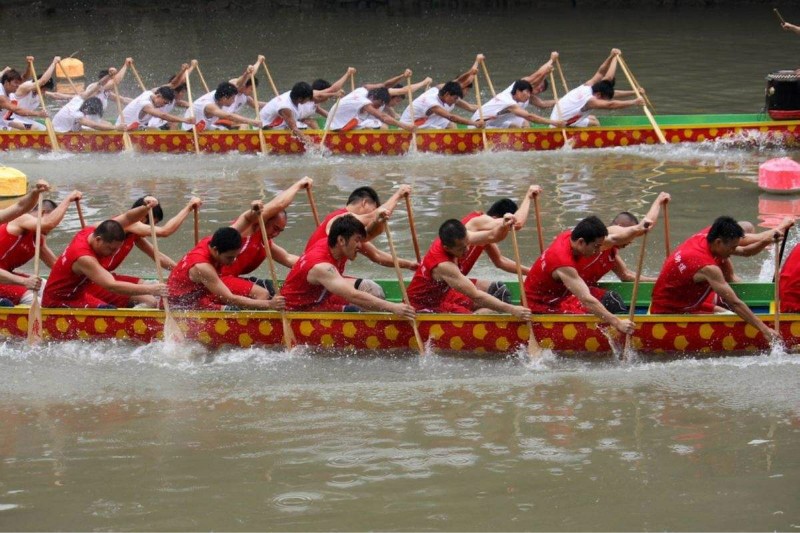 Yue Opera (2009)
Yue opera - also called the Shaoxing opera - is a newcomer among the Chinese local operas. It was originated in the beginning of the 1900s near Shanghai in a place called Shaoxing from local musical plays, which used only the ban-clapper in accompaniment of the play. The popularity of this art form began to grow in 1916, when it was performed in Shanghai to large audiences of Shaoxing origin. Gradually, first string instruments and later other instruments were added to the orchestra, although the music was still based on the same Shaoxing melodies. Yue Opera is a typical representative of Chinese local operas. It is widely welcomed in Zhejiang province, Shanghai, Jiangsu province, Anhui province and other places. Yue Opera is generally considered to be an elegant opera.