Ciqikou Old Town
It is the miniature of the Chongqing City, where rarely seen ancient architectures, shops and streets form a special traditional scene of the Chongqing people's life. This ancient town has though experienced centuries' history, the attractive culture and landscapes are as charming as it was.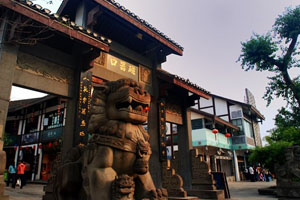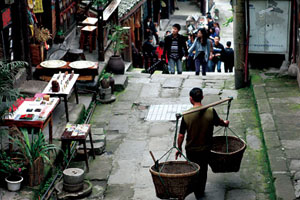 The advantaged geographic conditions are the main reasons for the popularity of this old town. Sceneries around one river, two streams, three mountains and four streets are the shinning parts around the old town. Lying 3 kilometers away from the city center peacefully, this ancient town like an old man waiting for your visit and discover his charms. In addition, Ciqijou town, with a long history of 1700 years, has been enjoying the reputation for the exquisite and sophisticated porcelains skills since the Ming Dynasties (1364-1644).
The must be visit places here are the tea bars, the artists' studios and the Shu Embroidery workshops. Surprisingly, there are more than a hundred tea bars of various particular characteristics, where people come to kill the leisure time. Local people have a passion for the tea for one reason that the tea can prevent people from the diseases caused by wet and hot weather, for the other it is a traditional way that people chat with friends or do business over tea.
Opening Hours
: the whole day
Location
: Citong Rd, Shapingba Zone, Chongqing
Transportation
: Bus No. 467, 237, 843, 220, 261, 202, 261 and 808 will bring you here.