There is a huge variety of dishes in China. Look at the menu in many restaurants and you're handed a book of what they offer. The selection is more than you could possibly imagine in China. Sometimes it was difficult to decide what to get because it was too much. Here are top 10 the most popular Chinese dishes at home and abroad. Remember to try them when you come to China.
Dumplings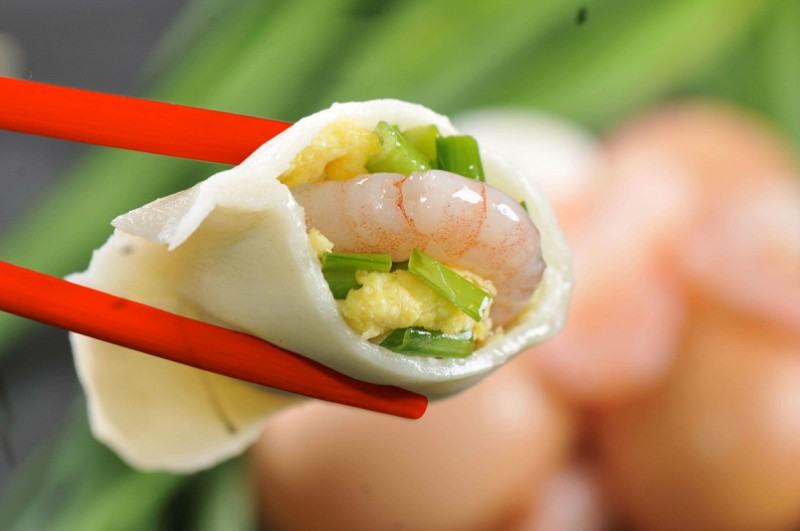 There is a saying in China: no food is better than dumplings. And the variety of dumpling fillings includes the essence of Chinese culture. Dumpling is almost a nickname of China in foreigners' minds. Dumplings is the best-known Chinese traditional food worldwide. It is a must food on Chinese New Year, Winter Solstice and other traditional Chinese festivals.When you come to China, dumplings cannot be missed.
Hot Pot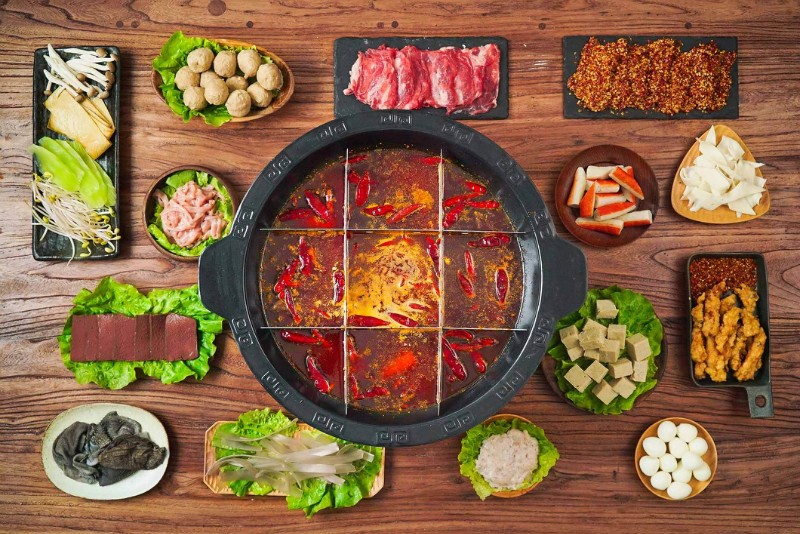 Chinese hot pot, also known as Chinese fondue or Chinese steamboat, consists of various raw meats, vegetables, noodles, tofu, seafood and dumplings, which are dropped into a shared or individual pot of hot flavored broth using chopsticks in order to cook the items. The items are then fished out with chopsticks or a strainer and enjoyed, often with additional options of broth, rice, or Chinese barbecue sauce. Chinese hot pot can include any variety of meats, vegetables or noodles depending on individual tastes.
Peking Roast Duck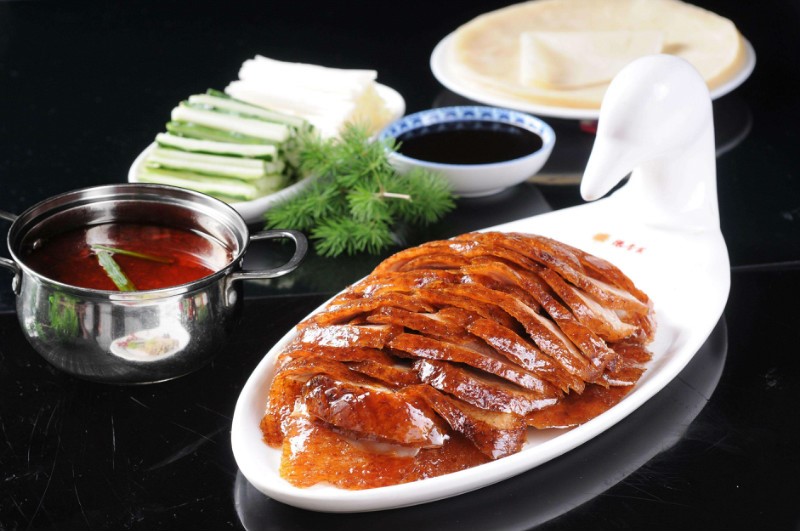 Peking roast duck has the reputation of being the most delicious food in Beijing. It is usually a fixed item of dinner on any Beijingtour itinerary. Eating Beijing doast duck is also one of the two things you are absolutely supposed to do while in Beijing-- the other one is climbing the Great Wall. The hometown of roasted duck is actually Nanjing city of Jiangsu province in East China.
Kung Pao Chicken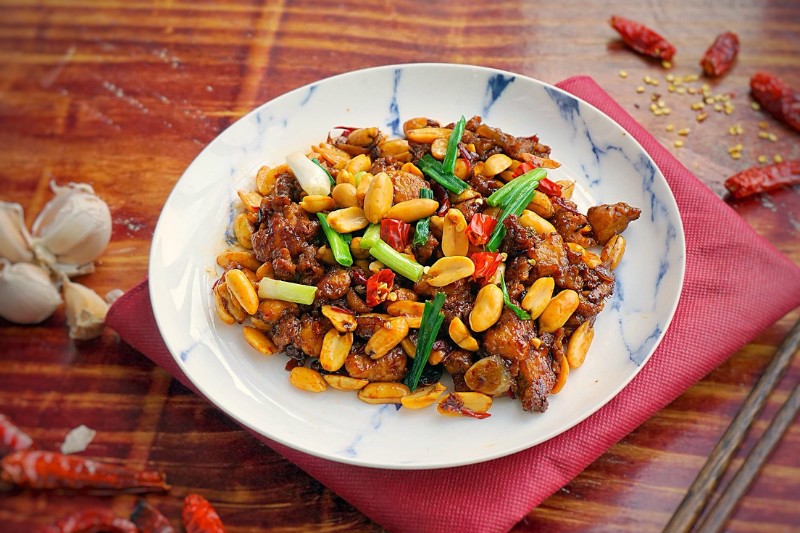 Kung Pao Chicken is a traditional dish of Sichuan Cuisine famous both at home and abroad. The mixture of the seasonings makes the dish taste special, and its flavor can be either spicy or mild, which is decided by the amount of chili peppers. Mainly made of diced chicken and peanuts, Kung Pao Chicken also has medical and health preserving value, including nourishing the marrow and replenishing the essence, promoting mental health and preventing the hypertension and heart diseases.
Sweet and Sour Mandarin Fish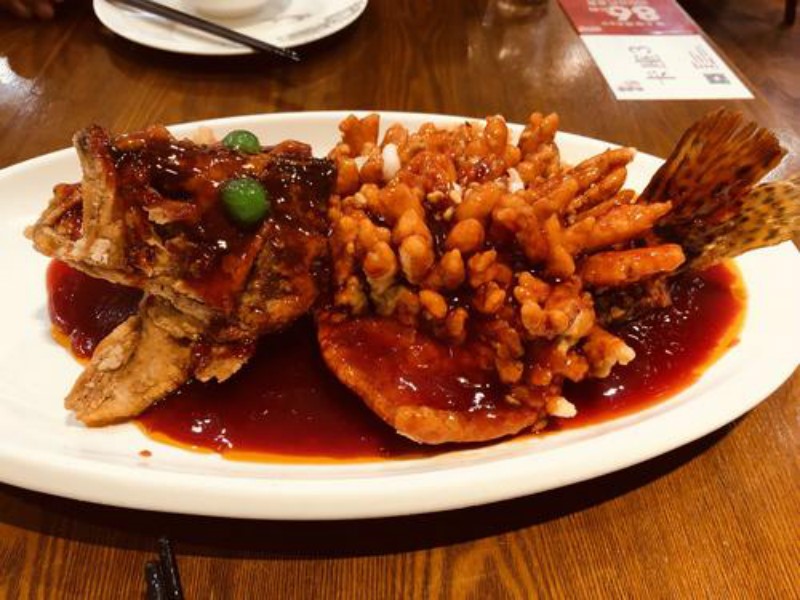 Crispy on the outside, moist and tender inside, the Squirrel-shaped Mandarin Fish is indeed a legendary dish in Jiangsu cuisine. The deep-fried sweet and sour fish is known as squirrel-shaped mandarin fish. Squirrel Fish is so named because of the crosshatch technique used to cut into the fish flesh, which after being deep-fried opens up the body and positions the head and tail like a jaunty squirrel.
Ma Po Tofu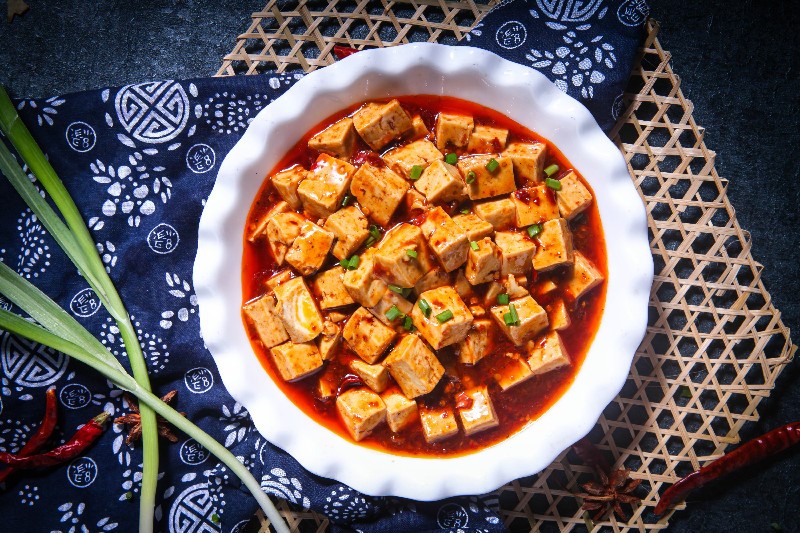 It is a famous dish in Sichuan cuisine, extremely popular both at home and abroad. Cooked with thick broad-bean sauce, soft tofu, beef or pork mince, chili and peppercorns, it has the obvious flavor of numb and spicy. It is said that this course was invented by a woman called Chen Mapo in 1862, and hence the name. To enrich the flavor, red and hot broth, ground beef and diced green onion will be drizzled over the tender tofu in the last step.
Sweet and Sour Pork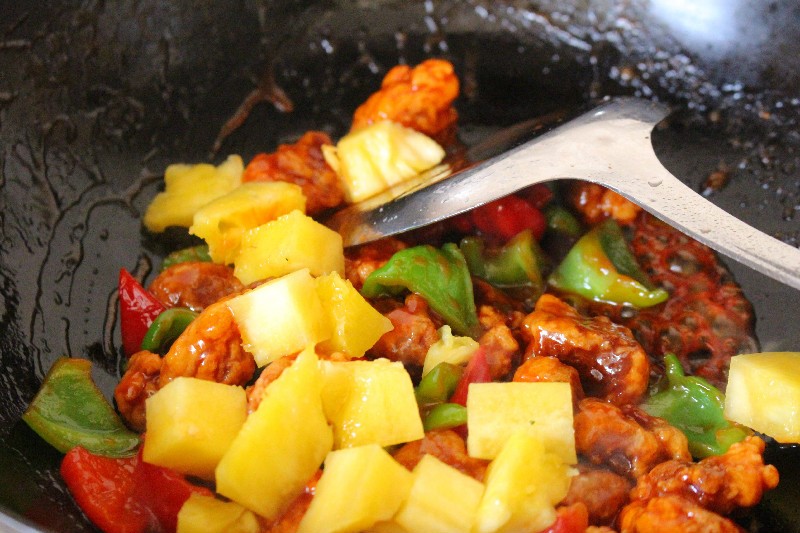 A Chinese stir-fry dish made with juicy pieces of pork tenderloin, bell peppers, onion, and pineapple. Battered pork gets fried until crispy then tossed in a sweet and tangy sauce. Therefore, the Sweet and Sour Fillet is enriched with sweet and sour flavor, and the juicy pork covered by crispy crust can provide you a special mouth feel.
Chicken Cooked with Chilies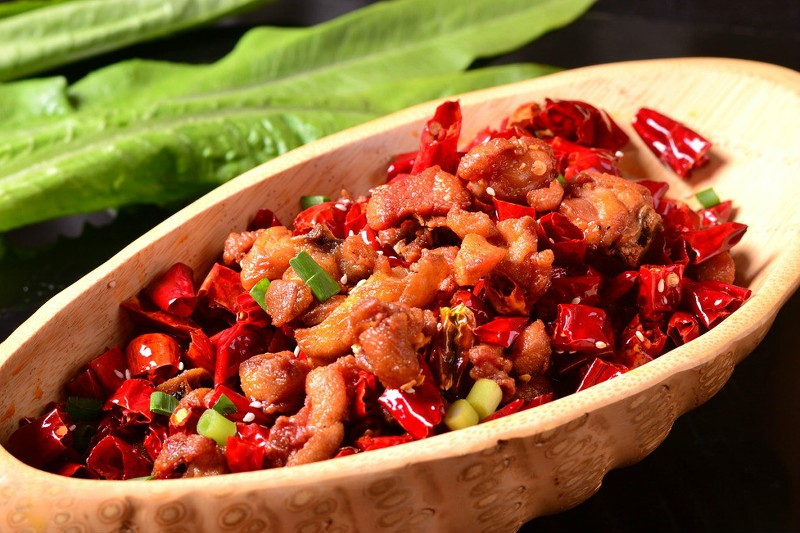 Spicy chicken because of the different production methods also have different characteristics, by the local people's favorite. In general, this dish is a dry fried dish. Higher oil temperature helps to remove the extra water content inside the chicken. The color of this dish is bright brown and red, with strong spicy taste.
Red Braised Pork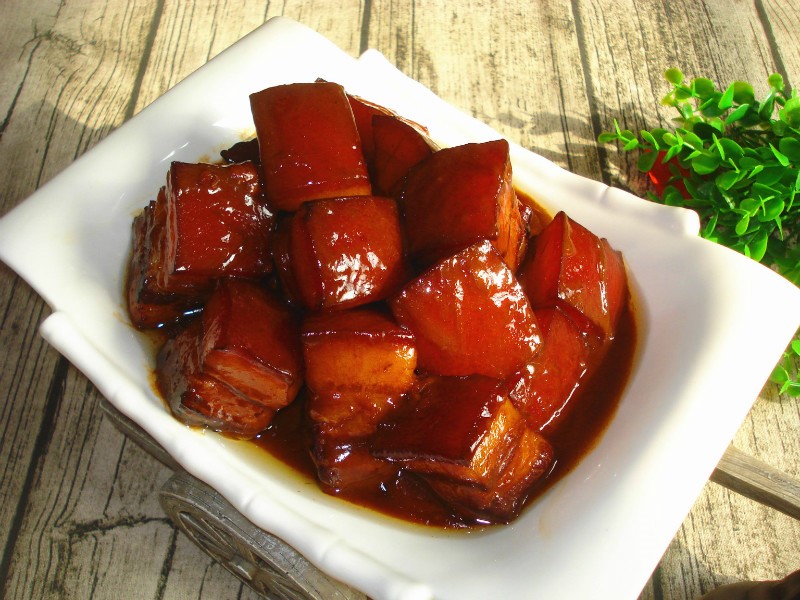 Red braised pork may be one of the most common of all Chinese dishes, but it is also one of the most glorious, a slow stew of belly pork with seasonings that may include sugar, soy sauce, Shaoxing wine and spices. It is also the favorite of Chairman Mao Zedong. Although the cooking methods differ from one to another, all taste juicy but not greasy. The cooked dish has a red brownish color, which has an auspicious meaning of prosperity and happiness in Chinese culture.
Yangzhou Fried Rice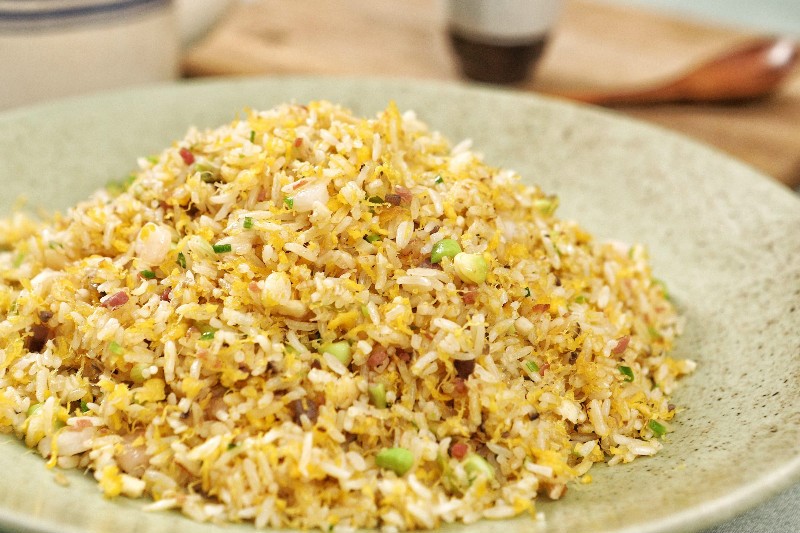 Yangzhou Fried Rice is perhaps Yangzhou's most well-known dish. It features best materials, delicate cook, fine process, the original flavor and the pleasant color. Yangzhou Fried Rice serves as the most popular staple dish in Huaiyang cuisine. Rice and eggs are the two important ingredients. Served with ham, shrimps and peas, Yangzhou Fried Rice not only tastes fresh and fragrant, but is also brightly colored to whet diners' appetite.