Chongqing City Parks
South Hot Spring Park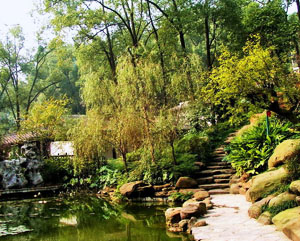 This park in the southern suburbs twenty-six kilometers from Chongqing City is a charming spot for strolling by a stream through quiet woods, watching the waterfalls as they cascade down steep cliffs, or bathing in the hot spring.

The spring water, averaging 38oC (102oF) all year round, is said to be effective in curing arthritis and skin diseases.

There is also a miraculous cave, about thirty meters deep, that contains fantastic stalactites and is said to have been the residence of a fairy.
The North Hot Spring Park
Situated at the foot of the Jinyun Mountain on the Southern bank of the Jialing River, The North Hot Spring Park is an important part of the Jiajing Mountain Scenic Area, one of the first groups of nation-level scenic spots established in 1982 by the State Council. The park was named after the spring which runs incessantly all the year round. The flow volume is about 6000 tons per day and the temperature is between 35℃ and 37℃. Now there are in the park 75 bathrooms a swimming pool(50m long and 16m wide), one indoor triangle swimming pool, and a pool for children to play water in.
Nanshan Park
The park extends on the southern bank of the Changjiang River in Chongqing. A mountain park known for its flowers and trees, it is composed of Huangshan, Daishan, Yuanshan, Wangshan, and Jiangshan mountains and covers more than 400 hectares in area. During the War of Resistance Against Japanese Aggression, important officials of the Kuomintang government and foreign envoys vied with one anther to build villas there.
Eling Park
Located on the ridge of Eling Mountain in the Yuzhong District, the park is so named because its topography resmebles a goose neck. Eling Mountain, the commanding post of Central Chongqing, is an ideal spot to admire Chongqing Harbor, where the Changjiang and Jialing rivers join forces, and a night view of Chongqing. The park is less than two kilometers from the two rivers, one flowing on the left, and the other, on the right.