Hefang Old Street
Hefang Old Street is a historical cultural street area located at the foot of the scenic Wushan Hill of southern Hangzhou and quite close to the famous West Lake. It is the one and only best preserved urban area of ancient Hangzhou and is a miniature of the city's history. The legendary Bai'niangzi from an ancient Chinese story had a beautiful love affair in Hefang Street with Xu Xian.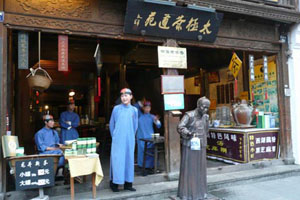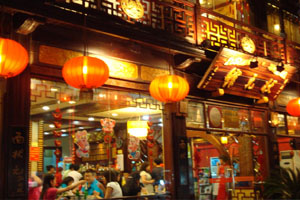 Hangzhou was China's capital during the Southern Song Dynasty more than 800 years ago and Hefang Street having many shops, restaurants and taverns. It has passed the test of time after the Yuan, Ming and Qing Dynasties and it is still being a prosperous marketplace today. Most of the hundred-year old businesses of Hangzhou are located here. Hefang Street had not only been the heart of old Hangzhou but also the commercial center in ancient China.
Walking along Hefang Old Street, you can enjoy the nice feeling of eating and shopping. It is otherwise known as the Snack Street for the diverse food it serves. The street clearly concentrates food from all around the country, while at some time highlighting the local flavors. This place is for street food junkies. People eagerly dart from stall to stall, buying some eats and munching away as they seek out the next interesting thing to try.
Hefang Old Street is unique by showcasing a variety of Chinese crafts, such as land-blown sugar candy, paper-cutting and hand-made dough figurines. You can also find a large variety of local snacks such as roasted walnuts, and "dragon-whisker" candy. The street is full of art hawkers, candy sculptors, pillow shops, caricaturists, old-fashioned movie players, storytellers, bonsai shops, teahouses, and an array of small eateries, to make Hefang Street charmingly lively.