Lingyin Temple
Lingyin Temple, embraced by two splendid mountains, was built around the year 326 in East Jin Dynasty. Around the 1,600-year-old temple that is considered as a leading centre for research of Chinese Buddhist culture, the clouds are circling over the flourishing ancient trees, providing people a peaceful and picturesque resort.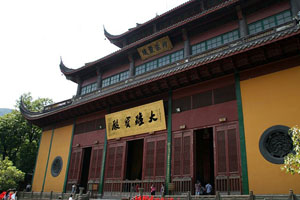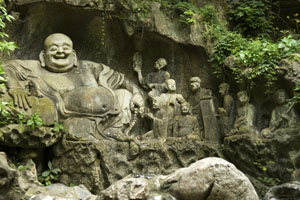 The old but well-preserved main hall is single layer architecture with a height up to, amazingly, 33.6 meter, inside which there is a huge golden Buddha status of almost 20 meters tall. The magnificent but lifelike status is carved exquisitely from a huge wood consists of 24 pieces of camphorwood. In addition, the other carvings of various designs around the temple and a wealth of Buddhist classics kept here will be a feast of eyes.

Pavilions with rockeries and old trees around and the streams running under the bridges have added magic color to the mysterious temple, making thousands of worshippers and tourists reluctant to leave.

Opening Hours: 7:00 -- 17:00

Ticket Price: 30 CNY

Location: Fayun Lane, West Lake Road, Hangzhou

Transportation: Bus No. J17, J18, K837, K7, K807, Y1, Y2, 7 and 807 and Tour Bus 1, 2 and 4 will bring you here.