The Red Crag Revolutionary Memorial Museum
Red Crag Revolutionary Memorial Museum is located at Red Crag Village by the bank of Jialing River. The museum covers an area of 74,384 square meters. The Red Crag Village is the site of the Chongqing Office of the Central Committee of the Communist Party of China and the Eighth Route Army during the Anti-Japanese War and the early period of the War of Liberation. The construction work of the memorial museum started in 1955, and in 1959, Mr. Dong Biwu inscribed the name of the museum" The Red Crag Revolutionary Memorial Museum", In 1961, it was for the first time in the country it was announced as one of the national key relics preservation unit. Zhou Enlai, Dong Biwu, Ye Jianying, Wang Ruofei, Qin Bangxian, and Deng Yingchao etc. lived and fought for a long time in the village. During the Chongqing Negotiation between KMT (the Nationalist Party)and the Communist Party in 1945. Mr. Mao Ze-dong also stayed there.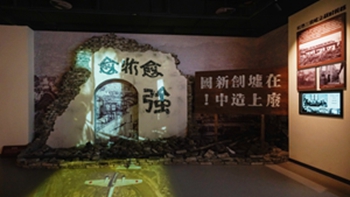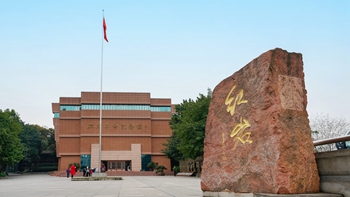 The museum includes sites such as No.13 Red Crag Village, No.50 Zengjiayan Residence and historic site of Xinhua Daily. They functioned as the bases for Southern Bureau of the CCP Central Committee during anti-Japanese War. It is the center where the CCP developed and consolidate anti - Japanese national united front and led the revolutionary struggle in the Kuomintang-governed areas. Thus the memorial museum is set up for the sake of its outstanding contribution.
In 1971, a display room is put aside for 500 pieces of items including revolutionary relics, documents and photograph from Delegation of the CCP, Southern Bureau of the CCP Central Committee and Xinhua Daily New Agency, which was a complete showcase of historic events and activities initiated by the organizations mentioned above during 1938-1947.
The museum has a collection of 922 pieces of cultural relics, 1,500 significant historic documents (including historic literature and files), 844 newspapers and periodicals published at the moment,1,188 books on revolutions and more then 2,600 historic photographs.
The Red Crag, now a renowned sacred place of the revolution and a tourist attraction, is famous in China and the world for the glorious militant achievements gained and the Red Crag Spirit initiated by senior revolutionists such as Mao Zedong and Zhou Enlai. Now it has been appointed by Sichuan Provincial Government and Chongqing Municipal Government one of the first patriotic education bases.
If you want to have a insight into the history of the CCP, you won't miss it.
Opening Hours: 8:30~17:00
Admission: free
Transportation: Bus No.104、215、216、217、219、802、265