Eating in Changchun
 
Famous Local Dishes
Changbai Zhen Yan (Changbai Banquet with Rare Products)
Changbai Zhen Yan are made up with six dishes in total. All the ingredients are both natural and rare products of Changbai Mountain including ginseng, deer antler, bear's paw and snow toad and the adjective 'sumptuous' well describes the banquet.
Ginseng and Chicken Cooked with Maotai Wine
As its name implies, this dish mixes ginseng, chicken and Maotai together to present you a delicacy. The whole dish will appeal to you with eye catching color, beautiful shape and alluring aroma. One distinctive characteristic of this dish is that it uses Maotai, famed Chinese liquor as one of its main ingredients.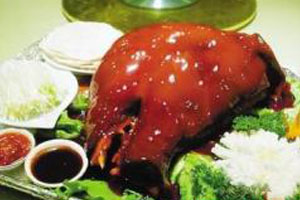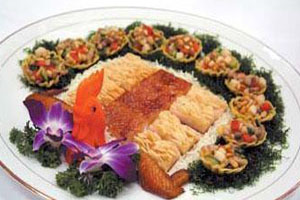 Ginseng Chicken
Ginseng is valuable tonic produced only in Jilin Province, and it is one of the three treasures of Dongbei (northeast of China). It is made from ginseng and a hen of less than one-year-old with the Ginseng being placed inside the hen that then lies in a soup, both attractive and nourishing.
Braised Deer's Tail
Deer's tail is precious cook meat. Braised Deer's Tail is honored as 'uniqueness of dishes' due to its flamboyant color and intoxicating aftertaste.
Famous Local Snacks
Chaoxian lengmian (Korea Cold Noodle)
Buck wheat flour , wheat flour and amylum are main ingredients. The cooled hard-boiled noodles are put into cooling beef or chicken soup with piccalilli, sesame oil, and bolus of chicken, slices of beef, apple slices and egg as seasonings. Lengmian (cold noodle) is a snack with a Korean flavor.
Li Liangui Xunrou Dabing (Li Liangui Bacon and Cake)
The history of Li Liangui Xunrou Dabing (initiated by Li Liangui) can be traced back to 1894. Xunrou (bacon) is made of top-grade fresh pork boiled in soup which is mixed with dozens of rare traditional Chinese medicine. Dabing (cake) comes from flour blended with the soup in which pork is boiled. It is like a golden full moon. Nowdays there are already more than 70 branches having been opened all over China.
Xueyi Dousha (Snow Sweetened Bean Paste)
Red beans, eggs and white sugar are the main ingredients. White sugar will be scattered all over the round dousha balls. It is one of most popular snacks for tourists here.
Dagao
Dagao is thumped by wooden gavel in a trough. There are two kinds of Dagao, white Dagao made of sticky rice and yellow Dagao made of glutinous millet. It is the most famous traditional food of Korea.
Piccalilli
Chilli, ginger and garlic are three essential flavorings. In addition, pear and apple pieces, slices of green radish and monosodium glutamate are also needed. Piccalilli is one of the most important dishes for almost every Korean family. It is richer in nutrition than traditional pickled vegetables.
Recommended Restaurants
Changchun Restaurant
Address: Chongqing Lu
Specialty: Changchun Restaurant was established in 1934, it is time-honored with more than 70 years' of experience. You can taste the most original Changbai Zhen Yan here.
Xiangyang Tun
Address: No.433, Dong Chaoyang Lu
Specialties: authentic Dongbei Nongjia Cai (typical northeast farmhouse dishes), like Paigu Dun Doujiao (chop braised with kidney bean), Jiang Gutou
Tianma Restaurant
Address: Xinmin Dajie (west side of Changbaishan Hotel)
Specialty: It is famous for its dishes with a special Jilin flavor. Here you can enjoy Changbai Zhen Yan and other delicacies.
Wangji Jiang Gutou (Xi Minzhu branch)
Address: No.1059, Xi Minzhu Dajie
Specialties: such as Jiang Gutou, authentic Dongbei Cai, Tudou Ni (mashed boiled potato)
Li Liangui Fengwei Da Jiulou (Li Liangui Flavor Restaurant)
Address: No.2788, Jianshe Jie, Chaoyang Districk
Specialties: Xunrou Dabing (bacon and cake)
Mama Shou
Address: No.1668, Gongnong Dalu
Specialties: Korean dishes
Papa's (Tongguang Lu branch)
Address: No.16, Fengshun Jie, Tongguang Lu
Specialties: Korean dishes
Tiaotiao Yu
Address: No.5, Dong Chaoyang Lu
Specialties: Sichuan cuisine, especially fish
Meizhou Dongpo Jiulou
Address: No.488, Jianshe Jie
Specialties: Sichuan cuisine
Maxvourt Hotel Western Food Restaurant
Address: No.823, Xi'an Dalu 
Tianhe Sushi Ju (Tianhe maigre restaurant)
Address: 2-F, No.79, Qingming Jie
Pizza Hut
Address: No.2, Liaoning Lu, Kuancheng District