Oriental Culture Park
With an area of 1,800,000 m2, the Oriental Culture Park locates in a good place surrounded by peaceful lakes and beautiful villages. The park consists of 8 zones, in which marvelous exhibitions showing the rich and splendid Chinese cultures in various fields will be a feast of eyes.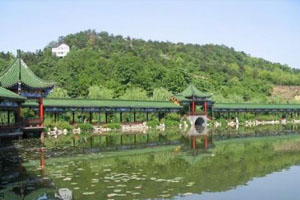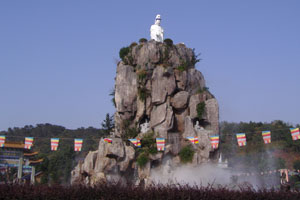 Exotic Fruits and Vegetables Garden
By applying the advanced technologies into the planting and nursing the fruits and vegetables of the new species, the garden will amaze you with a 100 kg pumpkin, a 6-meter-tall sunflowers, a 2-meter-long gourd and some other exotic species.

Oriental Holiday Resort
Peaceful lake, floating restaurant on water, fitness center, village-style residences and nursing home that are embraced by the green hills, will provide you a wonderland for holiday. Walking along the bamboo groves, taking breathe of the fresh air and enjoy the monkeys getting harmonious with the picturesque sceneries will be a different experience.

Confucianism Shows
The 9-meter-tall bronze status of Confucius and the huge mural named Xingtan, the place where Confucius delivered sermon to his students, here will tell you how great the Confucius is and how significant the Confucianism is.

Sightseeing Zone
Here, the imitation of the Great Wall will lead you to the Sanjiang Pagodas that are the typical architectures in Song Dynasty (960-1234). With nine layers and a octagonal shape, the 60-meter-tall pagodas fully show the antique styles of the Song, from the top layer of which you can have a wonderful view of tide and sunset.

Ancient Temple
The Confucianism has played an important role in the Chinese culture, so has the Taoism. This centuries old Taoist temple shows the development of the Taoist and the great influence of Taoist on the Chinese culture. Having been experienced hundreds years of changes, the temple is still magnificent as it was.

Century Plaza   
The 20,000-m2-wide plaza is decorated with the blooming flowers, flourishing grasses, splendid pagodas and lifelike 10-meter-tall statuses. The 16-meter-tall pagodas are actually built according to the geomantic theory, all of which are telling the Chinese traditional conception of unite.

Here is a window of China's history, culture and tourism, which greatly fascinates tourists at home. Can it be a destination at your expedition list?

Opening Hours: 8:00 -- 17:00

Ticket Price: 128 CNY

Location: Hangzhou City, Zhejiang Province

Transportation: Bus No. 6, 19, 26, 322, 522 and 561 will bring you here.