Tomb of General Yuefei
Tomb of General Yue Fei, as the name shows, is the tomb of General Yue Fei, which has been kept well for almost 800 years. Though built in the South Song Dynasty, the 4.5-meter-tall color status of General Yue Fei and the architectures around it are still as magnificent as they were hundreds years ago. There is a picture of 373 lifelike cranes of various shapes flying on the ceiling of the main hall, under which stands the grand status of the general Yue Fei.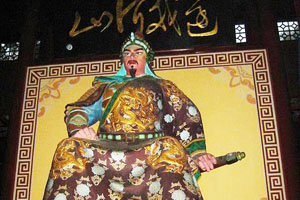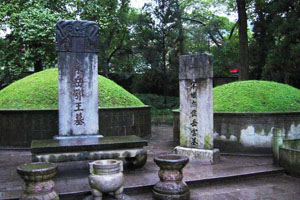 Yuefei proved to be a brilliant general, repeatedly defeating northern incursions, so the minister called Qinhui was so jealous of him that he persuaded the Emperor, Gaozong or order Yuefei back to the court. It was just the minister's conspire. No sooner as Yuefei stepped into the court, was he captured and then executed by a wrong accusation of disobeying military order when he was conducting his mission. The Southern Song court was soon collapsed for the treacherous conspiracy.

The tomb bears the phrase "endless loyalty and devotion to one's country", which, according to a legend that Yuefei was tattooed in his back by his mother when he joined the Song army. Several stone sculptures of men, horses, tigers and sheep guarded on each side of his tomb. Four statues of Qinhui, his wife and the other betrayers were kneeling in front of the tomb.

In addition, the other statuses are as lifelike and the historic relics around them can tell you the history. The fossils of the ancient pines planted around the tome of General Yue Fei are, as the research shows, as old as 120 million years.

Opening Hours: 8:30 -- 17:00

Ticket Price: 10 CNY

Location: Qixia Hill, Hangzhou

Transportation: Bus No. Y9, Y3, Y1 and K7 will bring you here.