Eating in Changsha
Briefing Hunan Food
Changsha people boast to be the best gourmand of China and here people spend a lot of time eating. Xiang Cuisine is one of the Eight Cuisines in China and has a fine and delicate appearance and a hot & sour taste and the heavy and hot taste is an equal competitor to the spicy food of Sichuan. Street dining and restaurants in the city make every visitor's mouth hot. No matter the featured snacks - 'Stinky Tofu' and 'Sisters'Rice Balls' in Huogongdian (Fire Palace) or the famous spicy shrimps at Nanmenkou, the many types of delicious local food will not disappoint any guests.
Landlocked Hunan's chili-rich cuisine is similar to that of western China's Sichuan province. Chili, garlic and the unusual so-called 'strange sauce' enliven many dishes.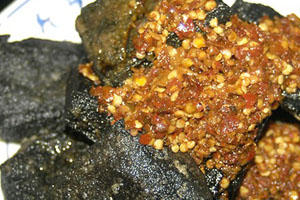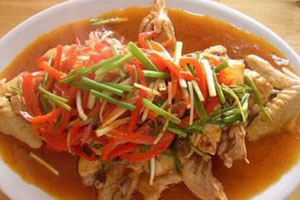 Chairman Mao, who was Hunanese, once claimed that the more chilies one eats the more revolutionary one becomes. It was meant as a joke (most probably) but the statement is in accordance to the Chinese belief that diet makes a great difference to the well being of a person.
Changsha specialties include dongan chicken, stinking tofu, chili smoked meat and cold rice noodles in a hot and spicy sauce. Honey sauces are favoured for desserts, which include favourites such as water chestnuts or cassia-flower cakes. For those of the non-spicy palate, the city still has an array of cooler dishes, including tasty dumplings (Jiao zi), eggs and pickles.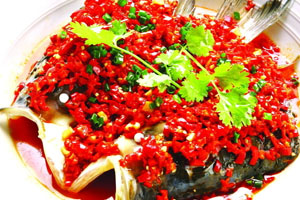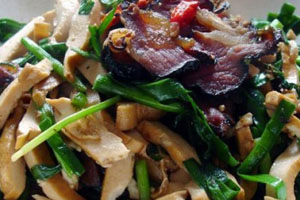 Famous Local Food
Famous Local Dishes
Three-Boxed Birds (San Ceng Tao Ji)
This name may seem a little strange and doesn't tell the story clearly. It was said that in 1920s, an official's wife had a stubborn headache and a doctor suggested that she buy a sparrow, a pigeon and a black-bone hen as ingredients for a Chinese herbal medicine soup. The doctor first put the small sparrow into the pigeon and then put the pigeon into the black-bone hen, hence the name three-boxed birds. Then the boxed birds were steamed with herbs for a long time and the finished dish comprised both the soup and meat for eating. The story doesn't say whether the lady's headache was cured or not. However, the dish became popular in the country.
Crisp Sesame Duck (Maren Xiangsu Ji)
A duck is fried in peanut oil until its skin turns golden. Spicy seasonings and sesame oil are then added to the fried duck. The finished duck is cut into pieces and made into assorted cold dishes. It is crisp, tender and has a savory taste.
Non-Yolk Eggs with Mushroom (Huagu Wu Danhuang)
It is a traditional dish of Changsha. As early as in the 1930s, it enjoyed a high reputation. Customers will gasp in admiration when eating eggs without yolk.
No one will be surprised by a plate of eggs with a mushroom soup. However, when you try it, you will find the tender eggs have no yolk inside and the delicious soup will melt in your mouth.
The chef makes a tiny hole in the bottom of the eggshells and removes the eggs. Then the egg white with a prepared chicken soup and salt are put back into the shells again and cooked. The most delicate of these will have a smooth cover and tender taste.
Spicy Chicken Cubes (Mala Zi Ji)
This is probably the most typical local dish. It was said that the one who hasn't eaten this dish equals is one who has never eaten Hunan Cuisine.
Simply stir-fry the chicken dices with pepper, capsicum, vinegar, shaohsing wine over high heat. The finished dish should have a bright color and spicy flavor. It is easy to describe, but very hard to cook. The best place to enjoy it is Yuloudong Restaurant.
The King Bids Farewell to His Concubine
This traditional Hunan dish was first created at the end of the Qing Dynasty. Meticulously prepared, this nutritious course is tasty and aromatic, and will leave prolong aftertaste. It is one of the best courses for the banquet.
Nanmenkou& Shahejie – Spicy Shrimps
If the Fried Stinky tofu of Huogongdian (Fire Palace) with a 250 year old history tells of the city's past, Kou Wei Xia (Stir-fry Spicy Shrimp) another popular choice near the area of Nanmenkou and Shahejie is a present day story.
The thing that earns the street its reputation is Kou Wei Xia (Stir-fry Spicy Shrimp), another popular market food for Changsha people. The shrimps are lightly boiled in hot water until they turn red. They are then sautéed in cooking oil, with hot chili, ginger, peppers, salt and garlic sauce, shallots and preserved bean curd for just twenty seconds when cooking wine and some water are added. The shrimps are then cooked for a further ten minutes to give them a spicy flavor. The resultant dish is spicy and hot, which is earns it a three peppers indicator on the menu which means it is the hottest. That's Changsha people's favorite! The king of the street is the Sixijie Restaurant on this dining street.
In addition, there are other delicious foods including duck dishes, cold dishes, soups, noodles and dumplings.
Every evening, an array of food stalls and shops near the area of Nanmenkou appear with bowls of bright color shrimps and none can resist the temptation! The crowed market will last late into the night until about three or even four o'clock.
Whole Family
It is a traditional dish served as the first course at a family banquet, symbolizing a happy reunion under the same roof.
Blood
While western cuisine includes the use of pig's blood to create Black Pudding, Blutwurst, etc., in China it is customary to collect the blood of all manner of freshly killed livestock and fowls. The blood is stirred until it congeals when it is sealed and refrigerated until ready for use. The resultant cakes are cut into pieces and stewed in spicy soups.
Young Dragons Taking off Robes
As a traditional Hunan dish, this dish is prepared with eels, in the shape of ancient warriors taking off their robes. Hence the name. Prepared with unique techniques, this dish has won universal praise and has been well received by customers.
Famous Local Snacks
Huogongdian (Fire Palace) - featured snacks
In the central part of Pozi Jie Street, there is an eye-catching palace building, which was originally a temple where people offered oblation for a fire deity. Later, it becomes a gathering place for people and each year on the Fire Deity Day, they will hold sacrifice ceremony, temple fairs and other activities. Merchant traders, food stalls and shops which provide visitors with a variety of food constantly attend.
Today, the two-storied building has been decorated in a simple and antique style, in which are several snack shops and restaurants. It is the best place to sample the local snacks. Their most famous snacks include
Fried Stinky tofu (Smelly tofu)
Don't be scared away by the word 'stinky' in its name, although it does not smell very good and has an awkward appearance, it tastes quite pleasant. The outside is crisp with a little salty savor and the interior is tender. It was said that Chairman Mao Zedong tried this snack when he visited the city in 1958.
Sisters' Rice Balls
These are a kind of rice balls with fillings of meat or sugar. The meatballs have mushroom pieces, meat, and spring onions inside and are made into the shape of pomegranate while the sweet balls have the fillings of sugar, dates, meat and sweet-scented osmanthus and often resemble a peach. On the day of happy events, the two are presented in contrasting colors to create a happy atmosphere.
Jiao Yan San Zi
This is a wheat pasta dish fried in oil. Noodles are made from flour, fat a little water and some salt together with spicy flavoring and a little sugar. These are twisted together and then fried in oil. It is a popular dim sum that the local people have for breakfast.
Wulipai – Steamed Dishes
Wulipai Street near the Changsha Railway Station is a good place to find homely dishes at reasonable prices. Jianjun Restaurant on this street is the king of steamed dishes. Here a variety of ingredients ranging from taro to fish, assorted meats and vegetables are steamed in earthen bowls. Two or three bowls of these dishes and rice can feed two couples well.
There are also many restaurants of this kind near Cai'e Nanlu.
Recommended Restaurants
For your reference, the following are the restaurants rated most popular by the locals:
Huogongdian (Fire Palace) Restaurant
First Branch: No. 46, Pozi Jie Street, Changsha
Second Branch: No. 258, Laodong Lu Street, Changsha
Third Branch: No. 107, Wuyi Donglu Street, Changsha
Tel: (0731) 5813161, 5817591
Nameless Restaurant
Description: A small restaurant where you can taste the authentic Changsha dishes with the real taste that is so popular with local people; reasonable priced and recommended as the Number One for visitors.
Add: No. 547, third section of Furong Zhonglu, Changsha
Plum Garden Shrimps
Description: It is a time-honored restaurant, renowned to be the best of best place to sample the delicious Kou Wei Xia (Spicy Shrimps). Highly recommended!
Add: No. 42, Yinxing Lu, near the Bayi Bridge, Changsha
Yuloudong Restaurant
Description: It is this restaurant that brought the famous Spicy Chicken Cubes into the life of Changsha people and visitors throng to sample this typical dish.
Add: NO.9 East Wuyi Road, near the Changsha Railway Station
Tel: (0731) 2288288, 2288000
Travel Group's Choices:
Muslim Donglaixing Restaurant
Addr: No. 1, Wuyi Xilu, Changsha
Tianxin Fried Chicken Shop
Add: No. 97, Jiefang Donglu, Changsha
Tel: (0731)4117378
Deyuan Bread
Add: No. 31 Huangxingnanlu Road, Changsha
Tel: (0731) 5817732
Circle Restaurant
Add: 29th floor, Zhongshan Hotel at No. 69, Huangxing Zhonglu, Changsha
Century-Old Restaurants:
Dongjiujia at No. 9, Bayi Donglu, Changsha
Changsha Doupi at No. 44, Huangxing Zhonglu, Changsha
Shuangyan Wonton at No. 179, Huangxing Nanlu, Changsha
Tianjin Snacks at No. 73, Jiefang Lu, Changsha
Yangyuxing Noodle at Jiefang Lu, Changsha
Ganchangshun Noodle at No. 1, Zoumalou, Changsha, Tel: (0731) 4441529
Xinhualou Noodle at No. 20, Wuyi Xi Road,Tel: (0731) 2226068
For western food lovers, the following western restaurants are good choices:
Mona Lisa Restaurant [Western Style]
This Euro-style restaurant provides western style food, ice cream and drinks. 150-200 yuan will cover enough for three people. The atmosphere is quite good.
Add: Furong Lu, Changsha
Dyou Coffee [Western Style]
Add: 2nd floor in Yuhua Building, Furong Zhonglu, near the crossing of Renmin Lu