Entertainment in Changsha
Briefing
Changsha people are also renowned for their acting and have created various traditional folk art performances of their own including the local operas, storytelling, drum opera, acrobatics and other dramatic styles. Everyone can feel their hospitalities and enthusiasm by their vigorous dances. Today, most of the entertainment houses in the city present dynamic and entertaining performances featuring a blend of the traditional essence and the modern flare. The neon lights of KTV squares, disco parlors, clubs and dancing squares illuminate the city at night. Dotted with all sorts of bars and pubs, Jiefang Xilu, although not as prosperous as Sanlitun Pub Street in Beijing, has its own styles. Romantic and quiet bars, dynamic show bars, teahouses, western style restaurants...People of all ages can find their ideal place to spend their leisure time.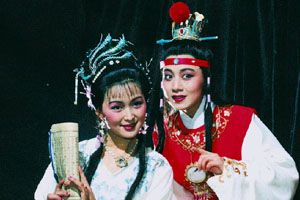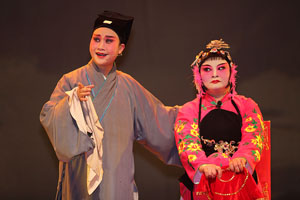 Popular Activities
Night River Tour of Xiangjiang
A current night time favorite with the local people is a river cruise along the beautiful Xiangjiang. As the boat glides along the river the bright lights and charming night scene of the 'Bund' in the city is amazing. At present there is only one recognized craft providing this river tour but an official of Changsha's port bureau has said that the government is planning to launch fifty or so River Buses along the river and without doubt the river cruise is set to become the new style of entertainment in the city.
Other entertainment and activities
Hunan Opera
One of the major operas of Hunan, it is popular in central and eastern parts of the province, though Changsha and Xiangtan are the central points. The performance is lifelike and local.
Huagu (Flower Drum) Opera
As one of the major operas of 1 Hunan, popular innermost areas of the province, it has been developed from folk songs and ditties, and has a history of over 160 years. The performance is jocular, exaggerated and interesting.
Hunan Folk Songs
They have spread across the province and can be divided into three forms: high tune, level tune and low tune. The songs are all about love and romance.
Maogusi Folk Dance
Maogusi Folk Dance is one of the earliest dances of the Tujia nationality. The dancers usually wear a tower-like cap, clothes made of rice straw and carry wooden sticks in their hands. Performance is usually accompanied by bamboo tubes.
Changgu (Long Drum) Dance
A kind of dance that is large in scale of the Yao nationality. One man and one woman (though sometimes two men and two women) make up one dancing group. Their dance displays the labor, life and sacrifice activities of the Yao nationality.
Theatres
Hunan Theatre
A famous theatre in the busy downtown area
Add: No. 139, Shaoshan Beilu, at the crossing of Shaoshan Lu and Jiefang Lu
Tianhai Theatre
Add: Laodong Xilu
Cinemas
Silver Palace (Yin Gong) Cinema
Add: Zhongshan Lu, next to Zhongshan Department Store
Changsha Movie City
Add: No. 105, Renmin Zhonglu
Gyms
Huatian Gym
Add: 3rd floor, Int'l Club of Huatian Hotel
Shennong Gym Center
Add: 5th floor, Shennong Hotel
Furama Gym Center
Add: 1st floor, Furama Hotel
Tongcheng Gym Club
Add: 9th floor, Dolton Hotel
NightClubs
Golden Time (Jin1 Se4 Nian2 Hua2)
Located in Jiefang Lu, this is the most up to the minute entertainment venue in the city. With its fantastic décor this club is renowned for its crazy atmosphere and first-class show performances. After the first few hours focusing on simpler dances, they go on to more challenging music and dances. Crowds consisting of hundreds of enthusiastic people sing and dance till they drop. Dazzling pop singers, dancers and bands give fantastic presentations on many occasions.
Customers tend to be those on higher incomes and businessmen.
Add: No. 18, Jiefang Xilu
Features: Show performances and KTV
Getting there: Bus No. 368 or taxi
Hedong DISCO
It is the most popular disco square in the city. They also have show performances and bars. However, people go there mainly for the crazy rhythms.
Huatian Theatre (Hua2 Tian1 Da4 Ju4 Chang3)
This attractive and well appointed theatre stages both formal performances and entertaining shows.
Add: 5&6th floor, Huatian In'l Club
Red Sun Entertainment (Hong2 Tai4 Yang2)
Considered the king of the entertainment enterprises, the Red Sun provides a comprehensive range of show performances.
Add: 7-A, Dongfeng Xilu
Shennong Club
Add: 4th, floor, Shennong Hotel
Tongcheng Club
Add: 7th, floor, Tongcheng International Hotel
Bars and Pubs– Jiefang Xilu Bar Street
The three-kilometer long Jiefang Xilu is a street with all sorts of bars and pubs and is another very popular place for Changsha people at night. Although not as prosperous as Sanlitun Pub Street in Beijing, Changsha's bars and pubs have a style that is all their own. Romantic quiet bars, dynamic show bars, teahouses, western style restaurants... People of all ages can find something to meet their particular preference here.
COCO
Keywords: Graceful and romantic atmosphere, easy listening music, popular with the white-collar 25's to 35's as well as many foreigners
Busy Period: around 10 p.m.
Add: No. 71, Jiefang Xilu
Getting there: Bus No.112, 368
Consumption: Middle, 20-30 yuan/beer
Jin Bi Hui Huang
Keywords: splendid palace style decoration, frequented by government officials, noted for its luxury and club shows
Add: Underground of Tianhan Theatre at No. 190, Laodong Xilu
Getting there: Bus No 202 from the railway station
Consumption: Upper-middle
Coffee Hall, Tongcheng Hotel
Keywords: traditional Chinese décor and furnishings, a quiet spot for a leisurely coffee or Chinese Kongfu Tea, popular with foreign guests.
Add: No. 149, Shaoshan Beilu
Price guide: 40 yuan for a cup of tea
Margaret
Keywords: Blues, light R&B, a place for relaxation with quiet bars. This venue is one for the girls& ladies
Add: Jiefang Xilu
Mingchayuan
Keywords: Japanese style, simple colors, with a blend of East and West, a place where businessmen like to congregate.
Busy Period: Day Time
Add: No.211, Laodong Xilu
Margaret Chinese& Western Restaurant
First Branch:No. 768, Furong Zhonglu
Second Branch: No. 118 Wuyi Lu
Third Branch: No. 458, Furong Zhonglu
Re Wu Disco
Keywords: disco, DJ, show performances
High Period: around 10 p.m.
Add: 2nd floor, Dongfang Hotel, Wuyi Dadao