Eating in Dalian

Famous Local Dishes
Seafood
Steamed Sea Bream
Sea Breams are steamed with ginger, mushroom, spring onion, ham pieces and bamboo shoots for fifteen minutes. It is a favorite dish served with wine.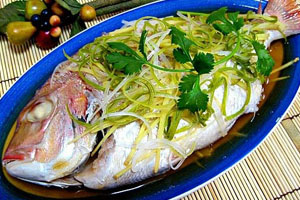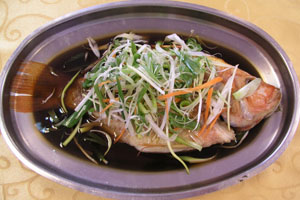 Steamed Scallops
Fresh scallops are steamed with lima beans, shallots, sauces and wine. When cooked they are served on tender egg white pieces with vegetables and diced carrot to present a pleasing appearance. It tastes fresh and light.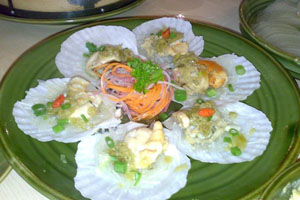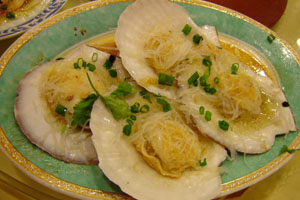 Stir-fried Prawn
Gutted prawns stir-fried with ginger, spring onion and spice, and then stewed on a low heat. The finished prawn should have a bright appearance, like a red flower. It tastes tender and fresh.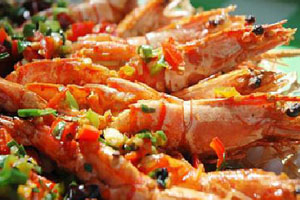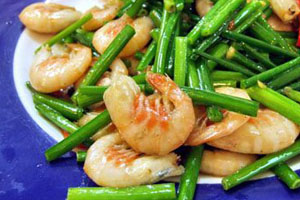 Lantern-shaped Steamed Abalone
Shelled abalones are cut into the shape of lanterns and steamed with the seasonings of gingers, shallot and salt for seven minutes. The finished dish should keep the fresh flavor of abalone. It is usually served with simmering shellfish soup.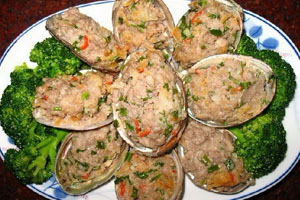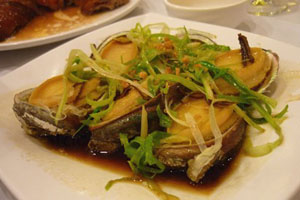 Dongbei (Northeastern) Cuisine
The 'rough' Dongbei Cuisine is famous for its heavy tastes and large quantities, it dominate the usual dining market of the citizens. Thick pork meat is braised with a variety of potatoes, mushrooms, vermicelli and other vegetables into a big dish simply called 'Braised Dish'. It is a famous local food of the cold Dongbei area, which people eat in the cold winter and is offered by most restaurants in Dalian. Other Dongbei dishes including spiced pig's legs, duck necks, chicken livers and all sorts of coarse grain food are also very popular.
Famous Local Snacks
Men Zi
Men Zi is a traditional snack in Dalian. A protein-rich food coagulated from an extract of pachyrhizus (something like potatoes) is cut into pieces and fried on a pan to create a crisp cover. A mixed seasoning of smashed garlic, sesame, and sauces is added on eating. Many small food stalls provide this. Packed Men Zi can be found on most supermarket shelves in Dalian.
Salted Fish and Corn Pancake (Yan Xu Bing'zi)
This snake refers to two things: the baked salted fish is served with a kind of crisp corn pancake. Legend goes that fishermen going out fishing in the morning couldn't return home to have lunch and so they baked the fresh fish to eat with the pancakes, the habit being passed down from generation to generation from the old days.
Recommended Restaurants
For your reference, the following are the restaurants rated most popular by the locals:
Wanbao Seafood City
Address: No. 125, Tianjin Jie, Zhongshan District
Style: seafood
Shuangshengyuan
First Branch: No. 1, Anle Jie, Zhongshan District
Second Branch: No. 643, Huanghe Lu, Xigang District
Third Branch: Qinjian Jie, Zhongshan District
Four Branch: No. 71, Anshan Lu, Shahekou District
Style: authentic century-old seafood restaurant in Dalian; a good place for a friends' get-together, Salted Fish& Corn Pancake.
Tian Tian Yu Gang
First Branch: No. 72, Tianjin Jie, Zhongshan District
Second Branch: No. 41, Yan'an Lu, Zhongshan District
Third Branch: No.10, Renmin Lu, Zhongshan District
Fourth Branch: Minzhu Square
Fifth Branch: No. 45, Tongtai Jie
Style: a locally well-known chained restaurant brand, renowned for their seafood. The service in different branches may vary a little.
Pinhailou
Address: No. 46, Er Qi Square, Beidou Jie
Style: The service is considered to be one of the best of the seafood restaurants in the city.
Bangchuidao Hotel
Address: No. 1, Yingbin Lu, Zhongshan District
Style: A seaside restaurant in the southeastern coastal area provides fresh scallops, abalone served with mustard juice.
Wanfulu
Address: 3rd floor of Wanda International Hotel at No. 539, Changjiang Lu, Xigang District
Style: it provides a buffet of a variety of local seafood.
Jinshitan Chunni Restaurant
Address: Jinshitan Scenic Area
New Oriental (Xin Dong Fang) Food City
Address: No. 3, Gulf Square (Guang3 Wan1 Guang2 Chang3), Zhongshan District
Style: Cantonese Cuisine
Tsim Sha Tsui
Address: 1st floor in Bai Mian Cheng Building, Jiefang Lu, Zhongshan District
Style: Cantonese Cuisine, Hong Kong dim sum: egg tarts, cha siu bau (barbecued pork buns)
Da Di Chun
Address: Huanghe Lu
Style: This restaurant is renowned for its good service. They promise that all dishes can be served within twenty minutes, which is normally impossible in many other restaurants during peak meal periods. Thin pancakes rolled with sauced meat and vegetable dishes are their signature dish.
Furthermore, there are two famous dining streets in the city. One is the dining street in Tianjin Walking Street to north of Zhongshan Square and east to Shengli (Victory) Square. You can take Tourist Bus 801 (B) and K901 at the railway station to reach there. The other one can be found in Hei Shi Jiao opposite the Distance Bus Station. Bus 081, K901 and Bus 202 can reach there.
For western food lovers, the following western restaurants are good choices:
Pizza Hut
Address: Shengli (Victory) Square
Style: American pizza chain restaurant with authentic pizza, salad, drinks and sweets
Cost: Buffet salad 28 yuan/p.p. pizza (9 inch) 22yuan, (12 inch) 85yuan
Zuo An
Address: District C, Xinghai Square (in the southwestern part of the city)
Style: A Western buffet with a range of sea food, beefsteak, lamb steak, Italian noodles, Japanese Sushi, Chinese meal and desserts. It is reputed as the best of its kind in the city.
Pizza King
First Branch: No. 122, You Hao Square
Second Branch: Renmin Lu