Eating in Jinan

Famous Local Food

Jinan cuisine features scrumptious, fresh, aromatic and pure dishes. The methods of cooking employed in the preparation of these local foods include deep-frying, grilling, frying and stir-frying but the food is non-greasy. Nutritious soups are an important feature of Jinan cuisine while shallot and garlic are widely used to create delicious flavors.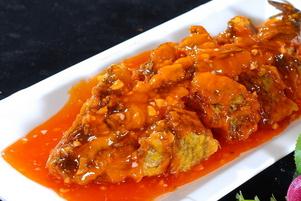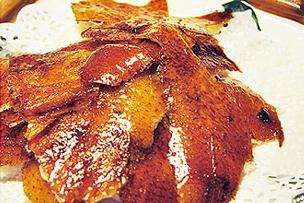 Famous Local Dishes
Tang Cu Li Yu (Sweet and Sour Carp)
As The Yellow River -- Mother River of Chinese nation flows through Jinan, the carps produced in The Yellow River is also called the carp of Longmen. Its body is fat, color is gorgeous, meat smell is tender, pure and luxuriant, it is a treasure in the numerous carps assortment. According to the traditional habit, after eating up the fish, also can make fish head and additional juice one bowl " bungle fish soup ", this soup sour is sweet fragrant, moisten the intestines tastily and refreshingly.

Chinese unicorn's mandarin fish
According to the legend, Chinese unicorn is one animal in ancient China, looks like deer, it has angles, tail, with scale and shell all over. Because this dish is similar to the Chinese unicorn, thus gain the name. The mandarin fish is one of five major famous and precious fish of local water, the burr is few, the meat takes the form of garlic clove, textures is delicate, taste delicious. Its smell is sweet and flat, and it can enrich air blood, benefit efficiency of spleen and stomach, cure timid consumptive disease Ying tight, intestines wind rush down blood disease according to Chinese medicine. Finished meat is extremely tender, color is pretty and dazzling, the model is lifelike.

Jinan Roast Duck
Jinan Roast Duck has a long history. The raw materials are the force-feed duck, the figure is plump, meat is delicate, the lower fat of skin is relatively thick. The making craft of the roast duck is very complicated and exquisite, and the time need 1 to 3 day up to different season. The finished color and luster is red and bright, the fragile meat of cover is tender.

The sauted chicken cubes with chilli and peanuts
This dish is fried chicken with mushrooms, it is famous for exploding and frying, crisply and tenderly. The main material is the breast meat of chicken, mixed with peanut kernel and chilli, give flavor to it by adding white sugar, salt, soy sauce, spring onions, ginger, garlic, south wine, gourmet powder, etc. The finished color and luster is red and bright, the diced chicken is delicate, and the peanut kernel is crisp, salty, fresh and peppery.

Famous Local Snacks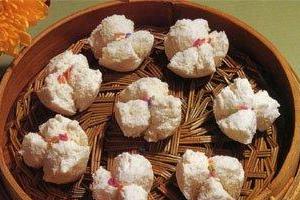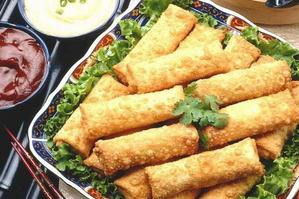 Quancheng Steamed Stuffed Bun
It is located at No. 2, Nanmen Dajie (Nanmen Street), Jinan. This is the famous stuffed bun

Wuren Bao (Five-Stuffing Steamed Bun)
As its name implies this steamed bun has a variety of fillings. They are peanut meat, walnut meat,sesame meat, almond and melon seed meat. The other ingredients are jujube meat cube and sugar, which make the bun more flavorsome.

Fried Dumpling
This is a variety of fried and baked stuffing snack. The stuffing often is comprised of pork and vegetables.

You Xuan
This is a kind of fried cake. The finished snack is golden and crisp on the outside with a soft inside it is particularly delicious when eaten with wonton.

Spring Roll
Local people continue the custom of making Spring Rolls in the spring. Restaurants also sell spring rolls and the popular version which has a variety of wild vegetable as it main filling.

Delicacies Street
Foshan Jie
Foshan Jie mainly focuses on spicy food. This street is not only neighbor to up-market places like the Silver Plaza (Yinzuo) Shopping Mall, but also hotels like the Sofitel Hotel and Yuquan Simpson Hotel. The restaurants here cater for all appetites. Sichuan cuisine restaurants such as the Qiao Chuan Guo Restaurant, A Xiang Po Restaurant and Tian Wai Tian Restaurant are located here while western restaurants and those serving Korean food are also popular in Foshan Jie.

Quancheng Lu
Quancheng Lu has a long history. Apart from traditional Chinese restaurants which can be find here, you also have the opportunity to find delicacies from all over the world if you prefer any of the numerous western fast food chains and restaurants, such as the Pizza Hut, KFC, and California Beef Noodle King.

Jinan Snacks Street
This street is located from the Jing Shiyi Lu in the east to the Yingxiong Shan Lu in the west. Visitors can find snacks from all over the China here.

Recommended Restaurants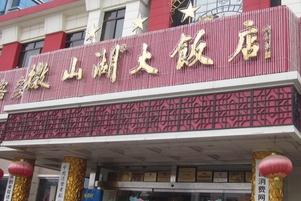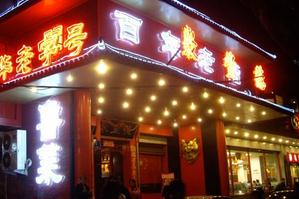 Daming Hu Restaurant
Location: south to the southeast gate of Daming Lake, Jinan
Specialty: Song Shu Yu (Squirrel Fish, here 'squirrel' refers to the cooking method!)

Weishan Hu Restaurant
Location: No. 18, Jida Lu, Jinan
Specialty: Black fish, which can be prepared in three different ways.

Huiquan Restaurant
Location: No. 201, Baotu Quan Bei Lu, Jinan
Specialty: Tang Cu Li Yu (Sweet and Sour Carp)

Ju Feng De Restaurant
Location: Jingwu Lu, Jinan
Specialties: Xie Huang Yu Chi (Fin and Crab Cream Soup), Jiu Zhuan Da Chang (Fried Pork Chitterlings)

Su Wei Ping Sheng Restaurant
Location: Complex Building, No. 10, Kai Yuan Xi Qu San Lu, Lixia District, Jinan
Specialty: the restaurant promises: free fruits before dinner; purified water used in cooking; no monosodium glutamate is added to food and no smoke, no meat, no eggs and no garlic, no leek, no scallion, no shallot.