Eating in Korla

Famous Local Food

Korla has the same taste as other area in Xinjiang and it is one of the best regions to sample authentic Xinjiang cuisine. There are many restaurants dotted to serving local specialties including mutton kebabs, Nan bread stew, Uighur rice and roast fish, etc. 

Famous Local Dishes

Roast Lamb
Roast lamb might just qualify as a pinnacle of Xinjiang Uighur cuisine. The dish is very expensive as the main ingredient is a whole lamb and it is reserved for special occasions like receiving honored guests.

First, a large, fat lamb is chosen, slaughtered, and its skin is completely removed. Then the lamb is cleaned and salt is brushed on the inside and outside of the lamb. The lamb is covered with a mixture of egg, green onion, pepper and other spices including cummin (ziran in Chinese). When all of these steps are completed, the lamb is put into a hot pit to roast. On certain special occasions, the roast lamb is cooked with a piece of red silk covering its head and coriander or celery stuffed in its mouth. When fully roasted, which takes at least an hour, the meat is sliced up and served. The flavor of roast lamb is unforgettable and it is comparable with Beijing roast duck.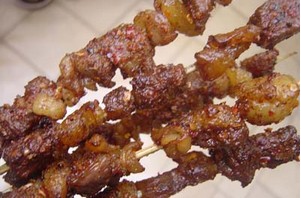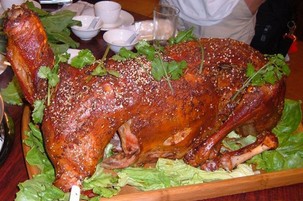 Famous Local Snacks

Baked Mutton Kebabs
Baked Mutton Kebabs (Kaoyangrouchuan) can be found anywhere on the streets of any city or small market town throughout Xinjiang. Migrants from Xinjiang have made these kebabs famous throughout the rest of China's major cities but naturally, the best, most authentic kebabs are only available in Xinjiang.

Anyone who has travelled throughout China has seen the kebab vendors with their long metal stands filled with hot embers and a pile of uncooked meat on sticks. The meat is cooked over the heat with the vendor fanning the embers to quicken cooking. The kebabs are then seasoned with spice powder (either spicy or not spicy) and served. One kebab is not more than a mouthful. Prices can range from between RMB1 to RMB2 per kebab.

Roast Fish
Roast fish is a traditional snack dish in Xinjiang. It tastes quite good, without the smell you might think roast fish could have. The method of roast is very much like Mutton Kebabs. The fish is sliced open from head to tail and a wooden stick spears the fish along the same direction.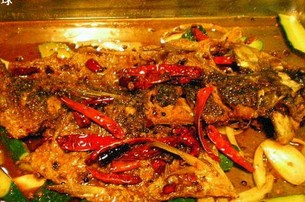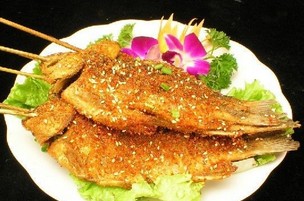 Uighur Rice
We call this dish 'Uighur Rice', but its name in Chinese is Zhuafan. In English, this actually means 'grabbed rice' for the fact that you can eat it with your hands. The main ingredients are rice cooked in mutton broth with spring onion, carrot, and a piece of mutton (or beef, chicken, duck meat instead) placed on top of the rice. Sometimes, raisins or almonds are also added for a little extra flavor. Uighur Rice is actually quite rich, but its richness gives it an undeniably delicious flavor. This rice will not only fill you up, it'll give you lots of energy and leave a delicious aftertaste in your mouth.

Recommended Restaurants

In the culture square and many streets in Korla, you can see all kinds of local snacks served there. You can have a taste of Uighur and Mongol's foods and snacks there. The night markets there will last out to one a clock at midnight, sometimes even to 3am at weekends.

Xinxhuan Hongmumen Restaurant
Location: south Jianguo road, Korla
Tel: 0996-2860836
Xinsheng Qingzhen Restaurant
Location: railway business street, Korla
Tel: 0996-2159385