Eating in Macau

Famous Local Food

Macau Cuisine
400 years ago, Portuguese traders brought capsicum, curry, shrimp paste and pickled lings from Africa, India and Malaysia to Macau when they first set foot there. When, these exotics were blended with native vegetables and seafood the local people created the singular taste of Macanese cuisine the like of which can be found nowhere else in the world. The popular Macau dishes include Bacalhau (dried codfish, a Portuguese favorite), African Chicken, Galinha Portuguesa, Linguado Macau, Paella and Clam Stir-fried with Garlic. Wine and good food brings out the best of each other and Portuguese wines are an excellent accompaniment to the delicious Macau cuisine. Serradura is a famous after dinner sweet that is considered to be a favorite with a majority of people who live in or visit Macau.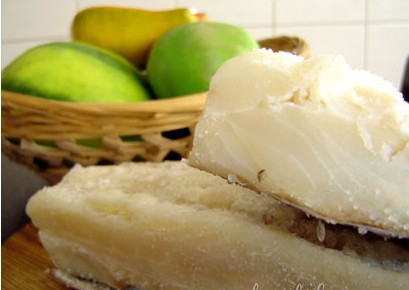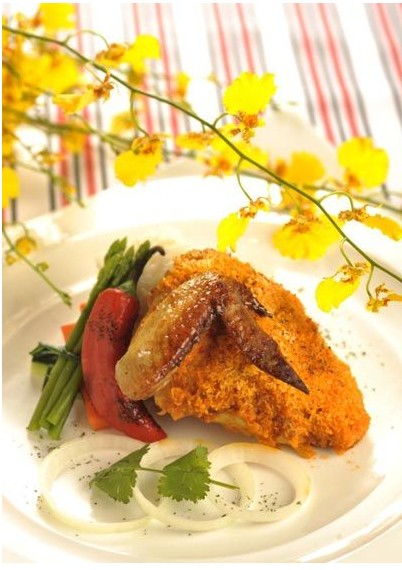 Famous Local Dishes
Bacalhau (codfish)
This is probably Macau's most famous Portuguese dish. Bacalhau is actually dried codfish slices imported from Portugal. It is an essential part of Portuguese cuisine and there are many of ways of cooking it. Before cooking, the fish slices are soaked in water for 20 hours to get rid of salt. It can then be served baked, grilled, stewed or boiled. The popular dishes made of Bacalhau include Fried Bacalhau Balls, Streamed Bacalhau with Seafood and sometimes it is served with rice. Most restaurants in Macau offer this well-known dish.

African Chicken
This special chicken dish is a result of borrowing ideas from both the African and Indian traditions of using spices. The chicken is first seasoned with a piquant sauce made with garlic and capsicum together with Cola a Portuguese spice and then baked in the oven. The finished chicken is seasoned with the sauce again before serving. The recipe for the sauce is the secret of Chef Yang, who invented this dish. The best place to try it is SOLMAR on AVENIDA DA PRAIA GRANDE.

Galinha Portuguesa
This tasty offering is chicken baked in the oven together with potatoes, onions, egg, saffron and curry.

Linguado Macau
These are fresh and tender Macau soles that are fried and usually served with green salad together with cheese, shrimps and other seafood.

Vegetable Soup
This soup is made of potatoes, vegetables, Portuguese sausage and olive oil. It is a popular traditional Portuguese soup and served in most restaurants.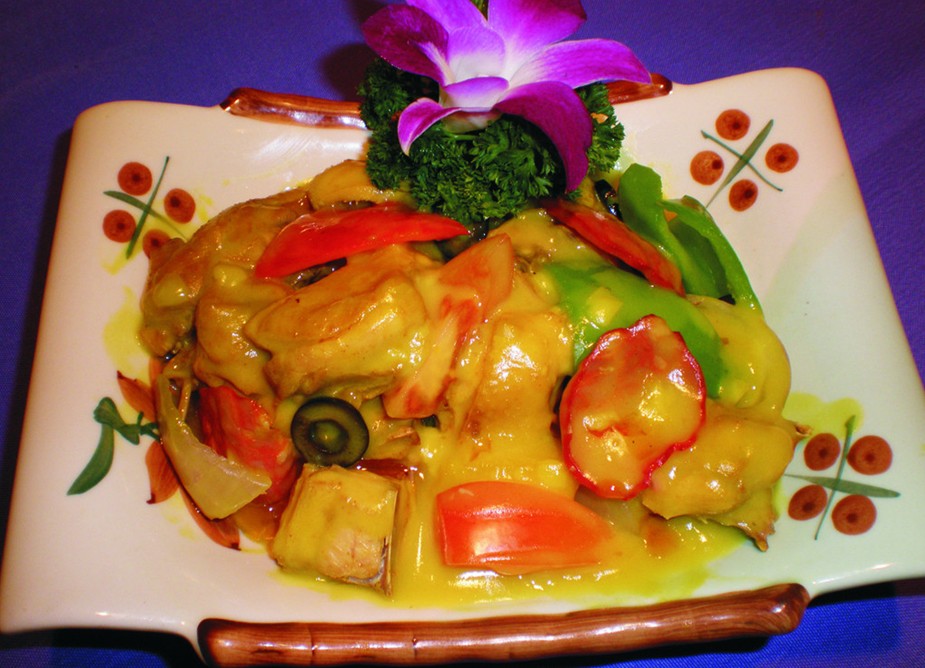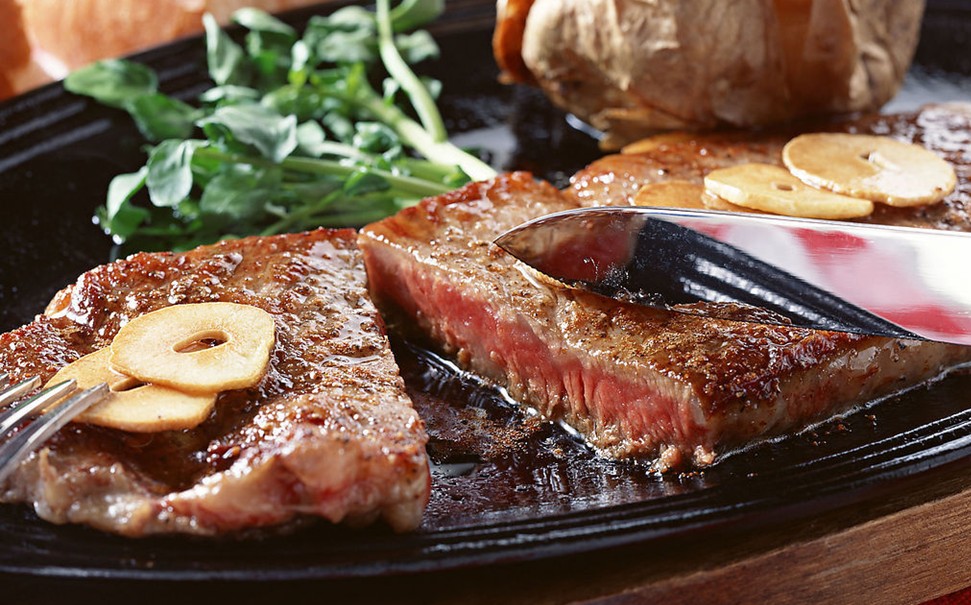 Paella - Portuguese Seafood and Rice
This is the same as the traditional dish that is so popular in Portugal and Spain although the rice content betrays its oriental origins. Rabbit, chicken, shrimps and other sea food, both red and green peppers as well as garlic are cooked with olive oil and rice to which is then added saffron to give the dish its familiar color and flavor. Covered and allowed to simmer, the rice absorbs the liquid and the result is a mouth watering inexpensive dish.

Clam Stir-fried with Garlic
Fresh clams are steamed with minced garlic and Portuguese cilantro, the leafy part of the herb the seed of which is coriander. This finished dish should retain the original fresh taste of clams.

Famous Local Snacks
The excellence of the Dim Sum in Macau is particularly well-known in South China. There is a full range of Dim Sum choices for either teatime, buying as gifts or as a choice when dining in the city. Pastéis de Nata (egg tarts), these are a Portuguese-style egg tart that actually originated from Coloane here in Macau. The delicious custard tart has become a featured snack of the city, just like the Roast Duck of Beijing. Margaret's Café & Nata and Lord Stow's Café, to be found on the Macau Peninsular and Taipa Island respectively are the two best places to buy these tarts. Tourists often buy some as gifts for friends and families.

The Macanese have the habit of spending teatime in cafes to enjoy the pastries. They call it Yum Cha (tea drinking). All kinds of dim sum ranging from almond cake, chicken cakes, cashew cookies, sesame crackers, egg and cheese rolls are served in the many Portuguese café in the area surrounding the main square, Largo do Senado. In the area close to Rua de Cunha at the south end of Taipa Island, there are also many dim sum bakeries. The almond cake of Choi Heong Yuen and Koi Kei are favorites among many foreigners. Most pastry shops open from the early morning to the noon when people queue in a long line. For the Senado Square, you can take and Buses TCM 11, 21, 21A and 22 or TRANSMAC 28A, 33 and 34 reach the Rua de Cunha at the south end of Taipa Island.

Serradura, a dessert made of crème, cracker crumbs covered with soft egg white. It is served with fruits and different flavors of chocolate, coffee, mango or sweets are added to create a rich savor. It is a popular dessert in most restaurants. The best place to try it is Serradura (the restaurant) on Av. Coronel Mesquita, No. 15 r/c, Edf. Tin Fok. Pork Chop Sandwich is deep-fried pork tenderloin served on a bun. It is popular throughout the Macau and Hong Kong regions. Cafe Tai Lei Loi Kei in Taipa sells the best from 15:00 to 17:00.

In addition, the jerky, from Heong Kei, a 25-year old specialty shop selling roasted meat slices is also recommended.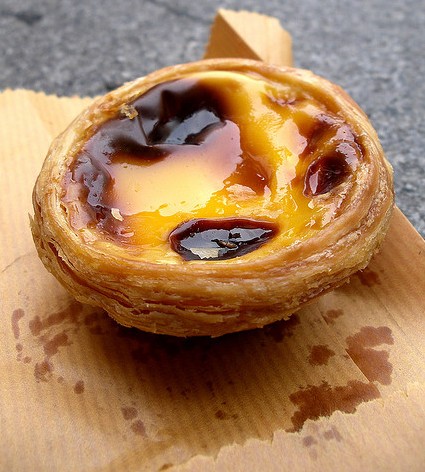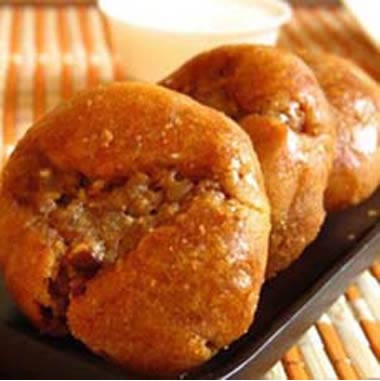 Places to find snacks
Margaret's Café and Nata [Macau Peninsular]
One of the best egg tart bakeries in the city
Address: Edif. Kam Loi, Nam Van area

Lord Stow's Bakery
A branch of Margaret's Café and Nata on the outlying island of Coloane
Address: Tassara 1, Coloane

Serradura
Address One: Av. Coronel Mesquita, No. 15 r/c, Edf. Tin Fok, Macau
Address Two: Rua do Regedor s/n, AA Chun Fok Village C.C. r/c, Taipa

Cafe Tai Lei Loi Kei
Address: Taipa
The opening hours are from 6:30 to 18:00 and the famous Pork Chop Sandwiches are available from 15:00~17:00 at 10 MOP$

Choi Heong Yuen Bakery
The best place to buy the almond cakes for gifts and good for dining
Address: 1 Travessa do Matadouro, Macau

Fong Kei
Address: 14 Rua do Cunha
Recommended: chicken cakes,
The bakery is not open on Tuesday.

Koi Kei
One of the best in Macau
Address: 11 Travessa do Auto Novo in the downtown
Recommended: almond cakes, ginger flavored candy, peanut candy, egg rolls
Website: http://www.koikei.com/eng/

Deli Lafayette
Address: 3rd floor in the New Yaohan Department Store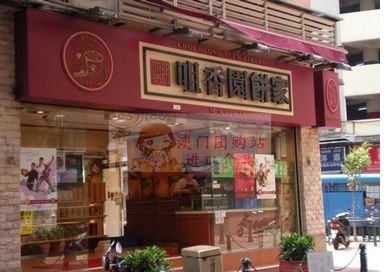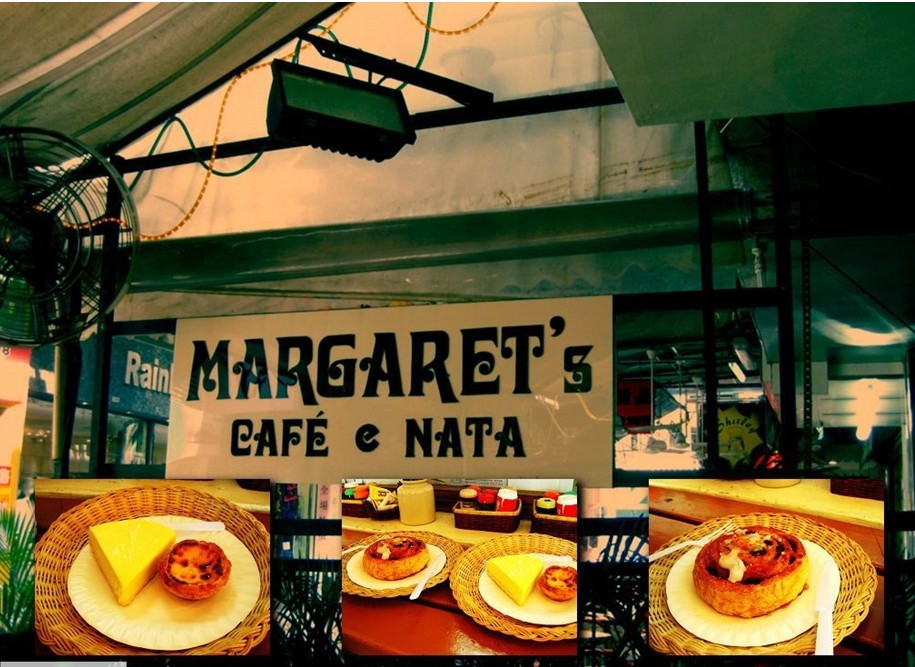 Casa de Bolas Man Kei
Address: 23-24 Rua do Cunha, G/F., Taipa

Lai Kei
A ten-year old shop that sells a variety of fruit and vegetable juices
Address: 13 Rua da Palha

Heong Kei
It is the first specialty shop that sells jerky, pork and other meat slices. It's also a popular choice for gifts.
Address: 6 Travessa do Auto Novo

Recommended Restaurants

The restaurants specializing in Macau cuisine can be found in the central downtown area close to Largo do Senado, the main square. They can also be found in the southern area of Avenida da Praia Grande and on the waterfront along Rua do Almirante Sérgioin in the western part of the city near the Inner Harbor.

TCM 10, 10A, 11 and 21A or TRANSMAC 3, 3A, 5, 6, 8, 8A, 26A and33 reach the Senado Square area.

The area of Rua de Cunha neighboring on Macau Stadium at the south end of the outlying island of Taipa also has many well-known Macau cuisine restaurants. Among them, O Santos, opened by a former naval chef provides authentic Portuguese cuisine catering for many who may be homesick. The congenial host as well as many photographs of Portugal on the walls ensures that guests feel very much at home. So as to ensure the very best ingredients are used for his dishes Mr. O Santos makes his selection at the food market every morning.

TCM 11,21, 21A and 22 or TRANSMAC 28A, 33 and 34 reach the area of Rua de Cunha.

There is another excellent restaurant at Hac Sa Beach on the island of Coloane. This is a popular venue with diners who enjoy the savory cuisine in the tranquil atmosphere among the verdant plants of an open courtyard within the restaurant with its attractive view over the Hác Sá Beach. Famous yet inexpensive wines from Portugal are available here.

Buses 15, 21A, 25 and 26A can take you to the Hac Sa Park.

PLATÃO [Macau Peninsular]
Address: TRAVESSA DE S. DOMINGOS nº 3, r/c 'B', edf. Jardim Lok Va
Recommended: Bacalhau, grilled lamb, duck rice
The restaurant is not open on Monday.

Clube Militar de Macau [Macau Peninsular]
This Euro-style building was originally a Portuguese military officers' club and is now open to members of the public following repatriation of the troops. It is very popular with western diners.
Address: AVENIDA DA PRAIA GRANDE Nº 975
Recommended: antipasto (Portuguese sausage, ham, vegetable), African Chicken, Stewed Pork, Bacalhau

Alorcha [Macau Peninsular]
Address: RUA DO ALMIRANTE SÉRGIO nº 289-AA e nº 289-BA, r/c, close to A-Ma Temple
Recommended: Paella, the Portuguese Seafood Rice and Clams Stir-fried with Garlic these each have earned this restaurant a great reputation. For the sweets, try Serradura.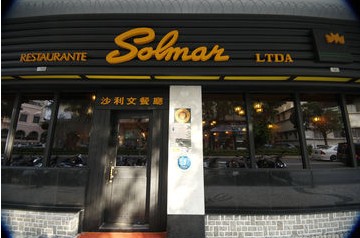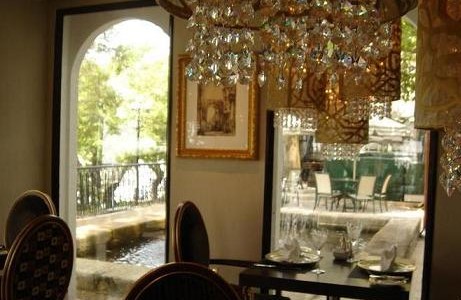 SOLMAR [Macau Peninsular]
It is the oldest Portuguese restaurant in the city and the best place to taste the authentic African Chicken, cooked by Chef Yang, who has established his recipe for African Chicken as a special Macau culinary delight.
Address:RUA DA PRAIA GRANDE nºs 8-10, r/c e s/loja
Recommended: African Chicken (authentic)

O Santos [Taipa Island]
This restaurant features popular homely Portuguese dishes.
Address: No. 20, Rua de Cunha
Recommended: Bacalhau, Pawns Fried with Garlic and a special vegetable salad

COZINHA PINÓCCHIO [Macau Peninsular]
A well-known century-old Portuguese restaurant
Address: RUA DO SOL nº 4
Recommended: Bacalhau, Pawns Fried with Garlic

CAFÉ MADEIRA
Located in the entertainment center of Macau Tower, this restaurant offers both authentic Portuguese cuisine and Cantonese dishes. Both the food and river view are fantastic.
Address: NOVOS ATERROS DA BAÍA DA PRAIA GRANDE Lote 1, zona D, Centro de Diversões da Torre de Macau, r/c, (L1)
Recommended: Bacalhau served with salad and rice, African Chicken

Sopa de Fitas Bou Kei
Another Burmese food stall that sells fish soup noodles and spring rolls
Address: Between Rua de Restauração & Travessa de Martinho Montenegro

Kee Fat
It is one of the best noodle restaurants operated by Burmese Chinese. The special cooked fish soup adds savory flavor to the noodles.
Opening Hours
Address: 6 C, Rua de Manuel de Arriaga

Joey Thai Restaurant
The Rua de Abreu Nunes, the place where the restaurant is located is called 'Thai Street' by Macanese. The savory stir-fried fish cooked in authentic Thai style is the featured dish of the restaurant.