Entertainment in Harbin

Festivals and Art Fair
Harbin International Snow and Ice Festivals. Every year, January 5th until warm weather erodes the constructions (exact dates vary). By far Harbin's biggest claim to fame are these month-long festivals. While smaller ice and snow lanterns can be found allover the city, there are three major sites with large scale lanterns being displayed.

Sun Island International Snow Sculpture Art Fair , Located on Sun Island, northside of the river (Just a few steps from the Sun Island gondola station or just cross the frozen river by feet). 8AM-5PM. Beautifully carved snow sculptures, massive dimensions.However, if you plan to visit the Ice and Snow World then this is not a must see. Pretty expensive for what you get to see and all other activities in the Park are extra.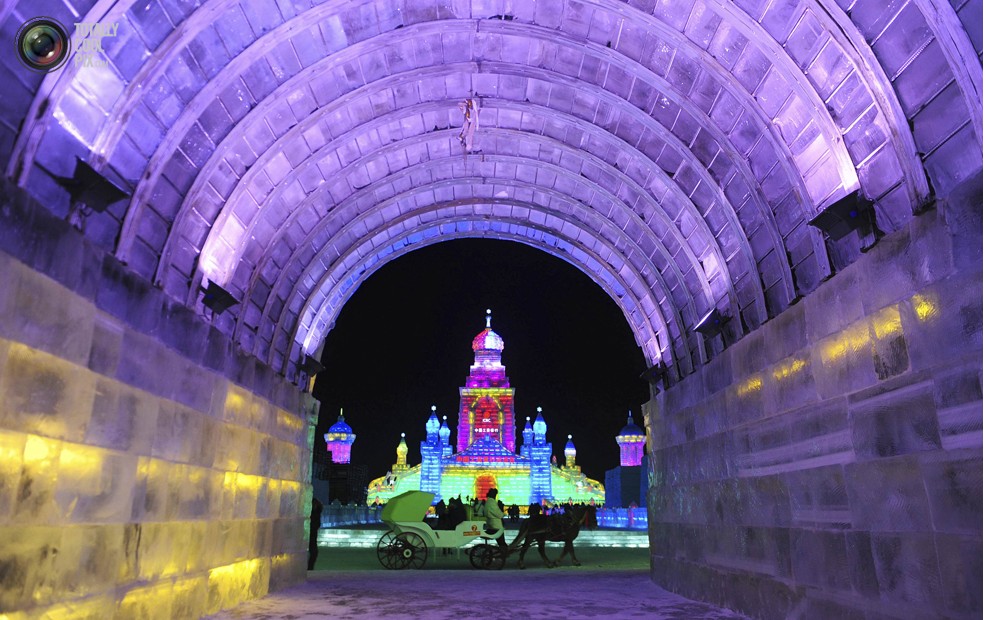 Ice and Snow World , Northside of the river, west from Sun Island. 9AM-9:30PM. Large buildings and sculptures made of ice. Best viewed after sunset.
Ice Festival, Zhaolin Park , Located in the city center at Zhaolin Park, southside of the river. 1:30PM-9:30PM. Rather small lanterns compared to the other two main festivals. Best viewed after dusk. ¥200 (admission is cheaper before 3:30PM).
Sauna/bath houses . Literally all over the city. Many local people do not shower in their own apartments but these public shower houses instead. There are upscale, midrange, and low end places. Check with a 5 star hotel to get the most up to date facility for the type you prefer. Upscale spas will cost about 120 Yuan plus additional 200 and up for a massage. Low end ones cost 30 yuan plus an additional 100 yuan for massages. Shanghai Tan  and Jiannianhua are two of Harbin's longest established sauna/bath houses, but nowadays their facility are entirely neglected in the wake of the new entrants abilities to divert customers.
Harbin International Beer Festival.Held in late August of every year. The city takes a break and honors the cities most famous export "Harbin Beer" for a week. A whole public square is cordoned off and there are stages that host music concerts, dance contests. Most of the beer drunk is the local Harbin brew, but there is a tent for international beers. In the summer of 2005 a number of the foreigners in the city assembled a "drinking team" and ended up getting in a drunken brawl with some locals and got hauled away by the police.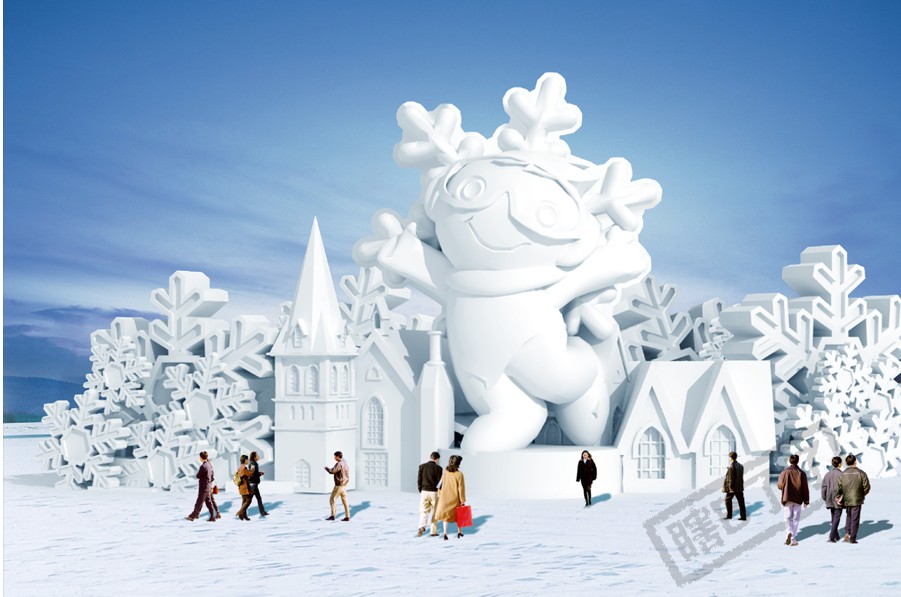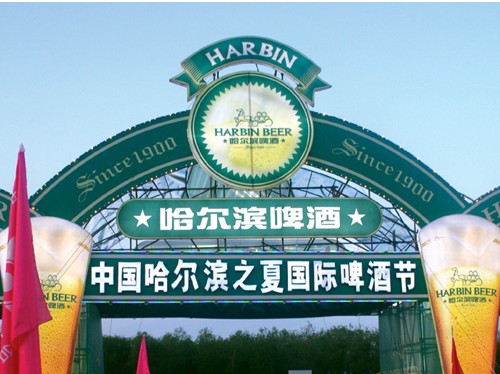 Harbin Summer Music Festival. Held every two years in July (Next will be in 2012), this festival is organized by the city and brings in famous Chinese bands for free concerts held in the city square. In 2006 for the "year of Russia" there were various Russian groups in attendance and a concert that featured over 1,000 pianists playing at once.
WB International Movie Theatre . Zhongyang Dajie Wal-mart. ¥50 plus for tickets.

Bar Street
The campus of Harbin Institute of Technology  is surrounded with a number of small and cozy bars. HIT itself has a number of foreign teachers and hundreds of foreign students. Some notable bars here are:
Sky Bar/Cafe: A new bar back on the scene after closing down a couple of years ago. A cosy little pub in an old Russian-style building. Widest range of imported beers in town. Amazing fish and chips, burgers and other pub food. Staff are fluent in English and good to sit around and chat too. Big screen TV for live sports....just ask them and they will put it on for you. They have Trivia every Thursday and Texas Hold'em on Tuesdays. The best place to hang and meet others in "The Bin." 
At the middle portion of Guogeli Dajie  near Children s Park  there is a small man made lake that is surrounded by 10 or so small pubs and a fountain. During the warmer months this small square is packed with people out for a night stroll and is really lively. This also seems to be a place for the trendy teens and college age kids to hang out. If you continue walking down Guogeli Dajie there are a few more small bars dotting the street. Great for people watching! For about ¥100 you can order a "beer tower" , which is a tall plastic tube with a spigot on the bottom. At the other end of the lake there is a restaurant that resembles TGI Friday's, as besides the name being changed to DJ Friday's almost everything else has been copied. What makes this place really stand out from the real TGI Fridays are the scantily clad Russian dancers.
Box Town
Address:118 Xidazhi Jie

Babyface
Address:Youzheng Jie and Hongjun Jie intersection 
Banana
Address:Basement, Sino-way Hotel, Hongjun Street, Nangang District  
 
Blues
Address:100 Diduan Jie
 
Earth Club
Address:102 Xidazhi Jie
 
Jinhao Disco
Address:161 Heping 
Dijie Manyao Bar
Address:2 Manzhouli Jie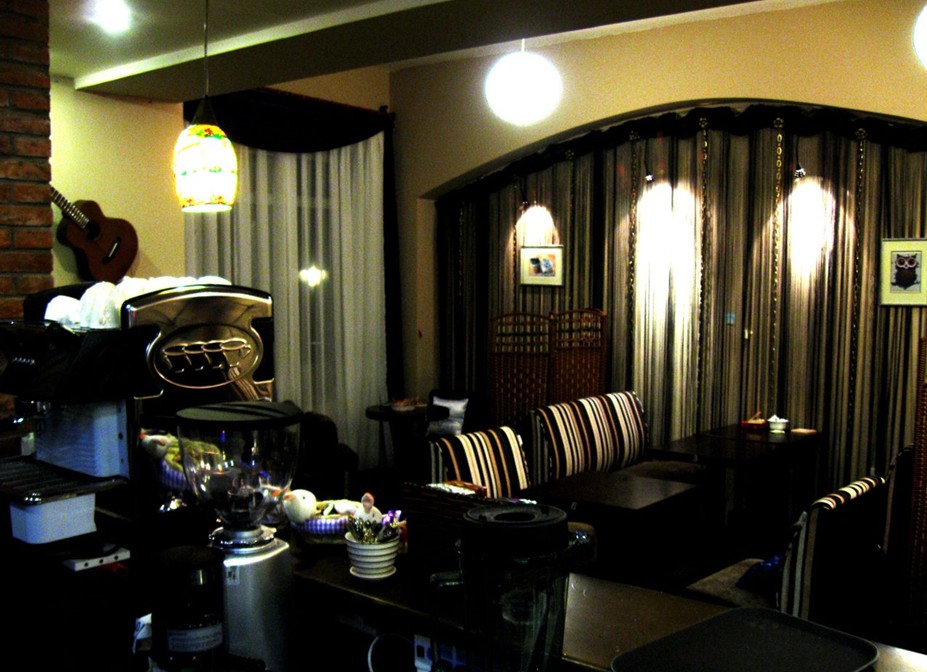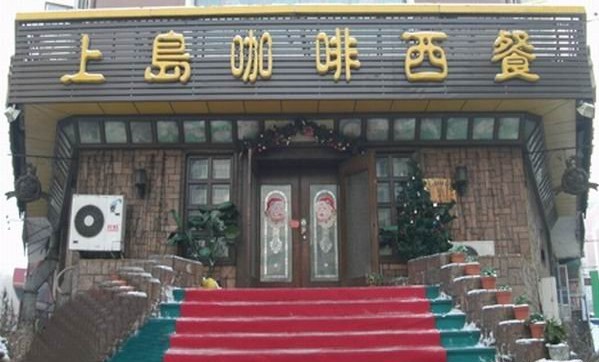 Teahouses and cafes
There are a number of very nice teahouses in the New Development Zone . Most will rent you a room and will charge by the hour, plus whatever tea you decide to drink. Some of the teahouses are located on Hengshan Lu.
Rumi Cafe
Address:A7#13 Seasons of Berlin, Academy St., University Area, Harbin
Tel: 0451-88122316 
Be For Time
Address:: 102 Xidazhi Jie, under Pacers near HIT  and 2 Linxing Lu . Open 24 hours. ¥18 all you can eat/drink.
UBC Coffee
Address:186 Gongchang Jie . Closest thing Harbin has to Starbucks.
USA Bucks
Address:Zhonyang Dajier