Entertainment in Huangshan
Popular Activities
The folks in Huangshan City have been leading a harmonious but colorful life. They spend the leisure time in practicing the exciting entertainments.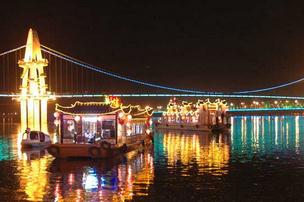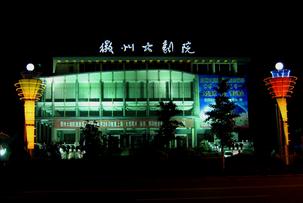 Evening Cruise on Xin'an River
Xin'an River, the "Mother River" of ancient Huizhou, has been experienced the greatly prosperous time in the Ming Dynasty, when the streets along it were amazingly rushing and lovely. The evening cruise on this ancient river with colorful stories and culture will be one of the best tries.
When the night falls, the streets along the river will come to live. Under the shinning colorful neon lights, the river turns into a gorgeous crystal band. In addition, the Huangmei Opera, a distinctive local performing art will be showed on the cruise boat.
Going to the teahouse is another popular way to kill the leisure time. For one reason that the tea can prevent people from the diseases caused by wet and hot weather, for the other it is a traditional way that people chat with friends or do business over tea. The covered-bowl tea is one of the well-known local specialties. The teahouse, which can be found easily in Huangshan, is not only open to men but also to women.
Performance at Huizhou Theatre
Opening Time: 8:00 -- 9:00 every night
Location: No. 1, North Tunxi Qianyuan Road
Performances like magic, dance and acrobatics with local characteristics will be a nice experience of the local cultures. The local people will get together here after dinner for another feast of culture.
Major Entertainment Places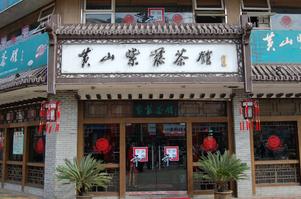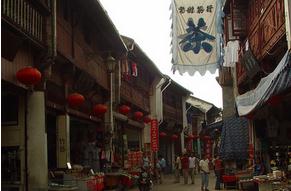 Huangshan Ziteng Tea House
Location: No. 9, South Qianyuan Road of Tunxi District, Huangshan City
It is the most popular teahouse with the largest scale and the best service in Anhui province
Yilin Ge Teahouse
Location: Tunxi Ancient Street
It is a special teahouse full of cultural breath, the designs of which are simple but gorgeous. Here you can enjoy the cultural performances of tea ceremony, Huangmei Opera (popular in Anhui Province) and Hui Opera are always performing.
New Nanguo KTV
Tel: 0559-2358488
Location: Hehua Rd, Tunxi District, Huangshan
Huangshan International Hotel Dancery
Location: No. 1 in Small Mt. Huang Scenic Spot
Huangshan Tianzhu Tea House
Location: No. 3, South Qianyuan Rd, Tunxi District
Huangshan Pinwei Bar
Tel: 0559-3368278
Location: No. 20, the 2nd Kangle Road, Huangshan
9℃ Bar
Location: the second Kangle Road, Huangshan City
Manhattan Bar
Location: East Changgan Rd, Tunxi District, Huangshan