Entertainment in Urumqi
Popular Activities

Lesser Bairam
Time: October 1st in the Islamic calendar
Venue: Areas inhabited by the Huis, Uygurs, and Kazakhs
Activities: Muslim bathing, prayer and rites in mosques, horse racing, and diaoyang (a traditional sport of Kazakh, Uygur,Tajik, and Kyrgyz nationalities)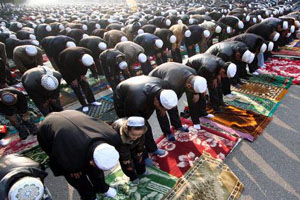 Muslim Bathing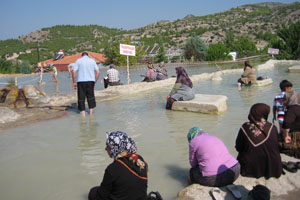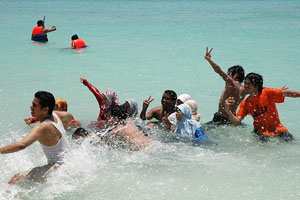 Corban Festival
Time: December 10th in the Islamic calendar
Venue: Areas inhabited by the Huis,Uygurs, and Kazakhs
Activities: Prayer of Muslims in mosques, cattle-slaughtering ceremony, diaoyang, horse,racing, and the game of "Maiden Chasing Her Lover"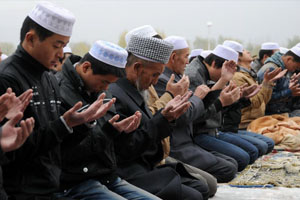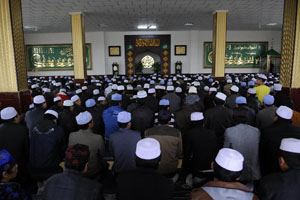 Prayer and rites in mosques

Horse racing

Diaoyang (a traditional sport of Kazakh, Uygur, Tajik, and Kyrgyz nationalities)

Cattle-slaughtering ceremony

Other Entertainments and Activities

May the First Night Market
It is the most popular gourmet downtown street. Food stalls in this street are well stocked with everything from kebabs to soup. People meet their families or friends here for relaxation as well as sampling the delicacies. The night market opens from 8:00pm to 1:00am daily.

Entertainment Square of the International Brand Bazaar
There are two choices open for you. You may either see it in the open air or in the Banquet hall. The open-air option does not cost you money, but you had better be there well before the show starts at 6:00pm to find yourself a spot. The Banquet hall option charges you about 168 Yuan for dinner (buffet) and show.

Nightclubs
Yiyuan Bar
Address: Facing the Traffic Administrative Office on Hongqi Rd.,Urumqi
Tel: 2303313
Dick & Cowboy Bar
Address: 105 Hongqi Rd.,Urumqi
Tel: 2835314
Spring Rain Teahouse
Address: 14 east Karamay Rd.,Urumqi
Tel: 4815326
Free Bird Bar
Address: North GongYuan St.,Urumqi
Tel: 2838168