Shopping in Urumqi
Local Specialties and Souvenirs

Urumqi is a great place to pick up some interesting craft items like ethnic clothing, embroidery, and jewelry. Other handicrafts include jade carvings, Kashgar carpets, exotic knives, woodcrafts, and ethnic musical instruments. All of the above items are handmade and many can be found at very cheap prices, both of which make Urumqi a fun place to shop for something a little special.
The Erdaoqiao market, the largest Uygur bazaar in Urumqi is located along Jiefang Nan Lu. Here, you'll find a bustling market filled with fruit, clothing, crafts, knives, carpets and more.
This is a heavily populated Uygur area and many of the city's major mosques are in the Jiefang Nan Lu district. As the area is quite crowded, it is important to be conscious of pickpockets when handling and putting your money away.

Fruits and Melons
Xinjiang is not only recognized as being a station on the Silk Road, but is also known as the 'Home of Fruits and Melons' Changes in temperature from morning to evening, long hours of sunshine and careful irrigation all work together to give the fruits of Xingjian bright color and sweet pulp. There are hundreds of species of grapes, muskmelons, watermelons, apples, pears, apricots, peaches, pomegranates, cherries, figs, and walnuts, and large quantities of fruits and melons are transported to other parts of the country and abroad. To buy fruits and melons, you can simply go to the supermarkets or you can choose to go to a local agriculture market. The most famous market is the Bei Yuan Chun Market in No.7 Kelamayi Xi Lu where you can find the largest variety of fruits and other agriculture products and experience the warmth of the culture.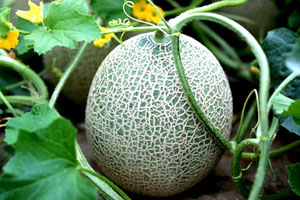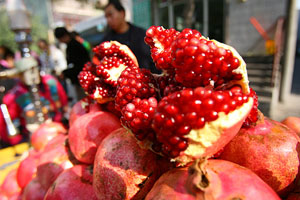 Carpet
Xinjiang Carpets and Rugs are famous for their exquisite craftsmanship and brilliant artistic style. The design and color vividly reflect both national and regional features. They are all woven manually by the Uygur people, and are generally made of wool.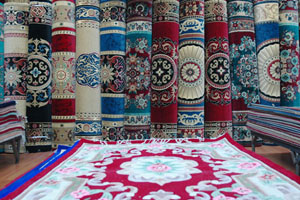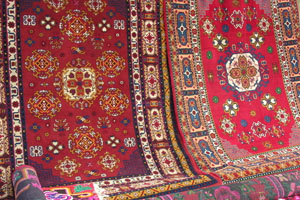 Atlas Silk
Atlas is a kind of silk fabric with fine intricate patterns that Uygur women like very much, and is renowned for its multiple and resplendent colors. Usually the colors include sharp contrasts such as viridis, sapphire, indigo, yellow, peach, orange, gold, mauve, black, white, etc. The patterns are well knit and lifelike, representing the light and color of nature. Atlas silk is soft, flexible, beautiful in patterns and excellent in quality. The local people not only for costuming but also as an interior ornament use it.

Handicrafts
Full of rich history and unique ethnic character, folk handicrafts have a high place in today's exports of Xinjiang and can be found in the ethnic market. The Uygur-style hats, knitted sweaters, ethnic costumes, hand-made embroideries, jade carvings and carpets are all popular souvenirs bought by visitors.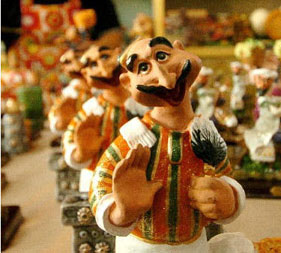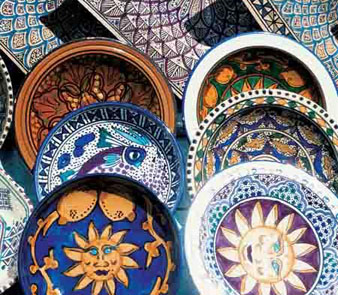 Daily Articles Shopping
Shop Index:
Century Ginwa Shopping Center
Address: No.35 Youhao Bei Lu, Urumqi
Parkson Shopping Center
Address: No.30 Youhao Nan Lu, Urumqi
Tianshan Department Building
Address: No.70 Heping Bei Lu, Urumqi
Friendly Emporium
Address: No. 14, Youhao Bei Lu, Urumqi
Urumqi Shopping Center
Address: No. 21, Beijing Nan Lu, Urumqi
Carrefour Supermarket
Nanhu Branch: No.137 Nanhu Nan Lu, Urumqi
International Bazaar Branch: No.8 Jiefang Nan Lu, Urumqi