Entertainment in Xiahe
Xiahe has developed along with the influx of visitors. Some old timers may bemoan that it has lost its off-the-beaten-path charm, but Xiahe is still far from being overrun with hawkers, karaoke or foot massage joints as have many other attractions in China. If you happen to visit Xiahe in January, or May to July, you should not miss the events below.
Local Festivals
Sunning Buddha Festival
It falls on 13th, January in Chinese lunar calendar. The ceremony is hosted by the abbot of Labrang Monastery. Chanting the sutras, lamas hold three giant colored embroidery Buddha paintings(Sakyamuni Buddha,Maitreya and Master Zongkapa)and unfold them on sunning terrace. Then they will sit down seriously, eulogizing the merits and virtues of the Buddha, praying for the safety.
Latse Festival
Latse Festival falls between May and June in Chinese lunar calendar. It is both folk activity and religion ceremony. Every household in the village should prepare a 3-meter long arrow on which three colored wood slabs are fastened. patterns are painted on the slabs in red, yellow, blue or green. In the upper part are lotus ,sun and moon; in the middle are lions, sea shells, Buddhist instrument and diamond symbols; the lowest part is rolling sea. Next day in the morning, people in town will present the arrows to Holly Mountain. Pine branches are burned to make some smoke. The arrows are normally inserted by young men. The colorful arrows are stacked in the mountain, with thick smoke and yelling of young men, the whole valley looks more sacred.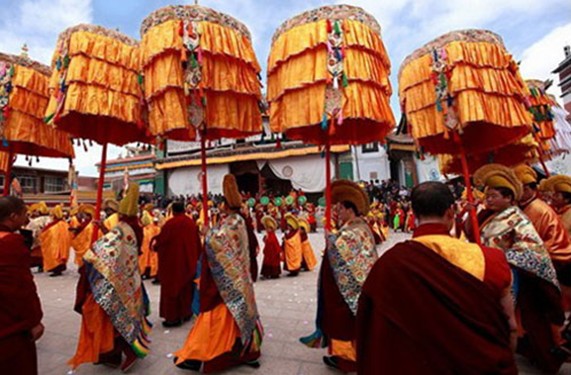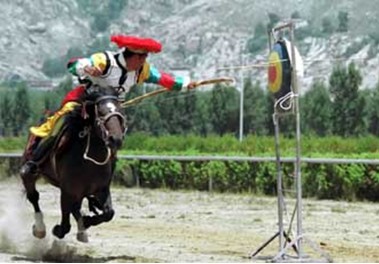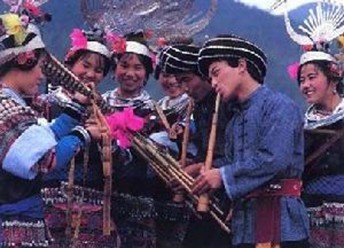 Xiang Lang Festival
The traditional 'Xiang Lang Festival' which is similar to the spring outing of Han nationality (the last ten-day of June in Chinese Lunar Calendar) is a very important festival in Xiahe. You can know more about the local customs through this festival. From 6th, June in Chinese lunar calendar, the lamas of Labrang Monastery will have an outing in a fixed location.15 days later, there will be outing around the villages. picnic and dancing are the themes of Xiang Lang Festival.
Dajiutan Horse Racing Festival
Dajiutan Horse Racing Festivals one of tradition festivals in Labrang area. Horse racing held in Dajiutan on every July, 13th is famous. This festival is in memory of King Gesar in Tibetan legend. It is said that Dajiutan is the place where King Gesar is ascended to the throne. It is really a scene when the horse racing is held. By then, all tourists from home and abroad will get there to watch this exciting festival.