Kaifeng Transportation

Getting in

By plane
The nearest airport is in Zhengzhou Xinzheng Airport (FTAT Code:CGO), an hour away and a ¥160 taxi ride. An alternative way from the airport to Kaifeng is to take a shuttle bus from just outside the arrival gate to Civil Aviation Hotel in Jinshui Road, then walk east for around 20 minutes to the mini bus station Deyi Bus Station from where you can take a bus to near Kaifeng Railway Staion .
By train
Kaifeng is on the Shanghai-Xi'an line. Hard seat tickets may be difficult to obtain but next day (or even same day) hard-sleeper tickets (from Shanghai, 6.5 hours, ¥222; from Xi'an, 7 hours, ¥140) are readily available outside peak periods. The train from Zhengzhou is around 45 minutes and costs ¥11-19. Kaifeng now has high speed rail connections- 1 hour from Zhengzhou. By bus
There are buses to Kaifeng from other places in Henan, including from Zhengzhou Long-Distrance Bus Station and Luoyang Long Distance Bus Station.
Getting around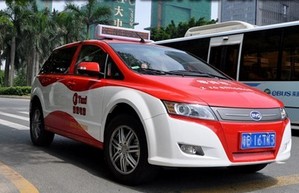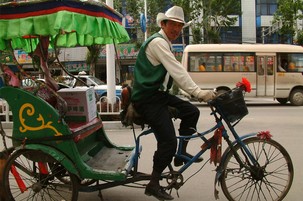 By taxi
Taxis are ¥5 for the first 3km and ¥1 for each additional kilometer. Rides within the city will not exceed ¥10.
By bus
Local buses go everywhere within the city and cost ¥1. Bus 20 is a sightseeing bus going to all the major sights.
There is a bus stop at the corner of the carpark in front of the train station. From here bus no 9 and bus no 1 will take you into town - fare 1 yen.
By rickshaw
One very good way to get around Kaifeng and see the sites is to take what the locals call "bengbeng"; essentially a tuktuk or motorised rickshaw. 6 kuai will take you from the train station to Henan University's old campus, essentially the length of the city. Short trips should be two or three kuai.