Ancestral Temple of the Chen Family
Ancestral Temple of the Chen Family (Chen Clan Academy), built in the Qing Dynasty (1644-1912), consists of a group of 19 architectures among which each single building is isolated but interconnects with each other.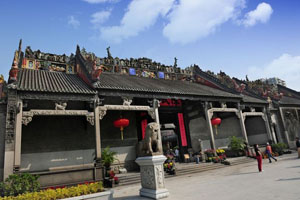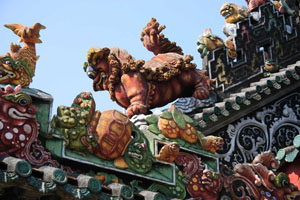 This temple was a temporary accommodation for the Chen families in Guangdong who was going to take the imperial examination. That is where the name Ancestral Temple of the Chen Family (Chen Clan Academy) derives. Surprisingly, the furniture and decorations have been preserved exactly as what they were, thus you can come here to experience and image how the Chinese ancient scholars made their preparation of the imperial examination.

This architecture group is featured by its distinctly exquisite decoration designs. The architects have applied various exquisite crafts into the decorations, including the woodcarving, stone carving, tile carving, ceramic sculpture, plaster sculpture, painting and bronze statues, which makes the temple more gorgeous and shinning.

Ancestral Temple of the Chen Family is praised as one of the Top Eight Scenic Spots in Guangzhou in 2002 and the symbol of the Cantonese culture in 2004.

Opening Hours: 08:30 -- 17:20

Recommended Time for a Visit: 45 minutes

Ticket Price:
10 CNY for entrance
free for students and the people over 65 years old

Location: Zhongshan Road, Liwan District, Guangzhou

Transportation: Subway No. 1, Tour Bus No. 1 and 2 and Bus No. 17, 85, 88, 104, 107, 109, 114, 125, 128, 193, 204, 205, 233, 250, 286 and 413 can bring you here directly.