Bright Filial Piety Temple
Bright Filial Piety Temple (Guangxiao Temple) is the temple with the longest history and grandest construction in Guangzhou. As the historical document shows, the construction of this temple was before that of the Guangzhou City and it was designed for the grandson of the King of Nanyue Kingdom (220-265) as the dwelling.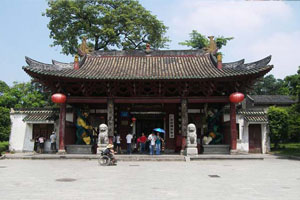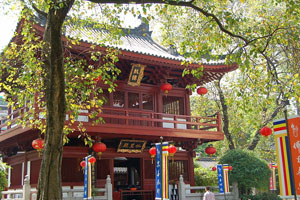 Located in one of the four flourishing forests, Guangxiao Temple is an ideal resort as well as a popular pilgrim holy land. It is one of the original places where the exchanges of Buddhism culture between China and India were held. The well-preserved Buddhist cultural relics and classic scriptures appeale to an increasing number of Buddhists and tourists.

Bright Filial Piety Temple is of great significance in the development of the Buddhism as well as in the development of the architecture in South China. The distinctive and special architecture style together with the magnificent and exquisite design makes it shinning and unique. There are 3 towers, 6 halls and 11 palaces, in which important Buddhist relics and heritages can be seen, such as the statue of the founder of Buddhism and tablet inscriptions.

Two iron towers, the East Tower and the West Tower built in the Five Dynasty (963), around the temple are the towers with the longest history in China. The towers with the green banyans and myrobalan trees as the background are very special.

In August the suitable time for visit, when the banyans and myrobalan are in the flourishing mood, the most solemn ceremony of the Buddhism will be held here. Wait for your visiting.

Opening Hours: 06:30 to 17:00

Recommended Time for a Visit: Half an hour

Ticket Price:  5 CNY   ( Free for the Buddhist )

Location: No. 109, Guangxiao Road, Yuexiu District, Guangzhou

Transportation: Subway No. 1 and bus No. 4, 31, 36 and 102 can bring you here directly.