Heavenly Lake
Heavenly Lake is 110 km from Urumqi. Located at the half way of the Begeda Peak of Tianshan Mountain, it has an elevation of 1,980 meters and an area of 4.9 square km. The lake is 3,400 meters long, with the widest section being 1,500 meters and the deepest 105 meters. It was named "Yaochi" in the old days.
The Heavenly Lake is a moraine by nature. Splendid peaks and glaciers were developed some 200,000 years ago. As a result of prolonged scouring and wearing off of the glaciers, a gigantic pit was formed. Later, the climate turned warmer, glaciers receded and a large amount of gravel accumulated, resulting in huge terminal moraines. In the end, the Heavenly Lake took shape.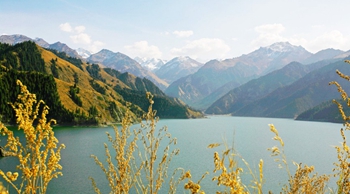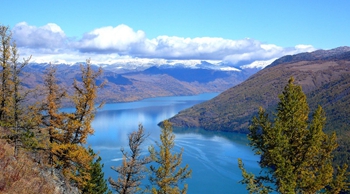 The water is very clear and the banks are covered with tall trees. Surrounded by mountains, the jade-green lake is an ideal place for excursions and rest for most of the year. It provides an excellent skating ground in winter.In summer, the beautiful lake is an ideal cool resort. Boaters on the lake see the ever-changing silvery mountains soaring into the blue sky, their slopes highlighted with verdant pasture and flamboyant wild flowers. Fishing at dusk has its own special charm. A day in this fairyland promises restoration.
Heavenly Lake, a relic of the Quaternary Period Glacier and its surrounding geological relics, offers science lovers exploring opportunities.

As if the natural beauty of Heavenly Lake were not enough, legend adds a mysterious touch. It is said that the West Queen (Xi Wang Mu) entertained King Mu of the Western Zhou Dynasty (1100B.C.-771B.C.) at the Lake. The West Queen fell in love with the king and asked him in her poem, 'The white clouds drift while the mountains reach the blue sky. Passing thousands of mountains, crossing ten thousands of rivers, you come to us from a faraway place. If you are still strong and fine, would you like to come back to us again?' The king answered in his poem, 'After I go back to central China and lead the people to a prosperous life, I will come to you again.'We do not know why the king never returned. Only the placid lake and the silent mountains witnessed the lovesickness of the West Queen.