Huanglong Cave
Huanglong Cave is an underground karsts cave in the northeast of Suoxiyu Valley. The cave is located in the east of Suoxiyu Valley, about 10 km away from the Jindi Ground, Yellow Dragon Cave is called underground magic palace. It is about 15 km deep and covers 20 hectares. The Huanglong (Yellow Dragon) Cave has many chambers and subterranean streams. The most fantastic of which are the Stone Fields Chamber and the Stalagmite Chamber. The stalagmite known as 'Sacred Needle for Stabilizing the Sea' is unique in China. It is insured for a huge sum and is indeed a miracle of Zhangjiajie subterranean world.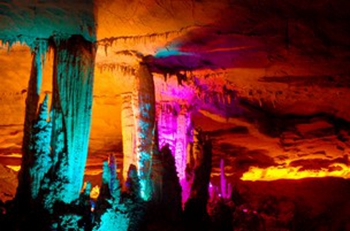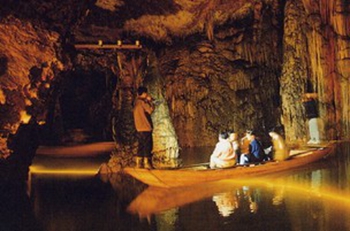 At the entrance, mists coil. In the cave, passages zigzag. Stone shoots, stone stalactites, stone curtains, stone pianos, and stone flowers can be founded there. In this cave, we can see "cave beyond cave, tower beyond tower, sky beyond sky and mountain beyond mountain". There are four layers, about 1600 meters high, having one reservoir, two brooks, three waterfalls, four ponds, thirteen halls and ninety-six passages. The Yellow Dragon Cave is 13 km in length. The biggest hall in it is 12,000 square meters, which can hold 10,000 people. The cave is so big that it is in fact another world under the ground. Entering the cave, you will feel you are in a fairyland, beautiful and tranquil.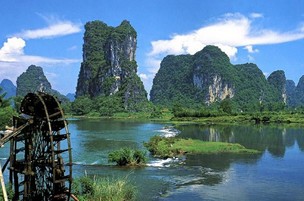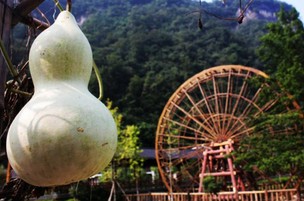 The Huanglong Cave is graceful, spectacular and has certain scientific research value. It has been sensibly developed and well protected.
Location: Zhangqing Road, Wulingyuan District, Zhangjiajie.
Entrance Fee: RMB 80
Transportation: Take No.3 Bus and get off at last stop. You will get to the cave after walking 15 minutes.