Kanas Lake
1374 meters high above sea level, Kanas Lake (Kanasi Hu), which means "beautiful, rich and mysterious" in Mongolian, can be found in the deep forests and mountains of Altai, covering an area of 44.78 square kilometers which is 10 times bigger than Tianchi on Bogda Mountain. This is typical ice erosion & Moraine Lake shaped like a new moon, or rather, a long hyacinth bean. The reflections of the surrounding snowcapped, tree-covered mountains can be seen inverted on the lake water. During autumn especially, there is a picturesque landscape of forests in a riot of colors with gold, red, blue and green all reflected in the clear lake water here.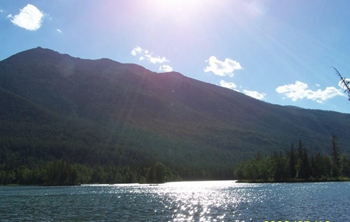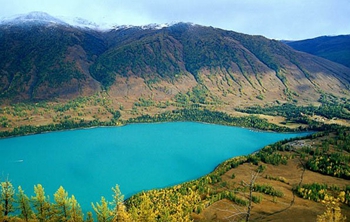 There are also some fun legends about Kanas Lake. It is said that huge lake monsters live in the lake's depths. In recent years, others claim to have seen 4 meter long blood red fish in the lake. The "Emei Spectacle", lights in the clouds after a morning rain, adds an air of mystery to the lake too.

The practices of the Tuwa and local Mongolian ethic minority, and Altai Mountain rock-paintings have been attracting explorers and travelers to this area for decades.
Location: Kanas Lake is 140km from Burqin County and 246km from Altay City.
Entrance Fee: RMB 230
Transportation: There are flights to Altay City and tourist coaches to Burqin County from Urumqi. You can enter the nature reserve by car or on horseback with local guides.