Scenic Areas of Yellow Mountain
The Scenic Spots Areas of Yellow Mountain are the reason why the Huangshan City is so popular with the visitors near and far. Yellow Mountain is praised as the most fantastic mountain in China for the Four Wonders it embraces, namely the odd-shaped pines, spectacular rocks, pleasant hot springs and varied seas of clouds.


In the past centuries, numerous celebrities have visitor and left behind their masterpieces made for praising those beautiful sceneries around.

Hot Spring Scenic Area
It is a thousand years old hot spring with an average temperature of 40℃ that has been enjoying a high reputation near and far, and never run dry during the most severe droughts nor over-flown in rainy season. It is hailed as scared spring for its therapeutic effects for metabolic disorder, cardiovascular disease, malfunctions of digestive and nervous systems.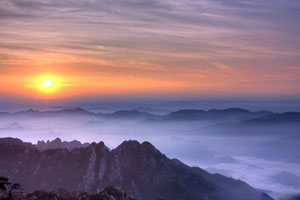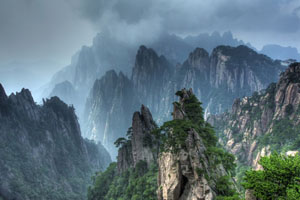 With marvelous sceneries around, the hot spring scenic area will come to live when the tourism season falls. The most amazing one is the waterfalls rushing down from the 50 meters high cliff, which, because of being split into two branches, looks from a distance like a Chinese character "人".

Jade Screen Scenic Area
The sceneries around the Jade Screen Pavilion include the three picturesque Islands, the steep Aerial-ladder-like Stone Stairs and the mysterious Big Turtle Cave. On the peak of the mountains, bizarre pines and lifelike Buddha statues make this area more attractive.

With the height of 1,864 meters, the Lotus Mountain, the peak of the Mountain Huang, has appealed to numerous celebrities, like Chairman Mao, General Zhu De and General Liu Bocheng.

Beihai Scenic Area (North Sea Scenic Area)
Splendid mountains make up this special scenic spot, where will provide you different angles for those fantastic landscapes around Mountain Huang. Among those steaming mountains, the odd-shaped pines, spectacular rocks and varied seas of clouds will catch your eyes, therefore here is praised as the window of the Mountain Huang.

There is a platform at the top of Lion Mountain named Qingliangtai where is the best place for you to enjoy the sunrise and the seas of the clouds.

White Cloud Scenic Area (Baiyun Scenic Area)
A fantastic landscape of odd-shaped pines, bizarre rocks, roaring waterfalls and chirping steams is really a sumptuous feast of eyes.

The West Sea, long known as the Mystery Valley for the many clusters of peaks and the fathomless depth of the valley has been opened up as the White Cloud Stream Scenic Area. As the highest falls in the Yellow Mountains, Qianxun waterfall has a drop of 140 meters, and is ice-free all the year round. The falls thunder can be heard at Swan Rock near the brook and one can also have a near look on the Immortal Walking on Stilts.

Songgu Scenic Area (Pine Valley Scenic Area)
After the completion of the mission of climbing up the stone stairs over 6,500 steps leading to the peak of the Furong Mountain, beautiful landscapes made up by steaming forests, flying waterfalls, chirping steams, peaceful ponds, mysterious temple and exotic plants are waiting for you.

Here peaks are green and water is clear around the year. Beautiful scenic attractions include Old Dragon Pool (Laolong Tan), Green Dragon Pool (Qinglong Tan), Black Dragon Pool (Wulong Tan), White Dragon Pool (Bailong Tan) and Emerald Pond.

Yungu Scenic Area (Cloud Valley Scenic Area)
Situated between Arhat Peak and Incense Burner Peak, the 890 meters high Cloud Valley Temple is half way between the North Sea and the Hot Spring along the mountain as well as the departure station of the cable car route to the North Sea. This area does not lose out to other scenic areas for beauty. The major sights of this area are the Cloud Valley Villa, oddly shaped rocks, old trees and the Nine-Dragon Waterfall and the Baizhang Spring.

Descending the mountain path to the left of the Cloud Valley Temple and going through the bamboo grove, tourists can watch the Nine Dragon Falls four kilometers away. The Nine-Dragon Waterfall plunges all of 300 meters from the cliff top between the Incense Burner Peak and the Arhat Peak. The waterfall has nine leaps, each leap forms a waterfall and each fall feeds a pool.

Opening Hours: the whole day

Ticket Price:
230 CNY from March 1 to November 31
150 CNY from December 1 to February 28
Half fare for the student, soldiers, teachers, retired and the people over 60 years

Location: Nanshan City, Anhui Province

Transportation: Tour bus available every 15 minutes from Tourism Transportation Center in Tangkou Town, Huangshan City will bring you here (13 CNY)