Shenzhen Safari Park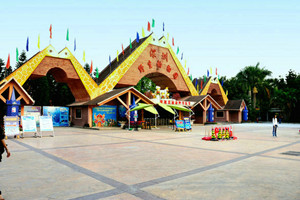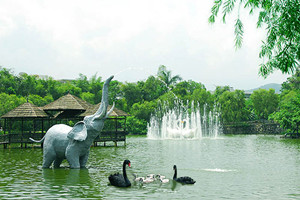 Located near Xili Lake. Safari Park covers 1.2 million square kilometers. It is the first safari park ever built in China, a subtropical ecological scenic spot of horticulture integrating with zoo, botanical garden, and science popularizings garden. Shenzhen Safari Park is the home to 3,000 animals and birds numbering over 150 species with beautiful and quiet environment. 
It consists of three zones: the herbivore zone, the zone of beasts of prey and the zone of walking and performing zone. In the herbivore zone, there are tame animals such as hippoes, sikadeer, giraffes, elephants and various species of birds. In the zone of beasts of prey, there live the ferocious tigers, lions and the charmingly naive bears. In the walking and performing zone, there are Crocodile Pool, Monkey Hill, Snake House, Panda Hall, Golden-monkey's enclosure, viewing tower and restaurants, and you can see the wonderful performance such as the Chinese and Russia Circus, and especially the Fantastic Animal Show-the animal parades on which you will see the majestic-looking King of Animals, a funny wedding ceremony performed by bears and beautiful dance of Red-crowned cranes. Entering the world of animals, you can view various species of birds and beasts. 
It also has the features of different gardening including zoo, botanical garden and science popularization park. In the garden raise more than 10,000 animals with 300 odd breeds from all over the world and some of which are world famous and precious. The four performance halls of circus, elephants, seals and birds will bring you to a magic and happy world. In the interesting birds park, monkey hill, alligator lake, aquarium, and parrot lane, the wonder of the wild world is fully exposed to the mankind. Visitors surely will have a sense of "experiencing the wild nature and back to the Nature". 
Transportation
Buses: 101, 226, 104, 361
Mini Buses: 434, 442