Wulingyuan
Wulingyuan, situated in the Wuling Mountains in the northwest of Hunan Province, covers an area of 300 square miles. It consists of four scenic areas: National Forest Park, Yangjiajie Scenic Spot, and the Suoxiyu and Tianzishan Natural Resources Reserves with a combined area of 500 square kilometers (193 square miles) inside Dayong Municipality.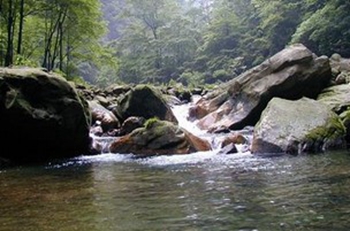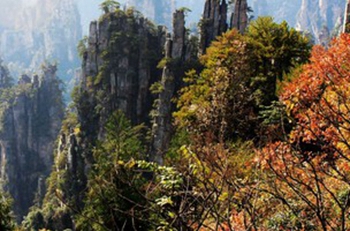 Wulingyuan is about 400 kilometers (248.56miles) away from Changsha, the provincial capital. Bordering a plateau to the southwest and the second largest fresh water lake in China, Dongting Lake, to the east, the Wulingyuan Scenic Area was formed by great geological forces and the erosion of abundant flowing water. It presents a unique landscape of high mountains, incredible rock formations, beautiful waters, deep gorges, marvelous caves, and lush forests.

However, for centuries Wulingyuan remained unknown and hidden in hinterland of the Hunan province until 1979 when Mr. Wu Guanzhong, a famous Chinese painter, discovered this magic land. In 1992, it is listed as World Natural Heritage by the UNESCO.
Millions of years ago, this area was a vast sea. During the long course of development, the crustal movement of the "Yanshan Mountains" raised the seabed above the water and turned it into mountains and valleys. Nature has carved and shaped this primitive scene of sandstone, forests and valleys, with murmuring streams, fantastic peaks, and grotesque crags.
Exquisite Lakes, Waterfalls and Streams: Here the springs and streams are numerous, and the waters, are abundant and free from any pollution. Over 50 rivulets from its west to East End; drop from high, down to the floor of the canyon, splashing with pearl-like gleaming sprays. These waterfalls hang like curtains woven with strings of glossy beads. Baofeng Lake and Huangling Spring are among its famous scenic spots.As its most unique feature, Wulingyuan abounds in exquisite and grotesque rock pinnacles. It has over 3100 rock pinnacles, out of which, 1036 are more than 400 meters high; each endowed with a singular shape. Seen from the heights, row upon row, cluster after cluster, of various spectacular stone formations; roll out like a turbulent sea of forests with tremendous tidal waves, as if whipped up by bolts out of the blue. One feels as if staying in a fairyland enclosed by stone forests.
Fascinating Under-ground Palaces: Limestone caves existing in such great numbers, large sizes, and with so fantastic stalactite formations, as those in Wuling Yuan, are few and far between. They include yellow Dragon Cave, Cave of Guanyin (A Bodhisattra), Water-gurgling Cave, Cave of Drifting Clouds, and Cave of Hanging Silk Web.
Wuling Yuan is not only famous for its natural scenery, but also for its rich resources of flora and fauna. It's a treasure-house of green plants and a paradise for wild animals. The mountains are covered with virgin secondary forests, dove trees, ginkgoes, met sequoias, and other rare trees and flowers. Rhesus monkeys, civets, golden pheasants, and other rare animals and birds are active in the forests.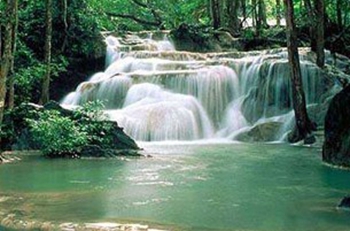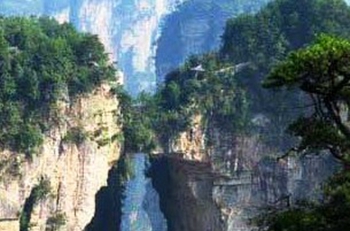 Mountain of Myriad Treasures: Wuling Yuan is endowed with a temperate climate and abundant rainfalls, which are very favorable natural conditions for the existence and reproduction of plants, rare birds and animals. It has 97% of forest cover, and over 3000 species of higher plants including those rare ones like Yunnan catalpa etc. Wild flowers and plants of more than 150 varieties, over hill and dale, are in bloom all the year round, filling the air with sweet scents. Terrestrial vertebrates of some hundred species include, under special protection, clouded leopard, tarpon, macaque, tiger, giant salamander, pangolin etc. Birds simply defy enumeration.