Eating in Chengde

Famous Local Food

The most favored of the locally caught produce is various game, including hare (Tu zi rou), deer (Lu rou), pheasant (Shan ji rou) and roe (Zhang rou), but it is Chengde's vegetarian products that are most plentiful, this being an area of high yield for the fairly infertile north. Specialties include different types of wheat and maize products (and from these noodles and dumplings), and a variety of fruits (including apricots, peaches & dates) and nuts (including chestnuts, almonds & peanuts).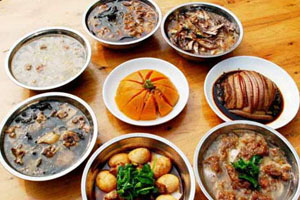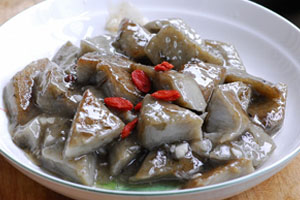 Famous Local Snacks
The flavor snacks include crisp cake, eight-treasure rice pudding, bean-starch jelly, haw sheets, nansha cake, and Shaomai (steamed dumpling with the dough gathered at the top), etc, all of which are of unique local style.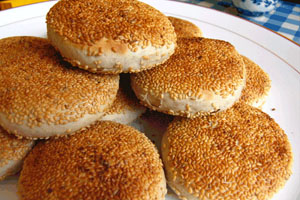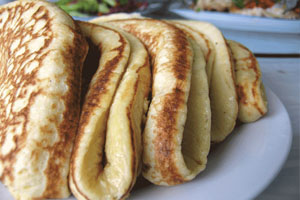 Recommended Restaurants
For your reference, the following are the restaurants rated most popular by the locals:

Xin Qianlong Restaurant
Add: Dijingyuan Building, Xinhua Lu
This luxury and elegant restaurant is only one kilometer from the Mountain Resort and it provides meals and services of top-ranking quality. Among them Canton Cuisine, Sichuan Cuisine, Beijing Cuisine, Chengde Food of Imperial Household and local dishes are especially popular.

Dongpo Restaurant
Add: Small South Gate
Address of the three chain restaurants:
Railway Dongpo Restaurant: Chezhan Lu (opposite to the Railway Station)
Bell and Drum Tower Dongpo Hot Pot Restaurant: Bell and Drum Tower
Shidong Gou Dongpo Hot Pot Restaurant: Shidong Gou

Jinqiao Restaurant
Add: No. 1, Liushui Gou, Shuangqiao District
This restaurant features in hot pot, local fried dishes and the Eight Bowls of Manchu flavor.

Shangke Tang
Add: to the west of the Puning Temple
It was built to receive eminent monks in accordance with the rites of Buddhism and now there are dining rooms providing eastern, western and vegetarian foods which can serve the different demands of visitors.