Shopping in Chengde

Local Specialties and Souvenirs

Briefing
Chengde, lies to the north of the Great Wall, and teems with a variety of local products due to its abundant natural resources. In addition, its profound cultural heritage has contributed to the city's unique folk arts and crafts.

The special natural products to be found in Chengde are wild almonds, walnuts, Chinese chestnuts, hazelnuts, mushrooms, hawthorn and nasturtium, etc. The almond juice made from wild almonds has distinct aroma and leaves a pleasantly lingering aftertaste, which is well known at home and abroad. The Chengde mushrooms come in a variety of species and these are not only widely sold in China but also throughout Asia and Europe. One of the most popular products with tourists visiting Chengde is Teng's Cloth-Pasted Painting which is regarded as a 'unique talent of Cathay'. It is a new style of painting combining brushwork with sculpture, embroidery, paperhanging and paper-cutting, an art form invented by the folk artist Teng Teng. These attractive paintings can be hung on the wall or laid on a table as a truly perfect decoration.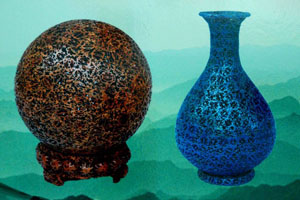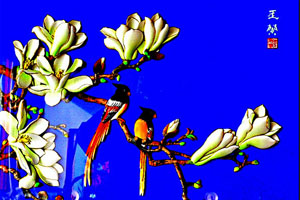 Chengde woodcarving is another of the famous craft works. Walking sticks, furniture, screens and other handicraft made from rare wood from the mountains are elaborately wrought by the wood carvers.

Paper-cutting in Fengning County, silk brocade and tablets of the Mountain Resort, porcelain carving, calligraphy and painting, as well as jade pillows are also characteristic souvenirs of Chengde.

Shop Index:
Kangqian Tourist Shopping Mall
Add: B1B, Rongji Garden, Puning Lu.
Daily Articles Shopping

Shop Index:
Chengde Landao Dasha
Add: No.19, Xinxing Jie
Mainly deals with general merchandise, food, clothing, jewelry, cosmetics, and computers, etc.
Chengde Department Store
Add: No.1, Wenjia Gou
This is the oldest and largest state-run enterprise in Chengde that carries articles of daily use and is highly popular with local consumers.
Jiashixing Supermarket
Add: No.5, Wenjia Gou
Puning Jie is also a good place for shopping. It is a cultural commercial street lying in the eastern courtyard of the Puning Temple. You can appreciate the folk performances whilst buying some curios, famous tea, jade articles, brocades and other local products.