Entertainment in Chengde

Briefing

Chengde City has abudant  culture and entertainment activities such as the Qing pleasures dance, Manchu style dance, Putuo Light, Kuixing point of the Big Dipper dance and folk dance, etc. nokaze Village. In addition, the Kara OK dance hall, bowling alley, bath center could be found in the city, etc. There are also dozens of places for entertainment.
After having a good time in the daytime, you will certainly enjoy your nightlife in Chengde. The life is especially lively on Friday and Saturday Summer nights, when the weekenders are here. You can find nightclubs in most of the local hotels here. The main shopping drag, Nanyingzi Dajie, is a good place to come in the evening and walk around when a night market stretches all the way down it. Many of the vendors sell antiques and knick-knacks.
Folk singing and dancing, bowling, karaoke are wonderful, fullbodied folk color. While strolling through the night market or just enjoying a coffee or maybe a bottle of wine in a quiet bar will add yet more pleasure and romance to  tourists far from home.
As for bars,you can go to Shaanxi Ying, where most of the Bares are located, either noisy or quiet. Tea Shows in Wulie Road are also a good choice. You could go to Nanyingzi Street, which is popular for its various local snacks.
Entertainment Places
Chengde Theatre
Chengde Theatre is a performing palace for high-level performance. It once received the Central Corps De Ballet, Central Folk Singing and Dancing Corp, Kirghizia National Dance Corp, all of which were attained highly appreciated.Chengde Theatre is located in the center of the City, built in the year of 1953. It has a capacity of 1200 people with construction area of 2868 square meters. For 40 years, the theatre has undergone repairing for many times. Now all the facilities are in good condition and some are advanced. Many art groups have performed here, such as the Central Ballet Troupe, the Central Folk Song and Dance Troupe, Beijing People's Art Theatre, The Kirghiz State Dance Troupe and were greatly appreciated by the audience.Now Chengde Theatre has become an important place where visitors can watch and get to know the elegant art.
Address: Nanyingzi Street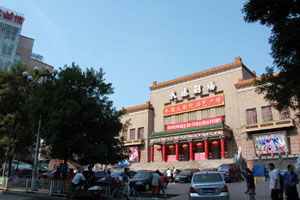 Jinshengyuan Bar
One of the bars offers peaceful environment where you could enjoy the simple happy of life in casually.
Address: Shaanxi Ying
Qinyue Gong
It is a high-grade leisure place providing dining and entertainment. It has a large hall where you could enjoy brilliant performances of the Palatial Convival Dance choreographed in accordance with the etiquette of the Qing Dynasty.
Oriental Pearl KTV
Address: No.6, Erxin Ju Jincui Lou, Nanyingzi Street Lark Bar Address: Li Zhengmen Road, Shuangqiao District Yongxing Bowling House Address: 4F, Yongxing Plaza, Nanyingzi Dajie There is bowling, ping-pong, chess, and shuffleboard, etc. in the Bowling House.
Dadi Amusement Palace of Chengde
Dadi Amusement Palace is an ideal modern place for you to sing and dance freely and happily, which has 32 KTV boxes and coffee rooms. It has a capacity of 200 people with an area of 200 square meters. The Amusement Palace provides excellent light and sound equipment, and the best band and singer performances for you. It is really the best place to enjoy your self.
Telephone Number: 0314-2036621 0314-2050754 
 
Xiangye Xinhuayuan Dancing Hall
Xiangye Xinhuayuan Dancing Hall is located in the center of Chengde City. It is built jointly by Xinhua Hotel and an entertainment company from Hong Kong. On March 15 in 1993 it began its business.
From the whole aspect, it includes three standards of facilities: high, middle, low. There is a big arena in front of the hall (within it there are basic music instruments). A dancing pool is in the middle, which has a capacity of about thirty people dancing together. There are nine small tables around the wall with a capacity of about 50 people, ten couple's rooms, four big comfortable rooms and two KTV boxes. All of them offer you a graceful, comfortable, wonderful environment where you can enjoy yourself well at any time. The sound facilities in the dancing hall are a set facility made by Sound Tech in America, which is able to bring perfect sound effects of super low sound. With the atmosphere produced by the lights on the earth, the lights in the middle of the hall and the lights in the ceiling, they will help you to promote your level of singing. When you are singing, you will feel truly that you seem to be in heaven, and you will enter into a fairy world.
Tel: 0314-2065880-2718
Address: North No.4 Xinhua Road in Chengde City