Eating in Lanzhou

Famous Local Food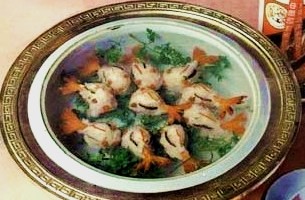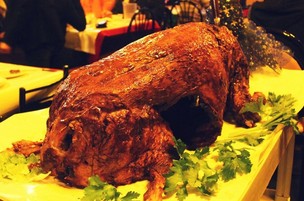 Facai Gold Fish
The Chinese are fond of dishes whose appearance is less or more than it seems. In Lanzhou, there are a variety of dishes that are formed in this way, most notably the Lily Peach (Baihe tao) and the Facai Goldfish (Jinyu facai). Neither one contains either peach or goldfish.

Facai, or flagelliform nostoc, is a hairy plant native to Gansu and other western provinces.The dishes basic ingredients are the facai, which is softened in warm water, and chicken breast. These two ingredients are mixed and churned into a paste, and in better class restaurants the paste is then given a variety of exotic spices. Finally the paste is moulded into a goldfish shape, with dried shrimps as a tail and cherries as eyes, and steamed for about fifteen dishes. The cooked "fish" is then placed in a water-filled bowl, a culinary pond.

Roast entire lamb
As early as over 2500 years ago, the roast entire lamb (Kao quanyang) was already generally acknowledged as one of the then eight most famous dishes in Gansu Province. To make this dish, local chefs choose those only one year old. The exterior of the lamb is covered with a special kind of white-colored sauce, while the interior is filled with Chinese prickly ash and pepper corn. Next comes the crucial step - hanging the lamb in the oven and anointing it, from time to time, with animal oil (in most cases that of pig). When it turns golden, about one hour later, this succulent lamb is ready to sample.

Famous Local Snacks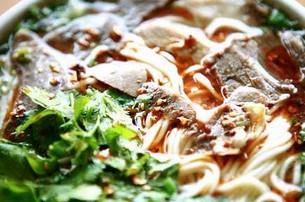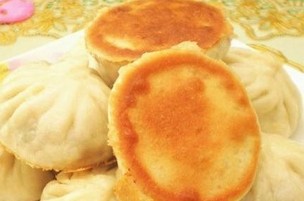 Beef Noodle
Lanzhou beef noodle actually originated from Henan Province, far from Ganzu. And it was brought back to Lanzhou not by Hui ethic but Dongxiang. Anyway, it has been developed to what it is like today by many Hui people.Can you imagine that an eatery covering 40 square meters will consume 50 kilograms beef and 400 kg flour? Beef noodle is really a big industry in Lanzhou. A skilled chef makes 6-7 bowls of noodles per minute.Most important is to choose the noodle that suits you. The noodle width is divided into 8 sizes. Narrow ones for girls, educated, the old, while the wide for boys, army men, farmers. It would be queer if you order the wrong size.

Lanzhou's biggest specialty dish is the small Lanzhou Beef Noodle (Niurou mian). Every noodle restaurant (Lanzhou lamian guan) that serves traditional Gansu food, and almost all of the stalls that line the streets of the city, will serve this simple and inexpensive dish. Tasty, if a little spicy, the noodle is another version of the soup noodles that are to be found around China.

Beef-stuffed Cake
Gansu and Xinjiang are China's two most Muslim influenced provinces. It is here that a preference for lamb and beef distinguishes the cuisine that for the rest of China is highly pork orientated. The Beef-Stuffed Cake (Qianceng niurou bing) is a good example.

This delicacy is considered by the Chinese as a Sino-version of the Italian pizza. Beef is chopped and battered into a paste, after which salt, bean oil and several condiments are added. The paste is then stuffed into a pre-prepared flour sheet, and this ball is then covered with vegetable oil and baked in an oven for around 15 minutes. The final "cake" is then ready to be gobbled, a variant of the baozi that are found around China.

Recommended Restaurants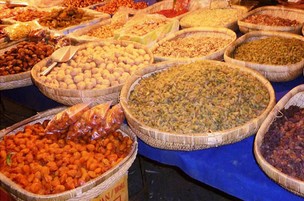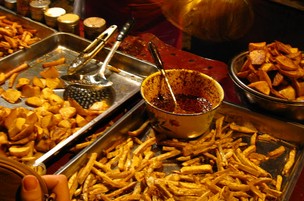 Places
In the west of the city, in the vicinity of the Youyi Hotel, you'll find plenty of good food. A pleasant night market , full of kebabs and noodles, sets up shop on an alleyway immediately to the east of the hotel, and, about ten minutes' walk west of the hotel, is a clean restaurant called the Xizhan Canting specializing in excellent, cheap baozi (steamed dumplings); ten baozi will leave you full. In the hotel compound itself, in the round building at the front, the speciality is an eat-all-you-like hotpot for ¥40 per head. Upstairs in the same building, the regular Chinese restaurant serves dinner for around ¥25 per head.

The city's best area for eating, however, is in the streets east of the Shengli Hotel , where practically every house is a restaurant, with cook-it-yourself hotpots the speciality. Next door to the Shengli, immediately to the west, is an immaculately clean and bright place with a lively atmosphere. The sign outside, "Caesar Rome International Food City", is misleading; there's no English menu and the food is resolutely Chinese. You can eat very well here for ¥30 a head. Farther down Zhongshan Lu, east of Jiuquan Lu, is a genuine fast-food restaurant. Hamburgers, fries and Coke are all available, as well as Chinese food in plastic trays. You can order by pointing to the pictures behind the counter
.
At the Xiguan Traffic Circle there's a superb cake shop adjacent to the Lanzhou Legend Hotel, selling Western delicacies such as pains-au-chocolate, croissants and chocolate éclairs.

The night market
Towards the train station, the best place to eat is probably the night market on an alley that runs between Tianshui Lu and Pingliang Lu, about ten minutes south of the Lanzhou Hotel. Just walk up and down, sampling what you fancy; especially good are the grilled lamb, the jianbing (egg pancake stuffed with spicy vegetables) and the spicy hotpot cooked in small earthenware pots. Finally, Lanzhou is famous for its summer fruit. Don't leave without trying the melons, watermelons, peaches or grapes.