Eating in Three Gorges
Traveling in Three Gorges, most of the time is on ship, mealtime is included. Therefore, what you will taste maybe not the real local food, which can be gotten only when you are on land and go to the local restaurants. Having beeb affected by the Sichuan and Chongqing cuisines, the local food here tastes slightly hot but originally fresh. The most impressive ones are Diaochan Tofu, Xiakou Pearl Soup, Zhangfei Fish and Radish Dish.
Local Dishes
Diaochan Tofu
Diaochan Tofu, also named Tofu Drilling Loach, is a dish originated in the Three Kingdoms period (181-234). This mysterious dish tastes refreshing and mellow. The ingredients are easy to get in Three Gorges area--the loach (200g), a kind of fish live in mud, and tofu (500g).
People will keep the loaches alive in the clear water for one day to make them eliminate all the mud inside, and then put them alive into the cooking pot with some chunks of tofu and the cold water. When the water is getting hotter and hotter, the loaches can not bear and will drill into the tofu. Ginger and peppers are added to keep the fresh flavor.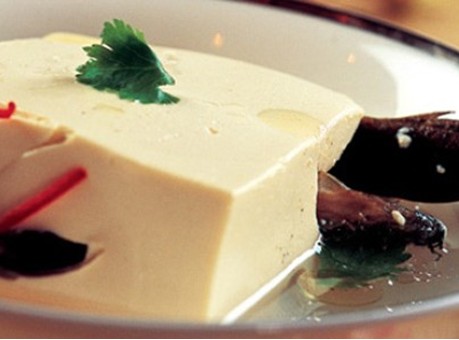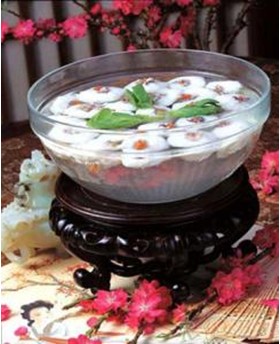 Pearl Soup
This dish is a popular local dish in Yichang, Huhei province, one of the entrances of the Three Gorges, which therefore is called the Xiakou Pearl Soup.
Like Diaochan Tofu, all the ingredients of Pearl Soup are local, including chicken (75g), whitebait balls (25g), shrimps (25g), spinach (100g), caraways (10 branches), ginger (5g) and eggs (200g egg white and 25g yolk).
Boil the egg white to make it float 20 cm high upon the soup, just like the mountains, and then put the colored whitebait balls, shrimps and caraways on the "mountains" as decorations. Then a tasty, refreshing and soft Pearl Soup is done.
Local Snacks
Fired Potato
The local people always fry the home-grown potatoes chips, and added in some green onion and chili powder. This just like a home-made KFC.
Steamed Tofu
A steamed snack made of Tofu that pickled with bean sauce, spices and cooking wine. Red pepper and green onion will make it look gorgeous and tempting.
Radish Dumplings
It is not much a dumpling as a fried bun. A golden cover made of rice and bean with the thinly sliced radishes inside will satisfy your craving for yummy snacks.
Many, many other local snacks are waiting for your discovery.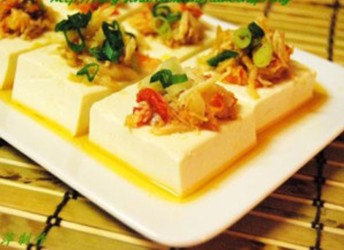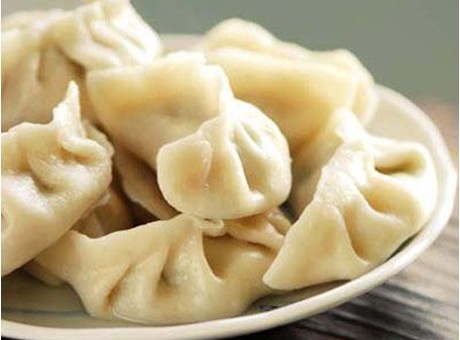 Recommended Restaurants
Jiuchongtian Restaurant
It owns a gorgeous and resplendent dinning environment, graceful music and sophisticated cooks.
Location: Yudu Hotel, No.168, Bayi Road, Yuzhong District, Chongqing
Tel: 023-63828888-4701
Representative Dishes: Steamed Bun, Steamed Chicken Claws and Pork Ribs
Laosichuan Restaurant
It is a 80-year-old brand restaurant, which is featured by the sophisticated cooking skills that can make every parts of the cattle into a special dish.
Location: Huixian Hotel, No. 186, Minzu Road, Yuzhong District, Chongqing
Tel: 023-63826644
Representative Dishes: Poached Sliced Beef in Hot Chili Oil and Oxtail Soup
Ailunduo Cafeteria
Distinctive brunch (11:30-14:00) and dinner party (17:30-21:00) will be held everyday here, a cafeteria with water curtain and abstract paintings backgrounds.
Location: Yangtze Island Hotel, No. 82, Zourong Road, Yuzhong District, Chongqing