Shopping in Xiamen

Local Specialties and Souvenirs

Briefing
As one of the first Chinese cities to open its doors to the outside world, Xiamen has a selection of relatively modern fashions. Xiamen has 22 designated tourism shops selling commodities to tourists. The department stores here are pretty up-to-date and there are a plethora of huge and modern malls fighting for customers in the center of the city. Xiamen is also home to a huge number of factories. Many of these places have factory outlets, selling their designer clothing and reduced prices. Xiamen has two famous shopping streets: Zhongshan Road in the old city, and Dragon Head Road on scenic Gulang Islet.

The1.2 km long of Zhongshan Road, has 243 plazas, shops and restaurants, such as Hualian Commercial Building, Huahui Mall, No.] Department Store, and Tianshun Jewelry Store. Many of the bigger stores around Zhongshan Rd feature designer goods by Armani, Gucci and YSL. Thanks to its strong ethnic culture and special scenery of south Fujian, it has become an ideal place for domestic and foreign tourists to do shopping. On both sides of Dragon Head Road, there are many stores selling local products. It is worth mentioning that the sports shoes made in Fujian enjoy a great reputation throughout the world.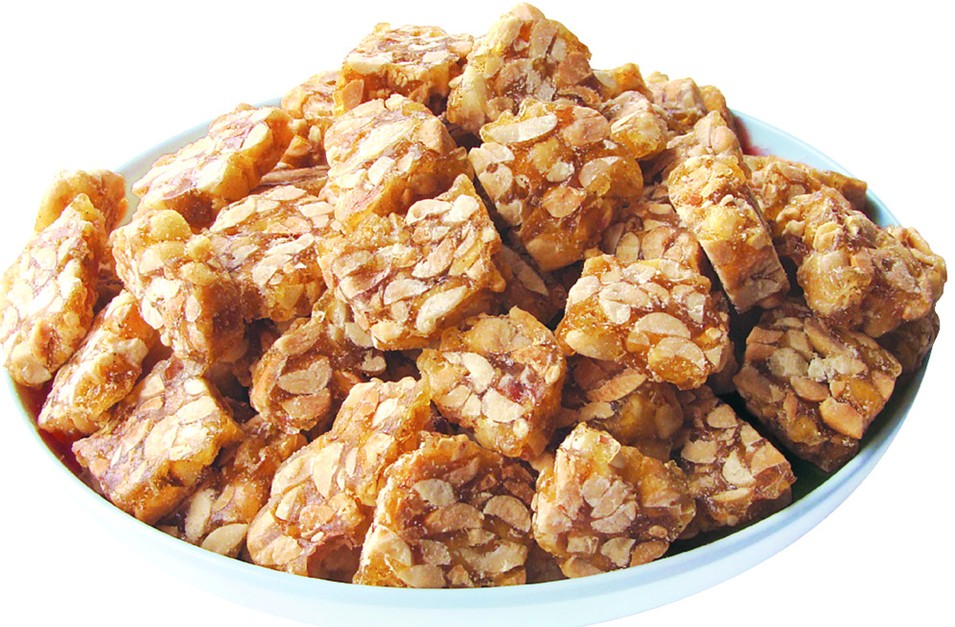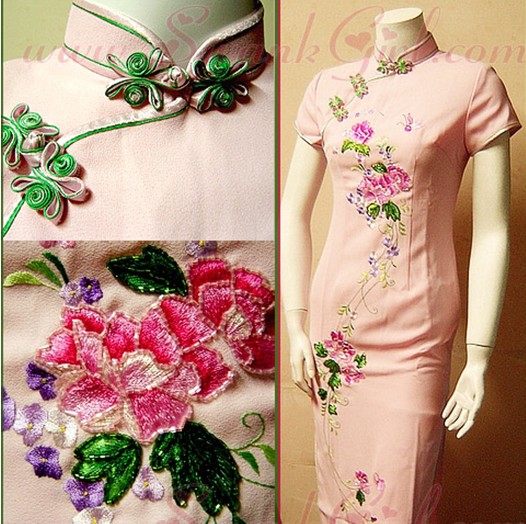 Among these places, perhaps the most attractive ones are the numerous small markets, bazaars and even flea markets, where shoppers can try their luck at finding rare curios and souvenirs. There are a few of these markets around Zhongshan Rd, Longtou Rd on Gulangyu Island and Xiahe Rd. The Xiamen Night Market takes place every evening on Dinghai Rd.

Peanut Crunchy Candy
To make this specialty, peanuts are first deshelled and roasted for half an hour. Then they are crunched with preheated, liquefied sugar. After cooling off, the large bars are cut into small pieces and are ready to eat on a street corner near you.

Xiamen Bead Embroidery
Xiamen bead embroidery is a folk handicraft which has been famous for its eye-catching glimmer for over 100 years. By the dexterous hands of the local people, small beads are linked together with silk thread, forming all kinds of spectacular patterns.Nowadays the bead embroidery is used to make slippers, tapestry and purses.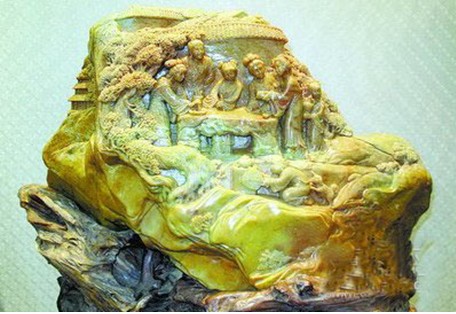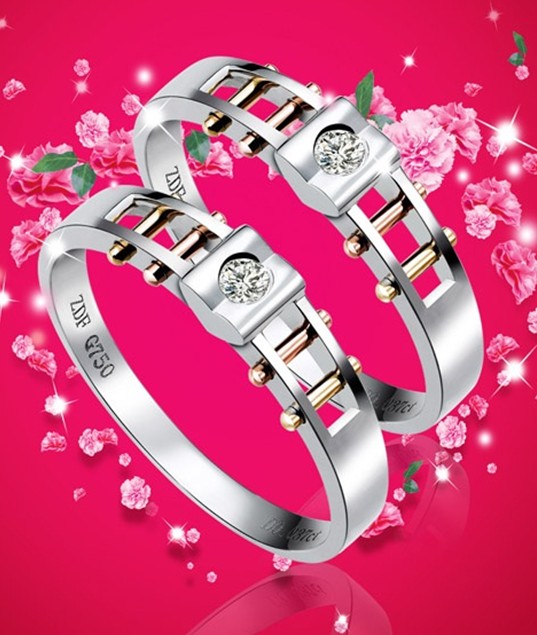 Stone Carving
As Fujian traditional folk handicraft, Stone carving occupied an important place in cultural history of China. The products include Qingtian stone carving, nine-dragon wall stone carving and all kinds of stone vessel. The products have covered the series of stones for indoors decoration, courtyard design, landscaping, construction, figure, animal, and shadow carving. The stone carving became one of the biggest industries in xiamen which integrates production, exhibition and sales.
 
Jewelry
Gold, silver, jade and pearl wares such as necklaces, rings, earrings, pendants, broaches, and bracelets of top quality, excellence craftsmanship and novel design with strong cultural features are selling to numerous tourists all over the world every day.

Shop Index:
Xinyunxiang Tea Art House
Location: Lianqian E. Rd. Tel:5961106
Gulang Islet Guanhaiyuan Exchange Tea Art Center
Location: Bldg14, Guanhaiyuan, Gulang Islet
Tel:2069917
Guoxingquan Tea Art House, Gulang Islet
Location: In Shuzhuang Garden, Gulang Islet Tel:2069170
lixiang Jewelry & Gold Store
Location: 1/F, Jewelry Building, Seven Star M. Rd. Tel:5320891

Jindu Jewelry Co. Ltd.
Location: 1 /F & 2/F, Jindu Building, Seven Star Rd.
Tel:5054218
Baoyi Jewelry Processing Co. Ltd.
Location: Tower A, 2/F, Bldg. 2, Huaxia Industrial Center, Sports Rd.
Tel:5118537

Siming Lixin Comprehensive Service Department (Crystal Crafts Dept.)
Location: Inside Xiada Chemical Factory
Tel:2089618
East Asia Marine Biology Breeding Technology Development Company (Pearl Development Department)
Location: 184 Daxue Rd.
Tel:2097838
Daily Articles Shopping
Shop Index:
SM City Square
Location: The intersection of Xianyue Road and Jiahe Road, it has 6 floors with a total floor space of 126,000 square meters
Xiamen Dalu Commercial Building
Locatin: Crossing of Zhongshan Road, its business area comes to 18,000 sq m.
As a building showing the modern architectural features and Zhongshan Road's traditional style, it includes a parking lot, shopping, restaurants and recreation facilities. It is the largest state-own comprehensive modern plaza in Xiamen.
Hualian Plaza of Xiamen Commercial Group
Hualian Plaza of Xiamen Commercial Group is a large commercial enterprise engaging in retail or wholesale, and domestic and foreign trade as well. It is among the top 50 largest retail enterprises in China. In recent years, Wucun Mall with a business area of 12,000 sq m, and Hualian Furniture City with a business area of nearly 20,000 sq m have started their business, thus forming a business network together with its original branches scattering all over Xiamen.

Shopping Streets
Now the shopping centers, restaurants and recreational facilities on Gulang Islet, in Zhongshan Road, Siming Nanbei Road, Xiada Street, and Egret Park, and at Lotus Flower Crossing are open to the public at night. For instance, Siming Nanbei Road has 132 various stores and shops; at Lotus Flower Crossing, there are seven shopping centers; Xiada Street has 60 shops and plazas; Zhongshan Road is lined by 169 shops and stores; and Egret Islet owns 31 shops and plazas.