Lesser Three Gorges
The Lesser Three Gorges is one of the exciting and famous stops in the Yangtze Three Gorges. It is often called the "highlight" of the cruise, even the whole China trip. It always refers to the three separate valleys of the Daning River, namely "Dragon-Gate Gorge", "Misty Gorge" and "Dicui (Emerald) Gorge". These three gorges, with an area of 160 hectares of forest, lie on the lower reaches of Daning, extending from the entrance of the Dragon-Gate Gorge in the South to Tujiaba in the North for 50 km.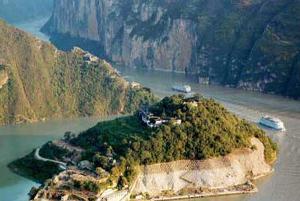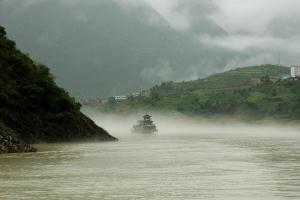 The Gorges are famous for crystal clear rapids and sky scraping cliffs. Taking a small boat drifting on the stream in the Lesser Three Gorges you could find out that you are just in the most beautiful picture.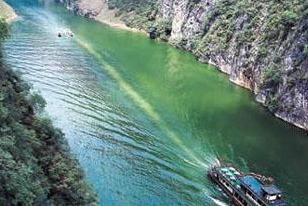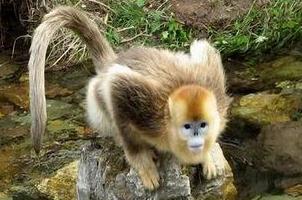 Here sheer cliffs and steep mountains rise on either side, creating one of natural fine arts gallery as natural scenic wonders unfold on both banks of the river. Clear water flows between precarious precipices and peaks covered with green trees and bushes.Here you can board a small junk to enjoy the spectacular views and experience a water-borne sensation you never did before. Its "subtle mountains, clear waters, pretty rocks, dangerous rapids, sharp turns, fantastic caves, and stalactites in various shapes" characterize the natural landscape in the Lesser Three Gorges.
Monkeys, mandarin ducks, water birds and fish can be seen in this area. In addition to the continuous natural scenery there are a number of historical places of interest along the way, such as suspending coffin, boat coffin, remains of ancient plank walkway. The area has been made one of the key nature reserves in China and is becoming known as a tourist attraction continuing to offer its charms.
If you like to explore the Lesser Thee Gorges, to embrace the nature. Take those ships which stop at here. You will find the photographs, articles, poems and draw paintings enthusiastically about here. There are other scenic spots include: Yinwo (Silver) Shoal, Stalactite Buddhism Cliff, Mianyang (Sheep) Cliff, White Dragon Crossing the River Waterfall, MaduRiver.