Qianling Park
Qianling Park is located on Qianling Mountain, northwest of Guiyang, It is named after Mt. Qianlingshan which was awarded the title of "the First Mountain in South China". Qianling Mountain situated in Guiyang's northwestern corner pro-vides a vast comprehensive garden for the city. As one of the noted attractions on the Guizhou plateau, it boasts clear water, green mountains, tranquil forests and old temples. About 1500 kinds of trees and flowers as well as 1000 kinds of herbs have been found there in the Qianling Mountain. And there are gregarious macaques and flocks of birds too. More than 500 energetic and enchanting macaques live in the mountain in the park and this add to the features of the park.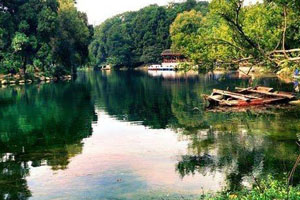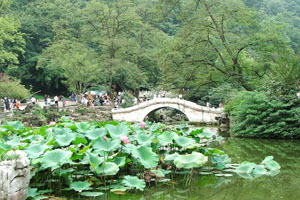 Inside the park, trees verdantly grow and streams gurgle down into the valley. There is a "holy fountain" up the mountain whose water is so clean that local people consider it coming from the heaven. The flowing steams from the fountain and the mist surrounding the forest make it one of the greatest eight scenic spots in Guiyang. There are eight predominant scenic locations: Sanlingwan, Macaque Garden, Hongfu Temple, Kylin Cave, the Zoo, Qianling Lake, the Wind-Rain Bridge, and the Winding Mountain Path.
At the foot of the mountain lies the lake of Qianlin which is like a gem inlaid amidst blur of green mountains Blocked by Twin Dams. It is a 20-hectare water body dotted with pleasure boars and reflections of the surrounding walkways, pavilions and weeping willows.
The "holy fountain" is also reffered to as the "increscence fountain" or the "strainer fountain". It is in a village called Shanqiao, which is about 600 meters to the southwest of Qianling Lake. The altitude there is 1180 meters, 90 meters higher than that of the lake. The waters originate from among the rocks half way up the mountain and its volumn may vary hundreds of times during a day, which gives it the name of "increscence fountain".