Shaolin Temple
Shaolin Temple, has witnessed centuries of changes since the Northern Wei Dynasty (368-534), is known as the birthplace of all the Chinese Kung Fu and the Zen Buddhism. As the most popular temple in China, Shaolin Temple, with a total area of over 30,000 square meters, possesses marvelous scenes, including the ancient architectures, the rarely seen Buddhist relics as well as the natural landscapes around it.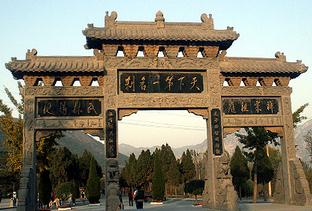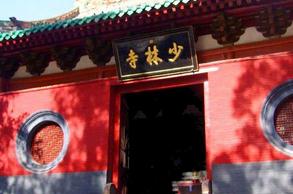 The most splendid tower grove will amaze you with a total amount of 250 towers, which are actually the tombs of the late abbots. All the towers of various sizes and shapes, with various inscriptions on them, are a living book made of bricks that tell us about the history in different dynasties.

The famous Chinese martial arts tradition was developed by Buddhist monks at Shaolin Temple, the fighting monks in a thousand martial arts films can trace their origin here. In fact, the Chinese martial arts and such offshoots as the gender exercise forms known as Shadow Boxing have their symbolic, if not literal, birthplace at this temple. The branch of Buddhism known as Zen treats Shaolin as its source. Each September, here will come alive with visitors from near and far to enjoy the annual international Wushu Festival.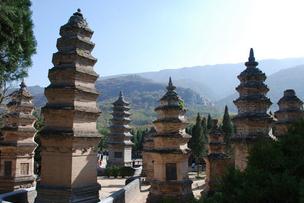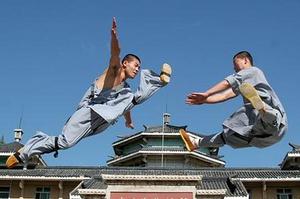 While crowded and commercialized, Shaolin is still one of China's most interesting historical and religious monuments, dating back to the end of the fifth century A.D. In the year 625, it was expanded by a Tang Dynasty emperor in gratitude for wartime services rendered by the Shaolin monks, who used their fighting skills to send off some usurpers. In the early sixth century, a monk from India named Bodhidharma arrived at Shaolin, where he founded Chan (Zen) Buddhism. Bodhidharma, who was probably a legendary rather than actual figure, is also heralded as the founder of martial arts, a system of hand- to- hand combat that was later modified to produce the immensely popular form of exercise that millions practice every morning throughout china---taiji, sometimes called "shadow boxing" in the west.

There is a mural entitled Thirteen Shaolin Cudgeling Monks Rescue the Emperor of the Tang Dynasty on the walls of Baiyi Hall. It depicts the fight for power toward the end of Sui Dynasty between Prince Qin (599-649) and General Wang Shichong (?-621). At the crucial moment, monks from the Shaolin Temple came to help Prince Qin attack Wang Shichong's army from behind and win victory. When Prince Qin came to power as Emperor Taizong of the Tang Dynasty, he conferred titles on the monks, granted land to the Shaolin Temple, and issued a special edict that allowed the monks to eat meat and drink wine.

For your exploration of Chinese Kung Fu and Buddhist Culture, Shaolin Temple is a must-visit place.

Travel Tips for Shaolin Temple
1. Pay respects to the Buddhist customs
2. Take off your hat inside Shaolin Temple
3. No photographing inside the Tower Grove
4. No stepping on the doorsill of any room in the temple

Opening Hours:
8:00 -- 17:00  ( Kung Fu Show Time: 9:30 10:30 11:30 14:30 15:30)

Ticket Price:
100 CNY
50 CNY for kids below 1.1 m

Location: Dengdeng, Zhengzhou City, Henan Province

Transportation: Tour bus and Bus No. 1, 2, 3, 6, 8, and 9 will bring you here.