Shennong Stream
Located in the Three Gorges of the Yangtze River in Hubei Province, Shennong Stream runs for 60 km in the regions north of the Yangtze River and enters the Yangtze at Xixiangkou in Badong County. The precipices on the sides are very high, most having an angle of 80-90 degrees and the relative height differences are 300-800 m. The narrowest section is less than 5 m wide. The daily volume of flow is 20 cu. m. per second. The drop in elevation at the (Monkey Cave Shoal is 3 m.
The scenery in the stream looks quite majestic, precipitous and secluded. The banks are binhabited by Tujia ethnic groups. Some 20 km has been opened to drifting enthusiasts: a small boat will take people drifting through the Bamboo Gorge, Parrot Gorge and Longchang Gorge with different features and charms. Tourist can see monkeys playing in the trees, deer and Mongolian gazelles running in the flourishing flowers and dense forests and bushes on the mountains, or swallows flying in the sky and fish swimming in the clear water. Travelers can also visit the 60-odd stalactite caves or some 30 shoats with various futures. On the rock-faces are dotted plank roadway, hanged coffins, simple Tujia villages. It is a natural tourist spot with unique folk customs but not yet any pollution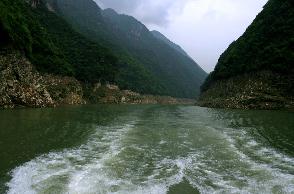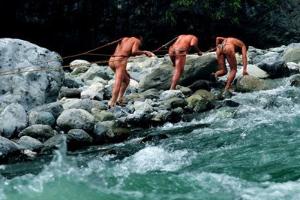 The natural beauty and local color of Shennong stream have attracted the interest of overseas tourists. The Shennong Stream Special Rafting Tour is a key program. The tour covers 20 kilometers from Mian Zhu (Bamboo) Gorge to Yingwu (Parrot) Gorge and Longchuan Gorge. During the rafting tour, you might see large and small karst caves, home of many swallows, a world of high cliffs, deep gorges, flying waterfalls, three-colored springs, the ancient trestle path the suspended coffin in the cliff, the groups of ancient tombs and marvelous karst formations.
The boats will raft to a Longchuanhe Village where the Tujia minority nationality people live. They are hardworking and hospitable people and are good at singing and dancing. You can catch a picture of Tujia's local and traditional style of living.