Shuzheng Valley Tour Route
The distribution of the scenic spots in Jiuzhaigou is like the letter "Y", in which the beneath branch is the Shuzheng Valley, while the right is the Rize Valley and the left is the Zechawa Vallay.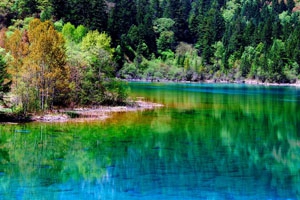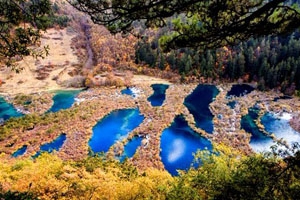 Shuzheng Valley, a valley with 40 lakes, is the main scenic spot in Jiuzhaigou. Along the 14 km long valley, sceneries are so charming that you may be reluctant to leave. Peaceful small lakes like a group of crystal mirrors shinning in the sun, waterfalls like pieces of white ribbons flying down the hills and reed woods like green waves shaking to you, all of which makes you like entering into the wonderland.
In this wonderland, there are many famous landscapes waiting for your expedition, such as the Jade River, the Lotus Village, the Bonsai Beach, the Reed Lake, the Spark Lake, the Black Horn Bridge and the Double-Dragon Bridge etc--which are too many to list here.
Having enjoyed the wonderful sceneries, you may want to experience the local customs and culture. As the Tibetan, the people in Jiuzhaigou are Buddhist, so Tibetan-style Buddhist flags are commonly seen hanging in the gate of the houses. The Shuzheng Village is a good place to visit, from where you can catch the entire sight of the lake groups that looks a string of pearls. Therefore, it is safe to say it is like walking in a picture of landscape when stay in the village.
Shuzheng Valley is a wonderful place for the people looking for the picturesque landscapes and the Buddhist cultures. Wait for your expedition!
Opening Hours:
7:00 -- 19:00 (from April 1 to November 15)
8:00 -- 17:30 (from November 16 to March 31)
Ticket Price:
From April 1 to November 15: 310 CNY
260 CNY for the students, soldiers, disabled and the aged (including the ticket fare for tour bus)
From November 16 to March 31: 160 CNY
150 CNY for the students, soldiers, disabled and the aged (including the ticket fare for tour bus)
Location
: Jiuzhaigou County, Sichuan Province
Transportation:
1. From Mianyang bus is available at 6:40 every morning
2. From Ximen Station long-distance bus is available at 7:30 every morning.
3 From Leshan bus is available at 8:30 in the morning on Tuesday and Thursday.
4. From Chengdu Tour Bus starts out from New Nanmen Station can be available at 8 every morning
Note
: if you start from the airport, it is better to take the bus than the taxi.