Zechawa Valley Tour Route
The distribution of the scenic spots in Jiuzhaigou is like the letter "Y", in which the left branch is the Zachawa Vallay while the right is the Rize Valley and the beneath is the Shuzheng Valley.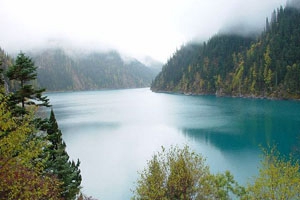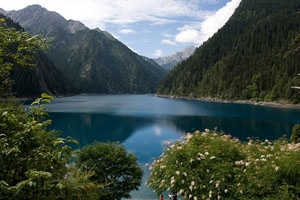 Zechawa Valley is the longest one, stretching longer than 18 km, along which many fascinating landscapes are the highlights of the Jiuzhaigou Valley. The Multi-colored Pools are the most charming lake among all the lakes in the Jiuzhaigou, in which various water plants, such as Spirogyra, stonewort, fern and reed, can be clearly seen under the limpid water. Owing to the abundant mineral materials, the water will show in various colors, blue, green, yellow, red or purple, under the sunshine.
Having enjoyed the magic Multi-color Pools, you can come to the Long-sea in the 3100 meters high place. Long-sea is the deepest lake with the largest area of 2,000,000 m2. Long-sea is a magic lake with no water outlet, the water in which never overflows even in the rainy season; neither will it dry in the dry season. The mountains stretching around the Long-sea wear snows all the year round. In the spring, blossoming colorful flowers will shine on the lake, in the autumn the red maple trees will make the lake more magic, in the winter the lake will be frozen--just like a pure mirror.
There are many other wonderful landscapes waiting for your expedition. Why not pack and set out right now?
Opening Hours
: all the day
Location
: Jiuzhaigou County, Sichuan Province
Transportation:
1. From Chengdu Tour Bus starts out from New Nanmen Station can be available at 8 every morning
2. From Leshan bus is available at 8:30 in the morning on Tuesday and Thursday.
3. From Ximen Station long-distance bus is available at 7:30 every morning.
4. From Mianyang bus is available at 6:40 every morning
1.The best time for traveling here is from the end of spring and the beginning of autumn expect for the Chinese holidays.
2. If you start from the airport, it is better to take the bus than the taxi.