Eating in Fuzhou

Famous Local Food
As for cuisine, Fuzhou dishes are representative of the Min Cuisine that is very much a feature of Fujian Province. Min dishes are one of the famous eight styles in China. They're noted for well-chosen ingredients, beautiful color, fresh seasoning and strict operation during cooking. Min, (which is short for Fujian Province), has its own unique style that has evolved over a very long period of time and each of the various recipes are very precise with an emphasis placed on their savory sauces. These sauces are mild and of a sweet and sour nature and together with meats and vegetables that are cut and prepared in a particular manner, combine into wonderfully appetizing dishes. As in other provinces, snacks are very much part of daily diet and the tasty Fuzhou snacks rightly deserve their recognition as 'Famous Chinese Snacks'.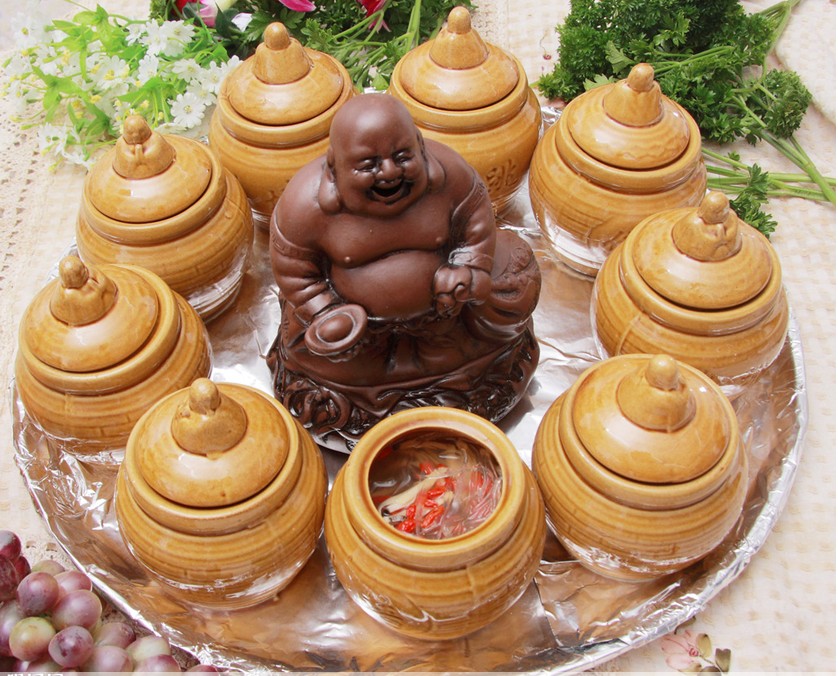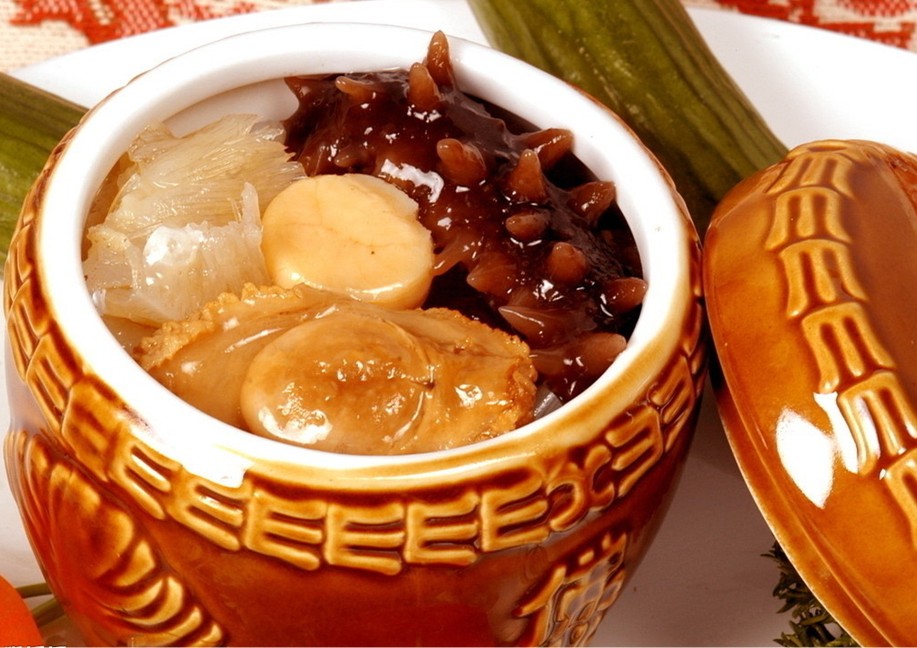 The most famous one is "Fo Tiao Qiang" (Buddha jumps over the wall). It contains dainties of more than 30 kinds: Shark's fin, sea slug, chicken breast, duck, pig's trotters, dried scallop, mushroom, abalone, pigeon egg. with other condiments. It's said that after the dish is cooked, the air is heavy with a strong fragrance, even Buddha can not resist the temptation and jumps over the wall to try to taste it. That's the origin of its name. Juchunyuan Restaurant in Dongjiekou is famous for the dish.
Famous Local Dishes
Fo Tiao Qiang (Buddha Jumps over the Wall)
With more than 100 year's history, it is a traditional Min Cuisine recipe. It is said to have been created by the wife of a Fuzhou official, who in 1876 was entertaining an important member of the Fujian Government in his home. His wife, who was an excellent cook placed chicken, duck, pork and seafood together into an empty wine jar to simmer following a recipe which was known at the time as 'Full of Blessing and Longevity'. When the dish was served, the visitor praised the aroma and the delicious flavor and was so impressed that when he returned home he asked the cook – Zheng Chunfa to learn how the wife of his host had prepared the food. Subsequently, Zheng Chunfa adapted the recipe making it yet more fulsome and on the strength of his creation opened a restaurant named Juchunyuan where he served it to the delight of his customers. One day several talented writers to the restaurant and were served with Zheng Chunfa's special version of 'Full of Blessing and Longevity'. When he opened the jar in which it had been cooked, the diners were so taken with the gorgeous smell that one of them wrote a poem about it. In it he said that the smell was so wonderful that even a Buddha would stop pattering and jump over the wall to have a taste. Hence the name 'Buddha Jumps over the Wall'.
Simmered in a Shaoxing wine jar using more than twenty ingredients including fish, sea cucumber, chicken, pork and mutton, dried scallop, sea-ear, needle of bamboo shoot and pigeon egg, this traditional dish is widely renowned overseas and is considered the top dish among those of the Min Cuisine.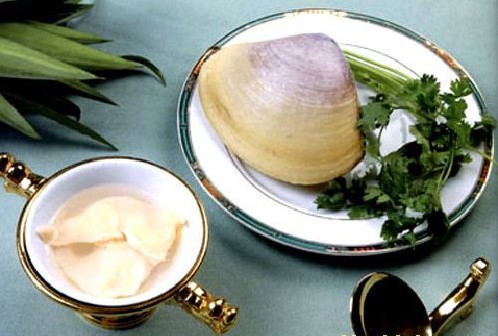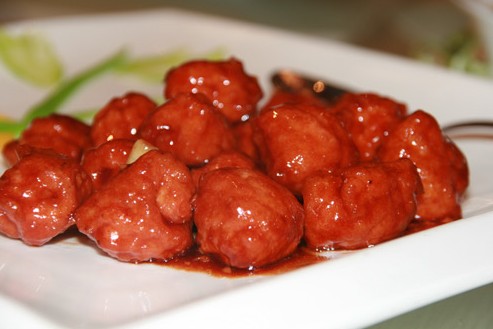 Chicken Soup with Sea Clam (Ji Tang Tun Hai Bang)
Clams from Changlezhang harbor of Fuzhou are cut into thin pieces and boiled in water to which Shaoxing wine is added partway through the cooking process. The clams are served in a clear chicken soup that is both nutritious and tasty.
Li Zhi Rou (Litchi Pork)
The name of this dish is attributed to the fact that the deep fried pork is cut into small pieces that resemble litchi once cooked. The sauce is made from ketchup, vinegar and white sugar.
Ding Bian Hu (Rice Piece with Seafood Soup)
A prepared rice paste is poured around the rim of an iron boiler and heated until it is dried. This is added to a seafood soup. As well as being a popular dish with families at home in Fuzhou, Ding Bian Hu is a common street snack. People usually have it in the morning or at night.
Yu Ni (Mashed Taros)
It is a traditional dessert in Min Cuisine. The taros are steamed then mashed with white sugar, eggs and lard. The mixture is steamed for about an hour and served with some oil and a scattering of minced Chinese dates, melon seeds, cherries etc. Mashed taros are popular among Fuzhou people, which is always the last treat in a banquet.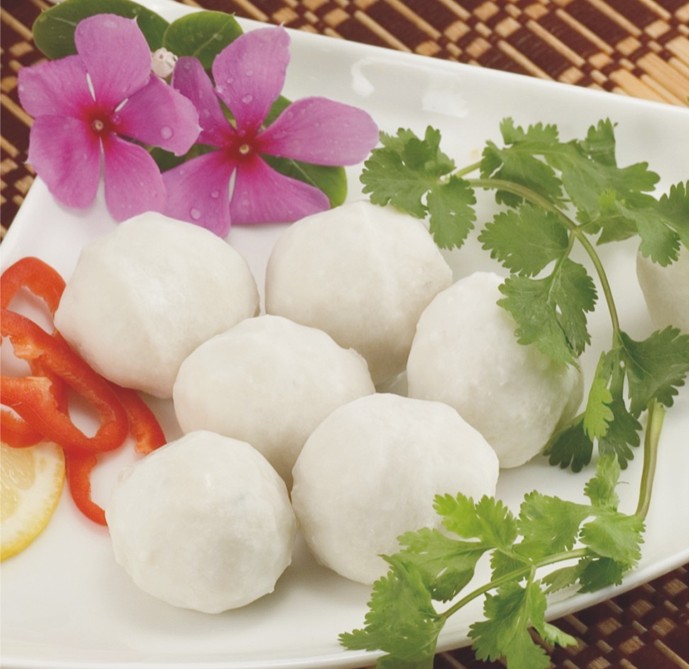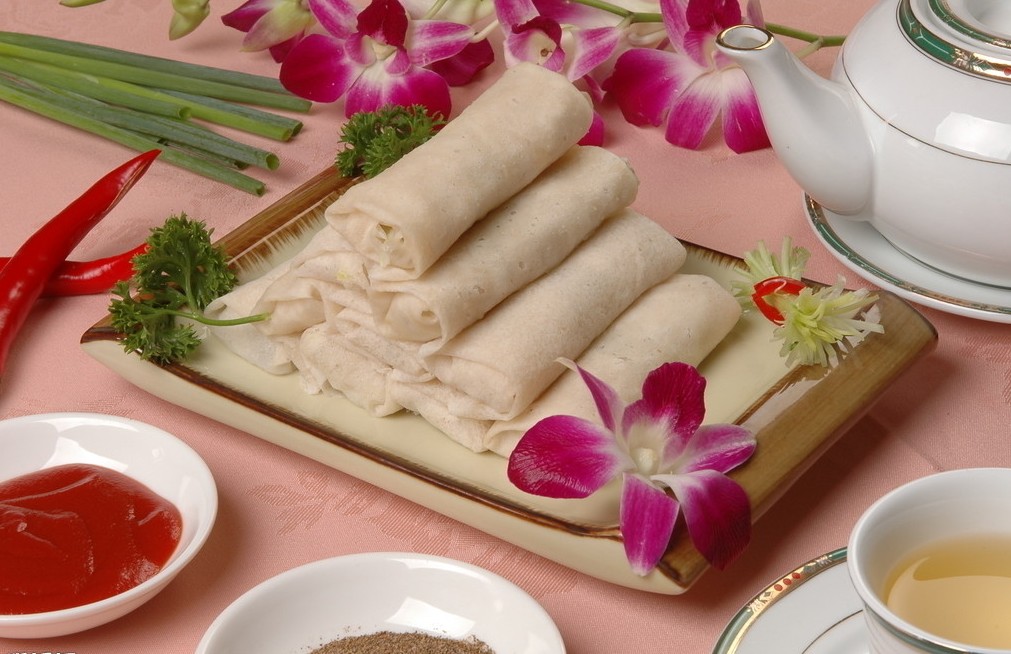 Famous Local Snacks
Yu Wan (Fish Ball)
The flesh of a carp, shark or freshwater fish is pounded into a fine and soft paste from which the bones are carefully removed, flour is added and the mixture is then beaten to a smooth consistency to make a wrapping for a variety of stuffings. These can be of muscles, shrimps or sturgeon for example and small balls are thus created. There is an old saying 'if there are no fish balls, there is no dinner'. This shows just how popular the taste of fish balls is favored by Fuzhou people. You can have a taste of these at the Yonghe Fish Ball Store in Ta Xiang (lane).
Li Bing (Oyster Cake)
Rice is steeped in water and mixed with soybean to make a covering for flavored stuffing of Oyster, muscles and celery. The cakes are deep fried until golden and crisp. Fuzhou people like to have Oyster Cake together with Ding Bian Hu.
Chun Juan (Spring Roll)
Ground rice is made into a thin paste which is filled with vegetables and meat or seafood, the rolls are deep fried in oil until golden and crispy on the outside and tender within.
Guang Bing (Qi Jiguang Cake)
Qi Jiguang is a historical figure and Chinese folk hero famed for his exploits against Wo (the old name of Japan). Loved and held in great esteem by the people they named small cakes in his honor. These are round and with a hole through the center so that they could be put on a string and hung around the neck, very useful when out and about as a way to stave off hunger!
Over the years Guang cakes have been improved and have a very special flavor and well worth a try.
Yan Pi (Dried Meat)
This is made from a meat paste. It can be enjoyed by cutting it into threads to be boiled in water. Dry Yan Pi makes a fine and unusual gift for your relatives. Yan Pi also can be stuffed with muscles or seafood or vegetables which are tasty too.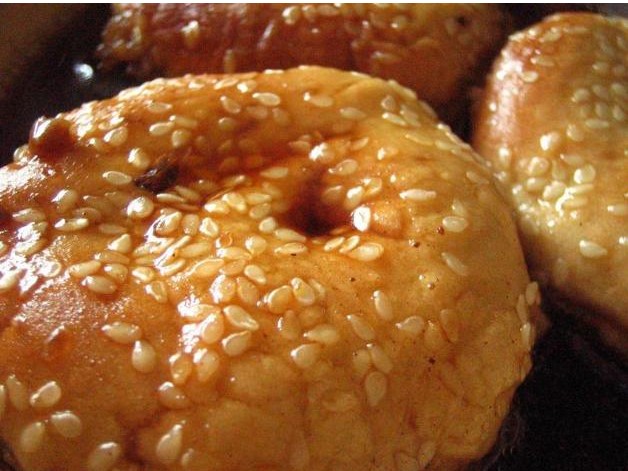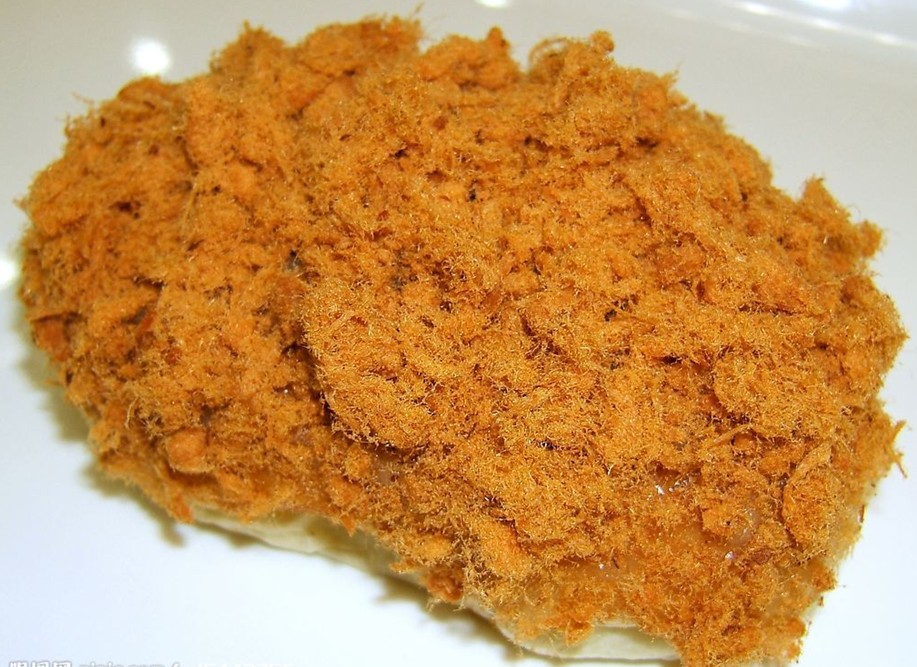 Recommended Restaurants

For your reference, the following are the restaurants rated most popular by the locals:
Juchunyuan Chinese Restaurant (Fujian Cuisine)
Address: 3/F, Juchunyuan Hotel, No. 2, Dong Jie Kou
An old and famous restaurant that is renowned for the dish of Buddha Jumps over the Wall and other Fuzhou dishes.
Antai Lou Restaurant
Address: No. 39, Jibi Lu
Another old restaurant famed for Min Cuisine and local snacks.
Lao Fuzhou Restaurant
Address: No. 8, Shengfu Lu
Bus route: tourists can take bus Nos. 18, 5, 805, 27, 818 etc. to get there
Fuzhou Shaxian Snacks Restaurant
Address: in Dongyi Lu of Pingxi Xin Cun
Bus route: 958 and 908
Rong Cheng Lao Jie (Banyan City Ancient Street)
This ancient street is situated in Taijiang District, which is also called 'Rong Cheng Meishi (mainly snacks) Jie'.
Lucky Full City Seafood Restaurant
121 Yangxia Xincun Northern, Liuyi Road Tel: 758 8590 758 8584
Fanshun Seafood Restaurant
Liuyi Road Tel: 367 8888