Shopping in Fuzhou
Local Specialties and Souvenirs

Briefing
Fuzhou is a famous cultural city with a history of over 2000 years, and an important port in China. It produces many kinds of local and special products. Fuzhou is the main industrial arts producing area of China. Cork pictures, stone carvings, lacquer, horn combs, jade carvings, porcelains, shell carvings, golden and silver ornaments are popular with local people and tourists alike.
Fuzhou is famed for its lacquerware and craft factories. Shoushan stone carving, lacquerware and cork sculptures are said to be the three handicraft treasures of the city, all of which make good souvenirs. Other good mementoes include jade combs and paper umbrellas. In addition to jasmine tea, Black Dragon tea, Tieguanyin tea, Wuyiyan tea, Its subtropical fruit, such as tangerines, longan, litchis and loquats, are well known throughout the country.
Three Treasures of Fuzhou
Lacquer - These products include decorative screens, vases, tea services, smoking sets and stationery etc.
Stone Sculptures - Rocks from Mt. Shou are fashioned into seals, vases, stationery, characters, landscapes and flowers etc.
Cork Pictures - Cork is used to make hanging screens, folding screens and decorative articles depicting landscapes, characters, animals and birds.
Shou shan stone
Shoushan Stone Carving Shoushan stone is a kind of alabaster quarried from a mountain called Shoushan in the northern suburbs of Fuzhou. With a soft, smooth surface and variegated colours, this stone makes an ideal material for carving. We know from the sculptured stone pigs found in an ancient tomb from the Southern Dynasties that Shoushan stone carving has been in existence for some l,500 years.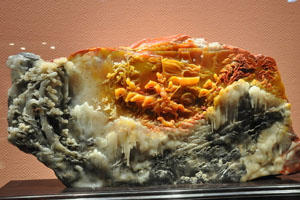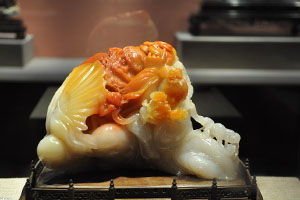 The stone carvings of the later Tang (618-907) and Song (960-1279) dynasties were generally Buddha statues, incense burners, rosaries and funeral figurines. During the Yuan and Ming (1271-1644), Shoushan stone also came to be used for seal carving. Later, craftsmen excelled in various carving styles and many different schools were formed. Types of Shoushan stone carving now include circular, relief, openwork hollowed out, boyi (shallow relief) and marquetry carving. Top craftsmen are able to create wonderful images by utilizing the natural contours and fine streaks of colour in the stone.

Bodiless Lacquerware
Bodiless Lacquerware This unique craft is considered one of China's three folk art treasures, together with Jingdezhen's porcelain and Beijing's cloisonne. The creation of bodiless lacquer ware begins with a clay, plastic or wooden mould, with raw lacquer used as glue. Then the "body" is wrapped in layers of ramie or silk. After the mould has dried, the body is removed and finished with polishing, delineating and embellishing.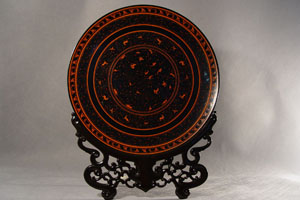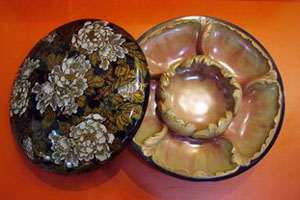 From 1898 to 1936 Fuzhou's bodiless lacquerware won many gold prizes in the World Expos held in Panama, Paris, Tokyo and Berlin. In recent years artists have developed their skills in furbishing, designing and embossing, while at the same time they have created new techniques which combine those used in jade, stone, ivory and wood carving.
Shop Index:
Dongjiekou Department Store
Address: 84 Bayiqi Road
Tel: 753 6200
Huadu Shopping Paradise
Address: 49 Wuyi Road
Tel: 335 3666
Lakeside Hote Shopping Center
Address: 158 Hubin Rd.
Speciaty: Garments, pearls and jewels, watches, arts & crafts
Tel:7839888
Fuzhou Lianbang Emporium
Address: No. 47, Wuyi Zhong Lu
Specialty: This is a good place for buying clothes.
Bus route: take bus Nos. 908, 962, 959, 8, 801 etc. to Tiedao Dasha stop
Opening hour: 9:00-22:00
Hot Spring Hotel Shopping Center
Address: 218 May 4th Rd.
Specialty: Handicrafts, cosmetics, food, leather products
Tel:7851818
Foreign Trade Center Hotel Shopping Center
Address: 73 May 4th Rd.
Specialty: Pearls, jewels, ornaments, rare and precious herbs materials
Tel:7523388
Haishan Hotel Shopping Center
19 May 4th Rd.
Handicrafts, food, garments
Tel:7557766
Minjiang Hotel Trade Company
Address: 130 May 4th Rd.
Specialty: Food, articles for daily use, and handicrafts
Tel:7557895
Fuzhou Da Li Jia Branch of Walmart Shopping Square
Address: B, Da Li Jia, No. 169, Wuyi Zhong Lu
Fuzhou Great Wall Branch of Walmart Shopping Square
Address: No. 615, Liuyi Bei Lu
Daily Articles Shopping
Shop Index:
Fuzhou Hualian
Address: No. 125, Taijiang Lu
Bus route: take bus 51, or 1 to Taijiang stop
Opening hour: 9:00-21:00
Xinhuadu Shopping Square
Address: No. 162, Wusi Lu
Bus route: bus Nos. 5, 51, 817 to Gushanzuo Stop
Opening hour: 7:00-22:00