Eating in Xining

Famous Local Food

Xining is an ancient city on the highland. The local flavors include fried flour slices, hand-pulled noodles, dry-stirred noodles, roasted mutton, Wan Sheng-ma's pastries, and Ma Ruyi's steamed buns. High up on the menu are such dishes as golden fish with vegetables, snow chicken with Chinese caterpillar fungus, stewed hump, boiled mutton, beef with chrysanthemum, fish with chrysanthemum, steamed Huang fish, lotus fish, strewed mutton, stewed shashlik, and sheep tendon with ginseng.

Famous Local Dishes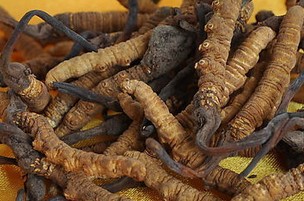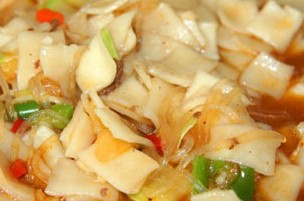 As with much of Qinghai Province, the capital Xining has long been a fairly inhospitable, not easily accessible area and the food that is produced here reflects this. The locals have since ancient times relied upon native food materials that can be found in most areas throughout Qinghai. These most famously include the Chinese Caterpillar Fungus (Dongchong xiacao), Chrysanthemum Carp (Li yu), Flagelliform Nostoc (Facai), and various forms of local Mushroom.

The dishes that derive from these foods are interesting and, if cooked well, can rival much that the more advanced eastern regions can produce. Local restaurants will serve customers such delights as Chicken Cooked with Caterpillar Fungus (Danbai chongcao ji), a nasty sounding, tasty and nourishing dish, Gold-fish-shaped Flagelliform Nostoc (Facai jinyu), Chrysanthemum-shaped Carp Slices (Juhua liyu), Steamed Egg with Flagelliform Nostoc (Facai zhengdan), and Lamb Cooked with Sliced Mushroom (Yangrou mogu pian).

Famous Local Snacks

For many travelling here, the more common dishes are also worth trying, and they will be cheaper. These can be found in the markets and on most streets, cooked in front of your salivating mouths. The specialties are strongly Tibetan or Muslim influenced and the concentration on mutton and noodles reflects this. These include Lamb Tenderloin (Feng'er liji), Kebab (Kao yangrou), Yu Rangpi (similar to the Dunhuang Rang pizi), Wang's Thick Sliced Noodle Pieces (Wang mianpian), Cold Noodles (Liang mian), Soup Cooked with Lamb and Oxen Entrails (Zasui tang), Hand Held Mutton (Shouzhua yangrou) and Lamb Liver(Zhu yanggan). For breakfast you should really try the tasty Muslim Yoghurt (Qingzheng suannai), a naturally sour, although often sweetened, cow/water-buffalo/yak yoghurt. Also of interest, at least to watch, is the breakfast in the old district of the city, where peasants will provide the cow for your own milk (bring a glass and they will milk the beast for you).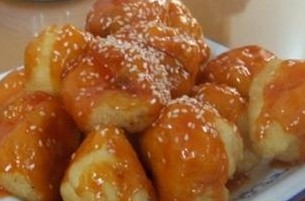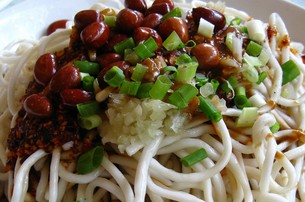 Eating Places

For places to eat, especially at night, your best bet are the markets scattered about town that provide quick, cheap food/snacks. The most famous of these is the Water Well Alley Night Market (Shuijing gang shangchang), with over 3,000 stalls, that can be found on Shuijin gang, just near the West Gate (Ximen) and off Xi dajie. There is also a big night market on Daxing jie. Bus No.1 will take you to the Dashizi stop and from here it is a short walk north near Yinma jie.

Around the Western City Gates (Ximen). This is the area to sample the most authentic Muslim yoghurt.

Near the Xining Mansion (Xining dasha) at Bayi lu/Jianguo lu. Food stalls here serve a selection of hotpot style dishes (with beef, lamb, vegetables, tofu and vermicelli).
Around the Yongfu Hotel (Yongfu binguan) on Jianguo lu/Binhe lu. Stalls and restaurants around here serve mostly Muslim food, including kebabs and mutton dishes.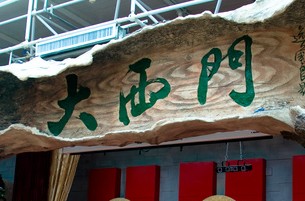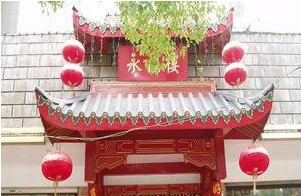 Recommended Restaurants

For your reference, the following are the restaurants rated most popular by the locals:

The Cafe (Xining bingguan) in the Xining Hotel at 215 Qili lu. The best "cafe" in town--a vast Chinese-style hall with big round tables where enticing Mongolian hotpot buffet can be had for a cheap RMB35.

Yongfu Hotel (Yongfu binguan) on Jianguo lu/Binhe lu. This hotel has a small restaurant that serves cheap dishes. The area around the hotel also does decent Muslim food.

Xiaoyuanmen Restaurant (Xiaoyuanmen shifu) on Dongguan dajie. Serves good Muslim food.

Mazhong Rangpi Restaurant (Mazhong rangpi fandian), not far from the Daxing jie night market. Prices here are extremely cheap, a section for just RMB4.

Yinghua Mianpian Restaurant (Yinghua mianpian fandian), reached using bus No.33 from the railway station, getting off at the Shaanshantai stop. Serves large bowls of these squares of noodles for RMB5.

Shang Yi Da Xia at 190 Dongguan lu. Small Muslim restaurant that does some good hotpots.

Qinghai Minzu Hotel (Qinghai minzu binguan) on Dong dajie/Huayuan lu. Has a good restaurant within.