Shopping in Changsha

Local Specialties and Souvenirs

Briefing
Since ancient times, Changsha has boasted advanced commerce and trade. It has had a long commercial history, and local craftwork and specialty products are some of the best in the country. In recent years many large commerce and trade groups with Friendship Store and Dongtang Department Store as the representatives have enjoyed a high reputation in China.

Its Hunan Embroidery (Xiang xiu) is the highlight, regarded in China as one of the four best embroidery types along with the Suzhou & Sichuan embroidery and the Yue embroidery from Guangdong. Liuyang fireworks and firecrackers have a time-honored history and enjoy a high reputation all over the world. Its chrysanthemums stone carvings and woven bamboo and palm products show strong local characteristics. Other specialties include the Xiang Tea (Xiang cha), porcelain & pottery, chrysanthemum stones, fans, lacquer reproductions, smoky quartz, bloodstone carvings, duck-down clothing and bamboo carvings, all of which can be bought in many stores around the city.

The main shopping streets in Changsha are Huangxin lu, Zhongshan lu and Cai'e lu.

Chrysanthemum Stone
This natural stone is amazing with its white inclusions embedded in the grey/black stone. The layers of 'petals' radiate to the outside in beautiful shapes on a stalk giving a chrysanthemum-like appearance, hence its name. Artists carve the stones into different shapes resembling flowers, birds, animals and other artistic figures. These artworks come in sizes from small objects to huge screens and are sold as decorative ornaments.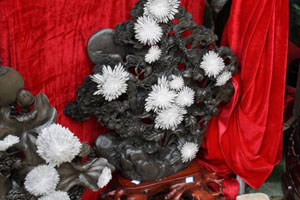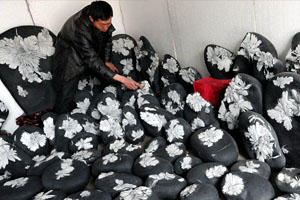 Xiang Embroidery
Xiang Embroidery in Changsha is well renowned in China. Hand embroidery craft items such as clothes, bags, wall hangings, handkerchiefs and other decorative items are popular souvenir for travelers.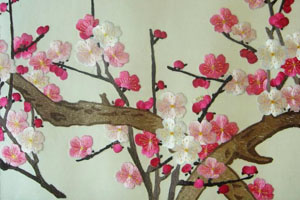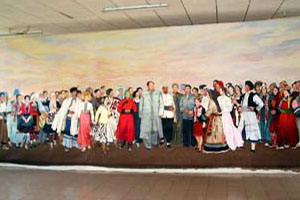 Liuyang Fireworks
Fireworks originated in Chin's splendid Tang Dynasty (618 - 907) and reached the height of their popularity in the Song Dynasty (960 - 1279). During the lunar New Year, Chinese people light auspicious fireworks to drive away evil spirits and they are a popular choice to create a festive atmosphere. The fireworks produced in Liuyang are said to be the best in China for their quality and variety, and are exported to different countries around the world.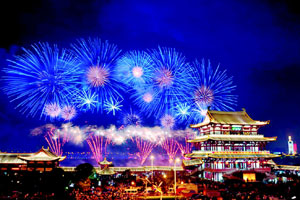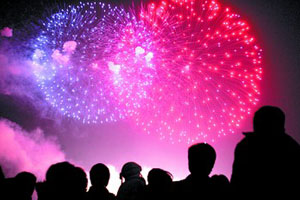 Shop Index:
Hunan Antique Shop
Add: 113 May 1st M. Rd.
Tel: 2244833

Hunan Embroidery Research Institute
Add: North Railway Station Rd.
Tel: 2291821

Xiang Embroidery Shopping
Address: No. 70, Bayi Lu

Wuyi Square Shopping Circle – Central
The most important shopping area in downtown is the Wuyi Square Shopping Circle which is located at the intersection of Wuyi Lu and Huangxing Lu.
Wuyi Lu, a main thoroughfare in the city central area including the West, the Middle and the East sections, is a popular shopping area in the city. All sorts of department stores, shopping malls and supermarkets, hotels, restaurants on the visitors' recommended list surround the bustling Wuyi Square. In the middle of Wuyi Lu is the Aijialing Shopping Circle, which include Friendship Store and Apollo Shopping City.

Vertically intersected with the western section of Wuyi Lu, is the north-south Huangxing Lu. The southern section of the street, known as Huangxing Nanlu Walking Street is a new shopping, leisure, dining and touring center expanded on the base of a century-old street in Changsha. It was planned to be consisted of three parts, a walking Street, indoor stores and an elaborately designed garden-like entertainment square. All kinds of theme activities of street hip-pop dances, magic, music performances and acrobatic shows will be held there in addition to hundreds of clothing stores and restaurants, which provide plenty of choices for tourists.

One block north to the Wuyi Lu, is Zhongshan Lu, which joined to the northern end of the Huangxing Lu. It is another shopping area in the city central area.

Dongtang Shopping Area–South
In the southern part of the city near Furong Nanlu, there is another shopping circle near Dongtang with a landmark shopping center called Golden Family World Classic. Clothes shopping buildings, friendship stores, Gome Electronic Appliances and other supermarkets dot with area.

Railway Station Area–East
The eastern area close to the Railway Station is also a bustling shopping center due to the large stream of people including the famous Apollo Shopping Square and other stores.

Daily Articles Shopping

Shop Index:

Pinghetang Commercial Building
As a Sino-Japanese joint venture, and the only Sino-foreign commercial enterprise in Hunan Province, Pinghetang Commercial Building is a commercial and trade center up to the international level, integrating retails of commodities, restaurants, leisure, cultural recreation and offices.

Friendship Apollo Co. Ltd.
Location: northeastern corner of the Changsha Friendship Square, the Friendship Store has a business area of 18,000 sq m, and sells more than 50,000 varieties of medium and high-grade commodities, such as articles of everyday use, clothes and household electrical appliances.
Description: Hunan Friendship Apollo Co. Ltd. has 19 branches and six subsidiaries, and does business at retail and wholesale. Under the jurisdiction of the company, there are nine large shopping centers, each covering an area of over 10,000 sq m, such as Friendship Store, Apollo Commercial City, Friendship Commercial City, Apollo Commercial Square and New Friendship Store, etc.

Big Dipper Commercial Building
Description: Changsha Big Dipper Commercial Building is a multi-functional shopping center in the north of Changsha, with a business area of 12,000 sq m. It is featured by a wide variety of commodities, a good environment and transport facilities.

Nandamen Supermarket
Location: central commercial zone, it mainly sells suger, wine, cigatettes, Chinese and western cakes. The cakes produced by Nandamen Supermarket are popular.

Tongcheng General Merchandise Company
Tongcheng General Merchandise Company is a comprehensive commercial enterprise, owning super-markets, boutiques and convenient shops, selling commodities at retail and wholesale.

Friendship Store
A well-known chained department store in the city
Add: First Branch: No. 272, Wuyi Donglu
Second Branch: No. 2, Laodong Donglu
Tel: 4466824

Friendship Commercial City
Add: 165 Labor Rd.
Tel: 5501945

Famous Friendship Brand Goods Store
Add: 69 Huangxing M. Rd.
Tel: 4438403

New Friendship Store
Add: 129 May 1st M. Rd.
Tel: 4447157

Dongtang Department Store
Add: No. 2, Laodong Donglu, opposite the Friendship Store
Tel: 5524567

Xicheng Supermarket
Add: No.84 Fenglin Road
Tel: 8856749

Tongcheng General Merchandise Company
Add: No. 2 Labor Road
Tel: 5524567

Apollo Commercial Square
Add: No.1 West Bayi Road, Changsha
Tel: 2285535

Apollo Commercial City
Add: No. 69 North Shaoshan Road, opposite the Great Wall Hotel
Tel: 4466601

Pinghetang Commercial Building
Add: On the southeastern corner of the Wuyi Square
Tel: 2249563

Big Dipper Commercial Building
Add: No.1 Jinxia Road, Kaifu District
Tel: 4480022

Children's Store
Address: south of the Wuyi Square

Woman's Store
Address: No. 346, South Huangxing Road

Hunan Shopping Center
Address: No. 129, Mid Wuyi Road

Changsha Mansion
Address: No. 87, East Wuyi Road, west of the railway station