Ancient City of Dunhuang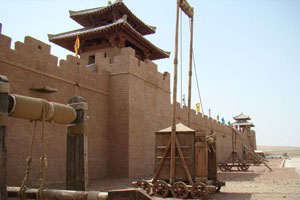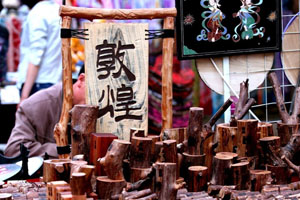 The Ancient City of Dunhuang (Dunhuang Gucheng) is not what you may think. It is a huge movie set made to resemble the Song Dynasty city of Dunhuang. The set was created to film the movie "Dunhuang" in 1987 through cooperation between Chinese and Japanese filmmakers.

Located right smack in the middle of the Gobi Desert about 25km southwest of Dunhuang, the surrounding landscape gives the city an impressive feel. Scattered throughout the streets of the small city are various temples, pawnshops, warehouses, silk shops, bars, restaurants and residences all of which are used as props and backgrounds.
The Ancient City of Dunhuang has become the largest film and television filming set in Western China. Besides the film "Dunhuang", more than 20 films and television programs have been filmed here and the set has become a major sight on the Dunhuang tour circuit.

Transportation: Either take a taxi from Dunhuang city center for RMB30 or take a minibus from Dingzi Lu for RMB10 each way. Another option is to join a tour for a day that includes the Ancient City of Dunhuang and possibly other sites such as the White Horse Pagoda.
Ticket Price: There is no entry fee, but you may like to do some souvenir shopping.